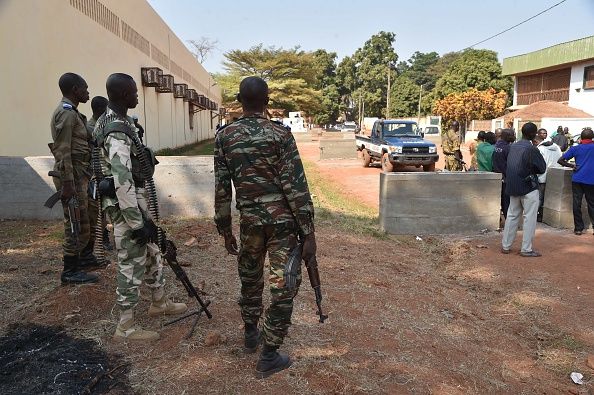 For four years, the Central African Republic (CAR) has been in conflict. Fighting erupted in 2013 after Michel Djotodia, a Muslim, replaced former leader Francois Bozize, a Christian, in a coup. The overthrow sparked a conflict between Muslim Seleka and Christian anti-Balaka "anti-machete" militias that has resulted in thousands of deaths.
Last Thursday and Friday the government held meetings with members of rebel groups to discuss ways to achieve disarmament in what has been hailed as an unprecedented step toward the end of the bloody conflict.
For the first time since warring sides committed to the Disarmament, Demobilization, Reinsertion and Repatriation (DDRR) program in 2015, government officials and representatives of 14 rebel groups met in the capital Bangui, according to AFP.
Rights groups have accused some of the militant groups of committing serious abuses and atrocities including execution of civilians and humanitarian personnel, as well as rape and torture over the course of the conflict.
Following the meetings Jean-Marc Tafani, head of the disarmament process for the U.N. peacekeeping mission in CAR, MINUSCA, said people suspected of having committed crimes will be brought to justice and will not be allowed to take part in the DDRR program, which, among other things, envisages the integration of former militants into the army.
However, he added "certain groups said they were against this" during the meetings.
Concerns remain over whether the two sides can come to a peace deal as both parties still have to address several issues, including the possible amnesty granted to rebels who surrender.
"The parties are a long way off a lasting ceasefire," says Phil Clark, reader in international politics with a focus on Africa at London's SOAS University.
"The rebels are demanding clarity over whether they are eligible for an amnesty. They also want assurances that their leadership, and not only their rank and file, can be demobilised and integrated into the national army."
"The CAR military is completely dysfunctional and not in a position to absorb demobilized rebels," Clark continues.
After peaceful elections in February 2016, Former Prime Minister Faustin-Archange Touadera became president, and international observers saw it as a major step towards the resolution of the conflict.
Touadera was elected after several governmental upheavals. Djotodia resigned in January 2014, after failing to halt violence in the country, and was replaced by an interim government led by Catherine Samba-Panza. She was considered politically neutral as she had no links to either camp in the war.
During her time in office, Samba-Panza called for dialogue between warring sides. Both Seleka and anti-Balaka groups pledged support to the interim president and said they believed she could halt violence in the country, according to Al Jazeera.
The interim government organized parliamentary and presidential elections, originally supposed to take place in October 2015. However, parliamentary and presidential elections scheduled to take place in October 2015 were postponed after clashes between rebel groups killed more than 100 people between September and November of that year.
When Touadera was elected, he pledged to restore peace in the country and disarm militant groups, but the government has struggled to contain tit-for-tat violence between militias. Fighting has killed thousands and displaced more than 434,000 people. The U.N estimates that 2.5 million are in need of humanitarian assistance in the country, one of the world's poorest nations.
The U.N. peacekeepers are currently the only functioning force on the ground, as the army is under an international arms embargo and France ended its military mission in CAR and reduced its contingent to 350 last October.
"[The meetings are] an important development," says Clark. "But there are many thorny issues to be resolved and it is highly uncertain whether any concrete measures will emerge from the talks."