Central African Republic: A New Low for Peacekeeping?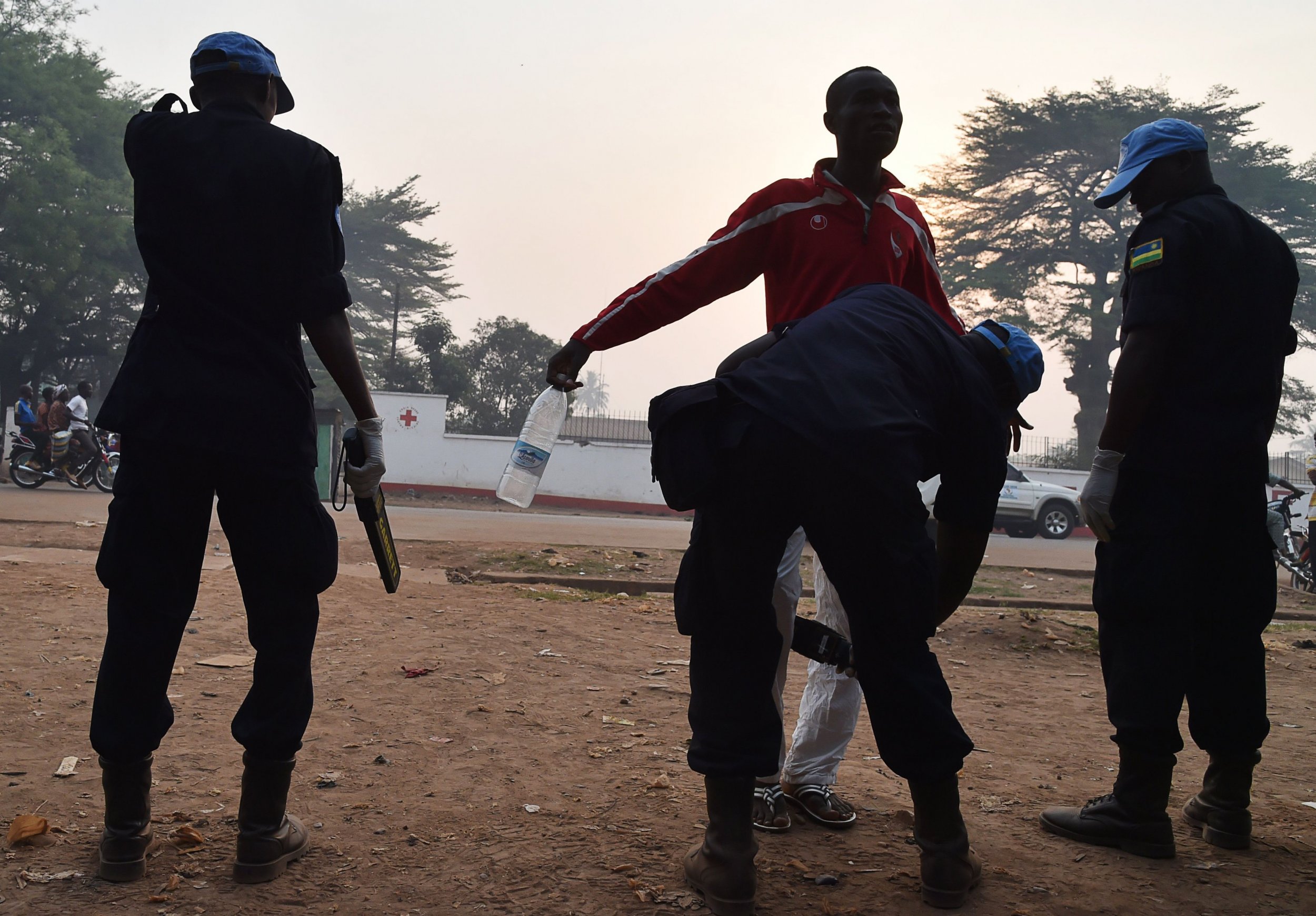 The beleaguered citizens of Central African Republic (CAR) must have hoped a new leaf was being turned over when their new president was inaugurated on Wednesday.
But on the very same day, a fresh swathe of allegations came to light of sexual abuse and exploitation of Central African children by the very forces meant to protect them—United Nations peacekeepers and international forces.
Ninety-eight girls in a single CAR province have alleged, in interviews with UNICEF in March, that they were sexually abused by international peacekeepers, U.S. advocacy group AIDS-Free World said on Wednesday.
On top of that deluge of allegations and another alleged rape of a 16-year-old girl by a Congolese U.N. peacekeeper, the group reported a particularly sickening allegation: that four girls were tied up, undressed and forced to have sex with a dog by a commander from the French mission in CAR—known as Operation Sangaris—in exchange for payment of 5,000 Central African Francs (less than $9) each. One of the girls later died from an unknown disease while one of the survivors reported being referred to as "the Sangaris' dog" in her community.
U.N. spokesman Stephane Dujarric confirmed on Thursday that 108 alleged victims had come forward—the vast majority minors—with accusations of sexual abuse dating between 2013 and 2015 and that investigations were ongoing.
Dujarric said the U.N. couldn't comment on the AIDS-Free World report, but U.N. Secretary-General Ban Ki-moon issued a statement on Thursday to say he was "shocked to the core" by the latest allegations of abuse. The French ambassador to the U.N., Francois Delattre, said the allegations were "sickening and odious" and pledged that "exemplary disciplinary action" would be taken, in addition to criminal prosecution, if they were proved true.
But according to Paula Donovan, co-director of AIDS-Free World and its Code Blue campaign against sexual abuse by peacekeepers, the allegations are a case of history repeating itself. "This isn't a new low, it's a consistent, horrific low. It's an epidemic that the U.N. is just slowly uncovering," says Donovan, who held senior positions within the U.N. and UNICEF throughout the 1990s and 2000s.
Allegations of sexual abuse and exploitation have been a blight on the U.N.'s mission in CAR—known as MINUSCA—which was established in 2014 with the mandate to protect civilians and aid the transitional government after CAR descended into violence following a coup by the Seleka rebel alliance, in March 2013, that overthrew President Francois Bozize.
Not including the most recent allegations, MINUSCA currently has 43 pending investigations into allegations of sexual abuse and exploitation, some of which involve more than one victim and more than one perpetrator. Since January 2015, four allegations have been closed due to lack of evidence and just one has resulted in a prison sentence, although many of the pending allegations could result in imprisonment.
The U.N. did also repatriate more than 100 soldiers from Republic of Congo and Democratic Republic of Congo who are subject to investigation for allegations of sexual abuse.
French Defense Minister Jean-Yves Le Drian announced recently that France would stop its military operations in CAR during 2016 because the force had "restored calm and prevented the unacceptable" since being deployed in December 2013. Yet CAR's former colonial power is likely to leave a bittersweet legacy in the country—no charges have yet been announced against any French soldier accused of sexual abuse or exploitation. Newsweek contacted the French Ministry of Defense for a comment on the bestiality allegations but received no reply.
According to Donovan, an independent oversight board is required to investigate allegations against peacekeepers and international forces and that the U.N. under Ban's leadership has failed to address the problem. "Ban Ki-moon cannot be trusted to solve this problem. He's had nine-plus years to do so and hasn't done it anywhere near adequately," says Donovan.
In comments emailed to Newsweek , a spokesperson for U.N. Peacekeeping says that the new set of allegations are "particularly disturbing" and that MINUSCA's budget would be increased to "ensure immediate assistance and support." A team of specialists had been deployed to the area of CAR where the abuse allegedly took place and the U.N. has requested all member states implicated in the allegations—chiefly Gabon and Burundi—to appoint their own national investigative officers within five days.
The U.N. Peacekeeping spokesperson stresses that the organization does not have authority to discipline or prosecute peacekeepers, but relies on the cooperation of the authorities of member states to ensure perpetrators of sexual abuse are brought to justice.
"We have a zero-tolerance policy which means that there is zero complacency. Every single allegation is taken extremely seriously, is investigated and disciplinary actions are taken," says the U.N. Peacekeeping spokesperson.