Central American Community Programs to See Most of $4 Billion Biden Aid Package, Not Governments
Part of President Joe Biden's immigration plan will give $4 billion in aid to Central American countries, but large portions of the money will be given to community programs rather than government officials.
Roberta Jacobson, Biden's senior official for Southwest border affairs and an expert on immigration, told the Los Angeles Times that money allotted for Honduras, El Salvador and Guatemala, will be subject to stricter conditions based anti-corruption efforts and good governance.
Rather than pouring most of the money into national treasuries, larger amounts will go to nongovernmental organizations, such as programs for single mothers, youth training or similar groups, the Times reported Wednesday.
"In the end, you are strengthening the societies and not enriching these governments," Jacobson told the news outlet.
Biden's new focus comes after the U.S. pumped large amounts of money into those three countries, often referred to as the Northern Triangle, for years with little affect.
When Biden served as vice president to former President Barack Obama, he oversaw an initiative called Alliance for Prosperity that allotted over $1 billion for the countries for police training, judicial reforms and other projects.
But the expensive program largely failed to produce results, and the political and economic conditions in the region deteriorated.
"The president will be the first to admit he's learned things," Jacobson told the Times.
"He is fully prepared to do both the hard work of insisting on those conditions and commitments, and is fully prepared to not convey funds if he doesn't get what he thinks is necessary."
Biden's Central American efforts reflect his general tendency to focus on solving what some call the root causes of illegal immigration—such as poverty and insecurity—in order to give migrants a reason to stay in their home countries.
This policy differs from that of former President Donald Trump, who used a law-enforcement approach to target migrants as they attempted to reach the U.S. border.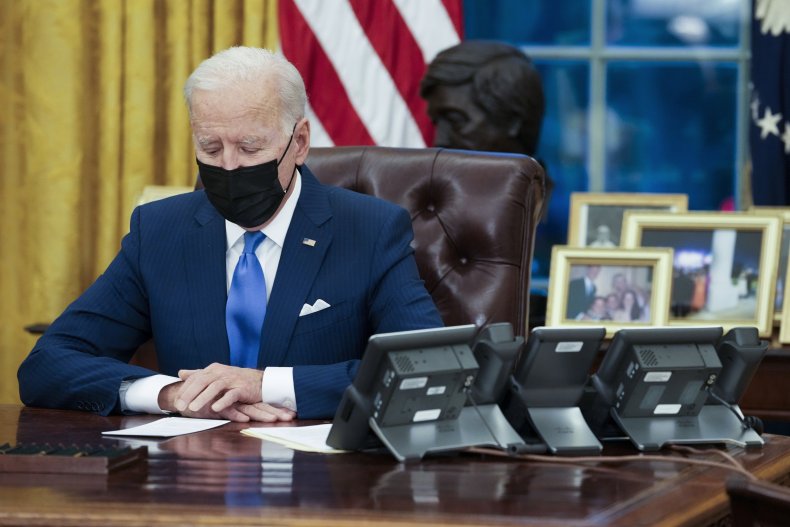 Since he was inaugurated on January 20, Biden has led an effort to undo Trump's immigration policies and launch a more welcoming approach to migrants.
On March 4, allies to the president introduced his sweeping immigration bill to the House of Representatives. Among other initiatives, the bill includes an eight-year path to citizenship for 11 million undocumented immigrants, and an expedited three-year path to citizenship for so-called Dreamers, farm workers and those with temporary protected status.
It also includes a measure that would eliminate per-country caps on migration, and make it easier for those with STEM—science, technology, engineering and math—degrees from U.S. universities to remain in the country after they graduate.
"These are not Democratic or Republican priorities—but American ones," President Biden said in a statement. "I've laid out my vision for what it'll take to reform our immigration system and I look forward to working with leaders in Congress to get this done."
Biden first announced his intention to distribute $4 billion in aid to the three Central American countries in January, the Associated Press reported.
Though his approach is centered on targeting anti-corruption efforts across the region, giving millions of dollars in aid to non-governmental organizations could prove difficult, as those entities are often ill-equipped at handling such large funds, the Times reported.
"We have to be hard-nosed," a senior State Department official told the Times about Biden's approach to the region. "It's not about wagging a finger. And it's not Biden's preferred strategy. But we have to be hardline and be seen as being hardline."
Newsweek contacted the White House for additional comment but did not hear back in time for publication.