Chadwick Boseman is Not the First Actor Nominated for an Oscar After Their Death
Chadwick Boseman's death in August 2020 led to many tributes being paid to him by the great and good of Hollywood, but the actor could receive one final plaudit for his work.
In the nominations for the 2021 Academy Awards, the Black Panther actor is one of five actors nominated for Best Actor. This makes him the eighth actor to be nominated posthumously for Hollywood's biggest prize.
The actor is nominated for his final performance, as Levee Green in Netflix's film adaptation of the August Wilson play Ma Rainey's Black Bottom. This comes a few weeks after the actor won a Golden Globe for his performance, as well as being nominated for a BAFTA.
In one of the most emotional moments of the 2021 Golden Globes, Boseman's award was accepted by his widow Taylor Simone Ledward. "He would thank God," she said. "He would thank his parents. He would thank his ancestors for their guidance and their sacrifices. He would say something beautiful, something inspiring, something that would amplify that little voice inside all of that tells you that you can ... that tells you to keep going that calls you back to what you are meant to be doing at this moment in history."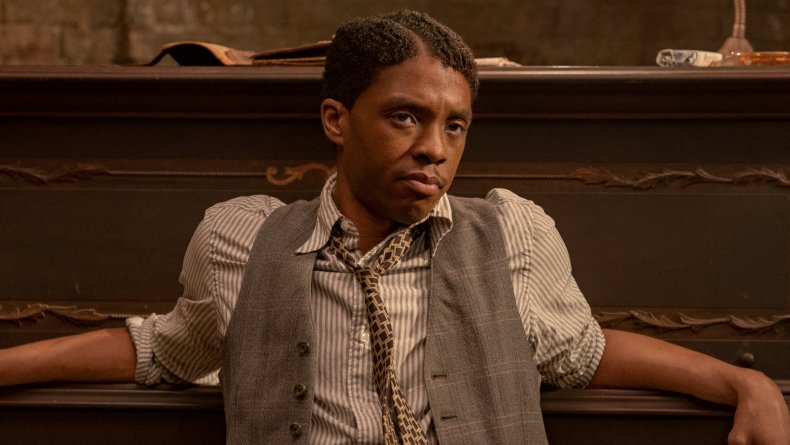 The actor, who died after a secret battle with colon cancer aged 43, is currently the overwhelming frontrunner to win, with odds of -993 for him to win the Oscar in May 2021. His nearest rival Anthony Hopkins, meanwhile, is at +600.
Though unusual, a posthumous Oscar win is not unprecedented. Across the Oscars' 90-plus year history, 16 people have been awarded competitive Academy Awards. Among these are Walt Disney, who won a Best Animated Short Oscar in 1968. Disney composer Howard Ashman, meanwhile, received two posthumous Best Original Song nominations (and one win) in 1991 for his work on Beauty and the Beast.
In the past, only two actors have won Oscars after their deaths. These were Peter Finch, who died two months before the 49th Oscars that saw him win for his work on Network. Then, in 2008, Heath Ledger died a month to the day of the 81st Oscars, where he won Best Supporting Actor for The Dark Knight.
Though Finch and Ledger are the only posthumous acting winners so far, five other actors have been nominated posthumously. James Dean, for example, was nominated posthumously twice after his death in September 1955—once for his work in East of Eden for the 28th Oscars and again the following year for Giant.
The other male posthumous nominees for Best Actor are Spencer Tracy (for Guess Who's Coming to Dinner) and Massimo Troisi (Il Postino). Ralph Richardson, meanwhile, received a 1984 Supporting Actor nomination for his work on Greystoke: The Legend of Tarzan, Lord of the Apes. So far, the only female posthumous Oscar nominee is Jeanne Engels, nominated in the second-ever Oscars in 1929 for The Letter.