Golden Globes 2021: The Best and Worst Quotes of the Night
The Golden Globes 2021 looked set up for a perfect storm of awkwardness. The show saw the nominees reacting from home, which already created a stilted atmosphere, plus the show has been mired in controversy for weeks due to recent headlines about the lack of diversity and transparency in its voting body, the Hollywood Foreign Press Association (HFPA).
Though there was all the reacting-from-home awkwardness you might expect, some funny and touching moments were still to be had from the ceremony. Here are some of the high and low points of the night from hosts Amy Poehler and Tina Fey as well as Daniel Kaluuya, Jane Fonda, and director Lee Isaac Chung's adorable young daughter.
The best and worst quotes from the Golden Globes 2021
"The Golden Globes are awards given out by the Hollywood Foreign Press Association. The Hollywood Foreign Press Association is made up of around 90 international no-Black journalists who attend junkets in search of a better life. We say around 90 because a couple of them might be ghosts, and it's rumored the German member is just a sausage that someone drew a little face on." - Tina Fey and Amy Poehler
Tina Fey in the opening monologue gave the first of a number of references to the recent controversies around the HFPA, its membership and alleged corruption. Particularly, the hosts focused on the group's lack of Black members, with Fey making a public call for the group to be more inclusive.
"The Queen's Gambit was...whatever James Corden was up to in The Prom." - Tina Fey and Amy Poehler
Tina Fey and Amy Poehler's opening monologue, delivered from two different cities, included a number of digs to some of the more bizarre nominations of the night, intercut with badly-timed reaction shots from the celebrities mentioned pretending to enjoy the joke. The first of these came courtesy of Corden, nominated for work in The Prom that many (Newsweek included) called out for being homophobic.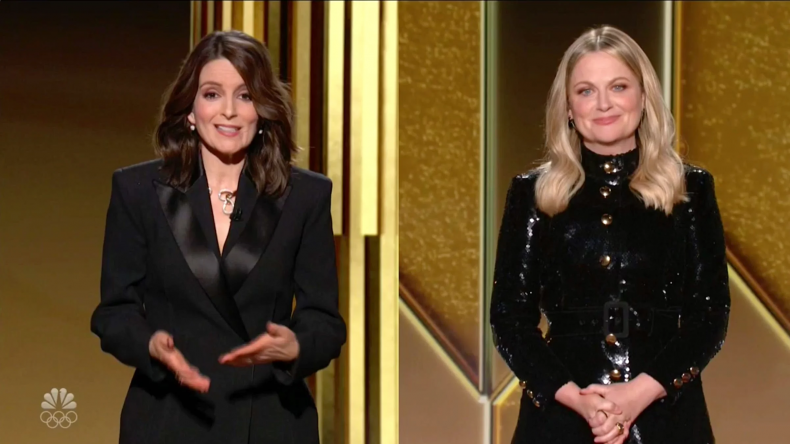 "Emily in Paris is nominated for best TV series, musical or comedy, and I for one can't wait to find out which it is." - Tina Fey and Amy Poehler
Emily in Paris was a show whose nomination was the subject of many raised eyebrows, especially after it was revealed that members of the HFPA had been taken on a lavish set visit to the show in France. Though the hosts didn't mention this directly, there were some digs at the critically savaged Netflix show.
"We all know that award shows are stupid...they're all a scam invented by Big Red Carpet to sell more carpet." - Tina Fey and Amy Poehler
After the recent stories about the HFPA and controversy around some of their nominations, the reputation of the awards are somewhat tarnished, allowing Poehler and Fey to stick the knife in with a kind of glossy primetime joke version of Fiona Apple's infamous "this is all bulls***" speech at the Video Music Awards in the 1990s.
"__________" - Daniel Kaluuya
The Golden Globes got off to a rough start, though a familiar one to those of us who have spent the year on Zoom, as first winner Daniel Kaluuya saw the first part of his acceptance speech (for Judas and the Black Messiah) muted out. Technical mistake it may have been, but for some, it was emblematic of how Black voices had been silenced by the HFPA in their membership and in snubbing the show I May Destroy You—even as they awarded both the main drama acting awards to Black actors.
"It's great to be Black at the Golden Globes...Back, back at the Golden Globes." - Sterling K. Brown
Sterling K. Brown delivered another dig at the lack of representation in the HFPA as he presented the award for Best Actor in a Television Series category.
Award shows (especially in the Zoom era) are nothing without a few goofs, and Tracy Morgan's misreading of the winner for Best Original Score Soul was one of the funniest, instantly launching a thousand memes.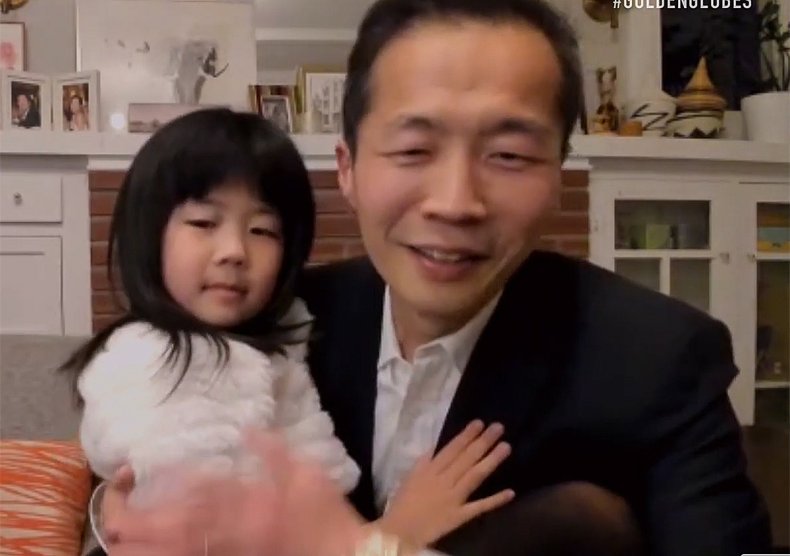 "I prayed! I prayed!" - Lee Isaac Chung's daughter
For many, the star of the night was the daughter of Minari director Lee Isaac Chung, who jumped into his arms after her dad won the Best Foreign Language film award.
"There's a story we've been afraid to see and hear about ourselves in this industry. The story about which voices we respect and elevate and which we tune out. It's about who's offered a seat at the table and who was kept out of the rooms where decisions are made. So that's all of us, including all the groups who decide who gets hired and what gets made and who wins awards. Let's all of us make an effort to expand that tent, so that everyone rises and everyone's story has a chance to be seen and heard." - Jane Fonda
Jane Fonda has taken the lead in dozens of progressive political causes over her decades in Hollywood, so it is no surprise that she had some words to say about diversity and inclusion as she picked up the Cecil B. DeMille Award.
"He would thank God. He would thank his parents. He would thank his ancestors for their guidance and their sacrifices." - Taylor Simone Ledward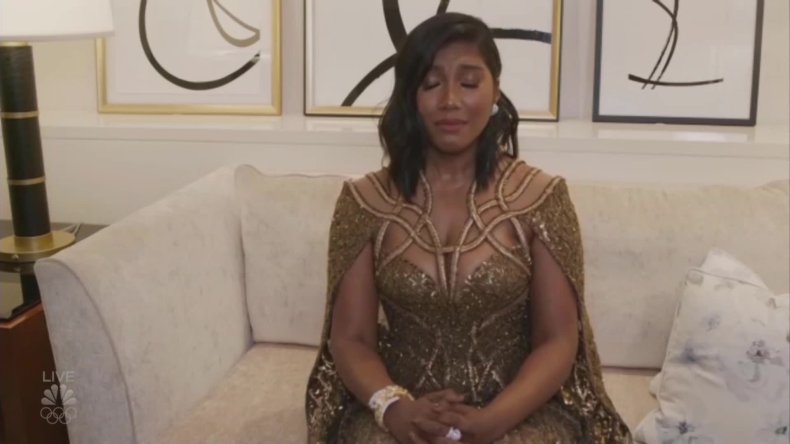 Taylor Simone Ledward, the widow of Chadwick Boseman, gave a moving speech and fitting tribute to her husband as she accepted his posthumous Golden Globe for his work on Ma Rainey's Black Bottom.
"This movie couldn't have been possible without my co-star, a fresh, new talent who came from nowhere and turned out to be a comedy genius. I'm talking, of course, about Rudy Giuliani." - Sacha Baron Cohen
Sacha Baron Cohen, whose Borat Subsequent Moviefilm was named best comedy (and who won best actor in a musical or comedy) takes yet another jab at the now infamous scene starring Giuliani in his Amazon Prime Video movie.
"Just act naturally." - mystery voice
For many, the stilted nature of the whole show was highlighted when a mystery voice was heard ordering the celebrities stuck in their home during one of the strange segments in which actors were encouraged to virtually 'mingle' before commercial breaks.