A survivor of a plane crash that killed dozens of Brazilian soccer players five years ago avoided death for a second time this week when he crawled from the wreckage of a bus crash that claimed 21 lives in Bolivia.
Erwin Tumiri, a crew member on the doomed jet, was on a coach traveling along the highway linking the cities of Cochabamba and Santa Cruz when it crashed down a hillside in the early hours of Tuesday.
The aircraft mechanic was one of just six survivors of LaMia Flight 2933, which was transporting the Chapecoense soccer team from Bolivia to Colombia when it crashed in November 2016. Seventy-one people on board died.
Speaking to Bolivian TV network Unitel about the bus crash, Tumiri said he had braced himself for the coach to flip over as it tumbled into a ravine.
"I was a little sleepy and listening to music on my cellphone when people started screaming," he said on Wednesday.
"The only thing I could do was grab the seat in front of me and lean on the window so that I didn't move when the bus rolled over, because I knew that was going to happen.
"We turned and turned and there were people who didn't hold on and were thrown about as if it were a washing machine."
Tumiri's sister, Lucía, told Bolivian newspaper Los Tiempos he had been lucky to survive. "He is stable, thank God," she said. "Once again he survived. I talked to him and he told me that he's fine."
The 30-year-old reportedly suffered knee and back injuries. He was treated in hospital but was discharged on Wednesday.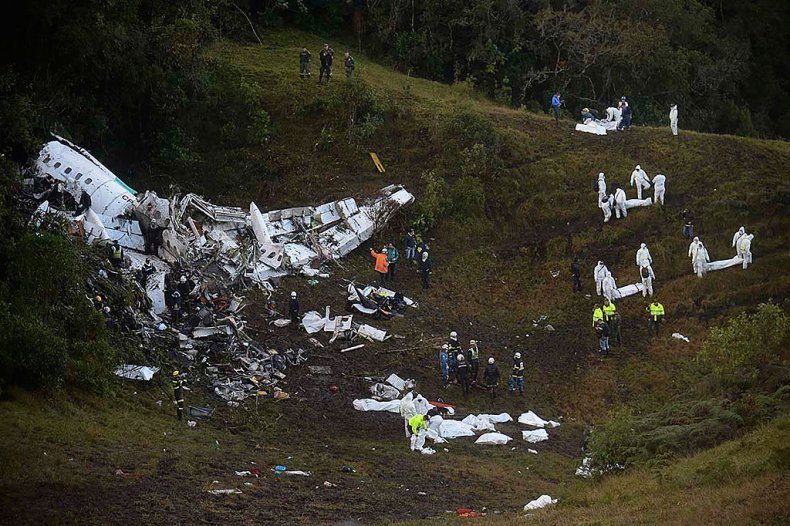 Tumiri became a local celebrity in his hometown of Cochabamba after surviving the Chapecoense crash. The plane went down on the approach to the city of Medellin after it ran out of fuel. Most of the Brazilian soccer team—which was traveling to Colombia for the biggest match in its history—died.
Tumiri had been sitting on the left side of the jet towards the back and described feeling an unusual vibration that he at first thought was the aircraft touching down on the runway.
Days later he learned that it was the first engine failing. "Ximena Súarez [the surviving cabin crew member who was sitting opposite him] sensed something. She told me 'Put on the harness more'," he told El Deber newspaper.
Tumiri felt further vibrations, followed by what he described as intense silence only interrupted by the whistle of the wind. Then a sound of thunder before he lost consciousness.
"There was no screaming, crying, despair, not even prayers. Just silence. Everything happened very quickly."