A charity worker was shocked to find an ornate jug among donations, which she hailed as an "antique" after tracking down the item to The British Museum website.
Cloé shared a clip of the incredible find to her TikTok page, @cloesimone, after spending ages researching the donation.
She said: "So I work for a charity, and I have spent all morning researching this one f****** item to find out the value of it.
"Because it had a weird stamp on the bottom, and I couldn't figure out what it was. But I found it. Found it like an hour later, and do you know where I found it? Shall I show you where I found it?
"Yeah no big deal, it's just on The British Museum website, and I just have one, just sat right in front of me. I can touch it."
Cloé films her screen, with a similar-looking vessel—albeit with a handle—listed on the museum's database.
"These things are behind a glass case in a museum and I can do this. Isn't that f***** crazy?" she said, tapping it.
The video has amassed more than 200,000 views since being posted last month, which Cloé captioned "do she steal" along with the hashtag "antiques."
The museum listing describes the item as a jug designed by Peter Dümler, and made by S P Gerz in Höhr, Germany.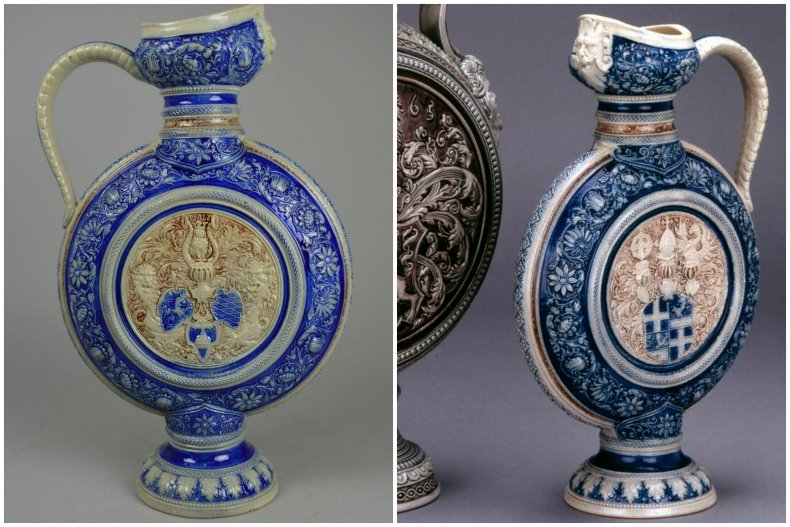 The design date ranges from 1878-1883, while the production date ranges from the late 19th century to the early 20th century. An antique is usually classed as an item more than 100 years old.
Acquired in 1993 by the museum, the entry states: "Jug, salt-glazed stoneware, pilgrim-flask shape with one handle, grey body, cast, with relief decoration in cobalt blue and manganese glazes.
"On each side medallions with coats of arms labelled 'Pfalz' and 'Trier', and grotesque mask on the spout."
Judy Rudoe, curator at the British Museum, told Newsweek she couldn't give an exact figure as to how much the jug would be worth, but noted: "Several viewers noticed that the jug had lost its handle and you can see clearly where it has broken off. Damage like that would obviously make a big difference.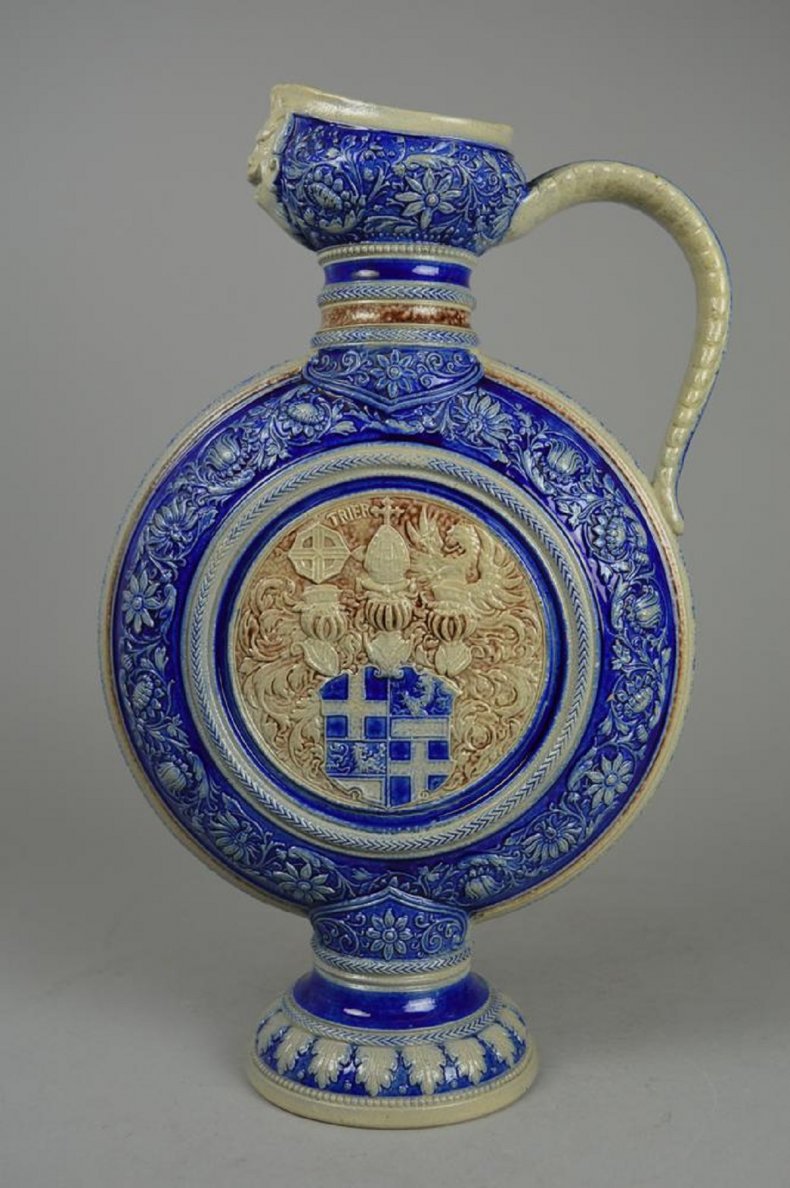 "As for whether the BM [British Museum] would display or acquire an object like that, we already have one which we have displayed in the past and might do again, given that the objects in our public galleries are regularly rotated.
"However, we would not acquire an object of this kind with such visible damage. We would wait to find one in good condition, since such objects were produced in significant numbers and are not particularly rare."
Rudoe confirmed finds such as this do not legally need to be reported.
Although she pointed out the listing in Cloé's video was for the larger two-handled jug, as she added: "I think the reason for this confusion must be the mark on her piece which she mentions, though doesn't describe or show.
"Our jug is by a firm called Gerz, but the record she found is for the two-handled vase, which is by a different firm, Merkelbach & Wick, so I can only assume that her jug bore the name Merkelbach and that's how she got to that record.
"This is entirely possible because Gerz merged with Merkelbach in the early 20th century, so the same pieces could have been marked Merkelbach."
She added: "The fact she found the image of a piece like hers does make a very nice point about the online collection database, what a wonderful resource it is and the different ways in which it can be useful.
"It has a huge amount of information, often written by the relevant specialists, and is being added to and updated daily. It has over two million records, many with images, making it one of the largest worldwide."
After receiving a lot of interest in the find, Cloé shared a further two updates on the jug, as she confirmed she'd put it up for sale on eBay, captioning a video "antique" and "museum."
Cloé, who didn't confirm which charity she worked for, but said in a comment they're "vintage specialists," said in another follow-up: "It's not for me to decide what happens with this item, I just work for the charity and my job is to make money for the charity.
"Therefore I evaluated the item and put it on eBay to sell it. The person who donated the item has chosen to support us as a charity, so we would never just give it to a museum. That would be counterproductive for us."
Newsweek reached out to Cloé for comment.