Charles Barkley 'So Disappointed' in Nick Cannon and Other Black Celebrities for Anti-Semitic Comments
On the most recent episode of his podcast The Steam Room, NBA great Charles Barkley said he was "so disappointed" in Black celebrities like Nick Cannon, DeSean Jackson, Stephen Jackson and Ice Cube for making anti-Semitic remarks recently.
Barkley started off Thursday's episode of the TNT podcast by addressing those celebrities and saying that the anti-Semitism "has gotta stop." He said that he was baffled by their ignorance. "What the hell are y'all doing? Y'all want racial equality. We all do. I don't understand how insulting another group helps our cause. I don't understand in any shape or form," the former Philadelphia 76er said.
All of the figures that he named have faced backlash for recent anti-Semitic remarks. Cannon was dropped by Viacom and issued an apology, after saying that Black people are the "true Hebrews" and spreading anti-Semitic conspiracy theories that Jewish people control the media.
Former NBA player Stephen Jackson has come under fire for defending DeSean Jackson after the NFL player shared a dubious quote falsely attributed to Adolf Hitler on Instagram. Stephen Jackson has since apologized, and said that he should have rephrased his defense of DeSean Jackson. Following the death of George Floyd, Stephen Jackson has been a prominent figure in the Black Lives Matter movement, but Bleacher Report columnist Mike Freeman told CNN recently that his defending Jackson may have "destroy[ed]" and "obliterate[d]" the work he's done for the movement.
Ice Cube, meanwhile, recently likened NBA legend Kareem Abdul-Jabbar to Judas for criticizing him in a column written for The Hollywood Reporter. In the piece,Abdul-Jabbar chided the rapper for tweets in June that spread anti-Semitic conspiracy theories and suggestive images that "in general implied that Jews were responsible for the oppression of blacks," as Abdul-Jabbar put it.
In his podcast on Thursday, Barkley decried all of that anti-Semitism. "We can't allow Black people to be prejudiced also, especially if we're asking for white folks to respect us, give us economic opportunity and things like that," he said. "If you want respect, you got to give respect, but I don't understand how you beat hatred with more hatred."
The 57-year-old added that these sorts of anti-Semitic comments undermine the Black Lives Matter movement. "Especially at a time when you're asking people to respect Black people, that black lives matter, this whole George Floyd thing has opened up a great dialogue to some of the problems in the black community," he said. "I don't want to alienate anybody, and to take shots at the Jewish, the white race, I just don't like it, cause it's not right."
While many celebrities have offered apologies for offensive comments, Barkley called them "lightweight" and "flimsy," saying they seemed insincere. "I think sometimes when you say stuff like that you really mean it. You just got—people called you on it," he said. "I don't understand how that could be in your vocabulary and in your heart. I don't understand. I'm never gonna accept it."
Barkley commended Abdul-Jabbar for his recent column in The Hollywood Reporter, in which he called out those same celebrities. Abdul-Jabbar also criticized the response to their remarks, describing it as "a shrug of meh-rage." The ex-Laker noted, "Recent incidents of anti-Semitic tweets and posts from sports and entertainment celebrities are a very troubling omen for the future of the Black Lives Matter movement, but so too is the shocking lack of massive indignation."
On his podcast, Barkley said that he himself couldn't say the sorts of things that Cannon, Stephen Jackson, DeSean Jackson or Ice Cube have. "I ain't never gonna say something bad about another ethnic group. Never, ever. That's not in my heart. That's not in my soul. That's not in my DNA," he said.
Newsweek reached out to representatives for Nick Cannon, Stephen Jackson, DeSean Jackson, and Ice Cube. This story will be updated with further comment if available.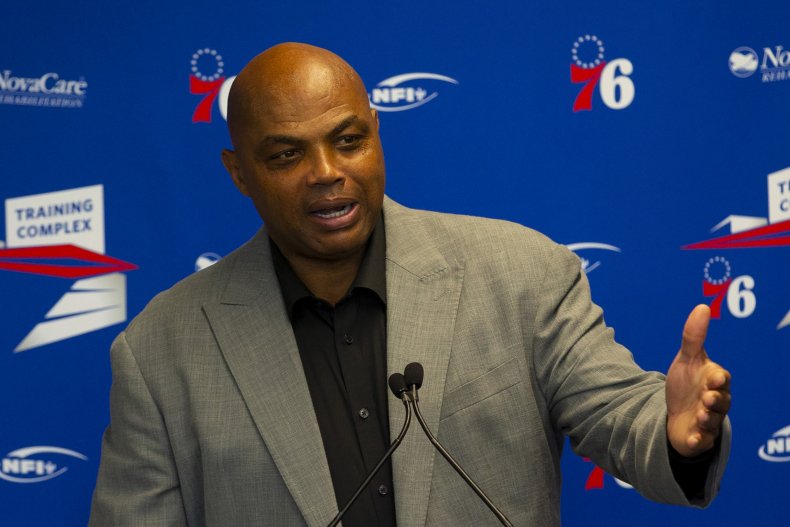 Update 7/17 3:20 p.m. EST: This story has been updated to reflect that Newsweek has reached out for comment from Nick Cannon, Stephen Jackson, DeSean Jackson, and Ice Cube.