Who is Charles Herbster? GOP Candidate Accused of Groping Multiple Women
Former president Donald Trump is set to hold a rally in Nebraska alongside a gubernatorial candidate accused of sexual assault.
Charles Herbster, who Trump endorsed as his choice for the state's next governor, will speak at the event I-80 Speedway in Greenwood on Friday, April 29.
Trump endorsed Herbster for Nebraska governor back in October last year. In April this year, his longtime ally was accused of groping eight women, including Republican State Sen. Julie Slama in 2019.
Other women also accused Herbster of touching them inappropriately between 2017 and 2022 at events such as beauty pageants or political fundraisers. One woman also alleged that Herbster had privately grabbed and forcibly kissed her.
Herbster denied all the allegations reported by the Nebraska Examiner as "libelous fake news."
He also characterized the claims as a "dirty political trick" orchestrated by the sitting Republican Gov. Pete Ricketts and election rival, Republican Jim Pillen. Both men deny the accusation.
Who Is Charles Herbster?
As well as heavy involvement in politics, Herbster is the owner of several agricultural enterprises including Herbster Angus Farms in Falls City and Conklin, a Kansas City-based firm that sells a mixture of products from farm fertilizers to motor oils.
For years he was a frequent donor to the Republican Party, including giving $91,600 to support Mitt Romney's presidential campaign in 2012, Politico reported.
Herbster was a short-lived candidate in the 2014 gubernatorial election in Nebraska, although dropped out after a few weeks following concerns he actually lived in Kansas City, Missouri, and not the Cornhusker state.
He then contributed about $2.7 million to the campaign of State Sen. Beau McCoy, the Omaha World-Herald reported, who went on to lose to Ricketts.
Herbster first met Trump at the former president's Mar-a-Lago resort in Florida in 2013.
In 2015, Herbster was in Trump Tower in New York when Trump descended a golden escalator and announced his intention to run for president.
Herbster stood by the former president throughout his term and was present when Trump gave a speech at the "Stop the Steal" rally in Washington D.C. just before his supporters stormed the Capitol on January 6.
He was also part of a group of key Trump allies who gathered on January 5, 2021, at the Trump International Hotel in D.C, to allegedly discuss how they could pressure members of Congress to object to the certification of the Electoral votes in favor of Joe Biden, the Nebraska Examiner reported.
During his time in the White House, Trump appointed Herbster as deputy secretary of agriculture and was chair of Trump's agricultural committee in 2016.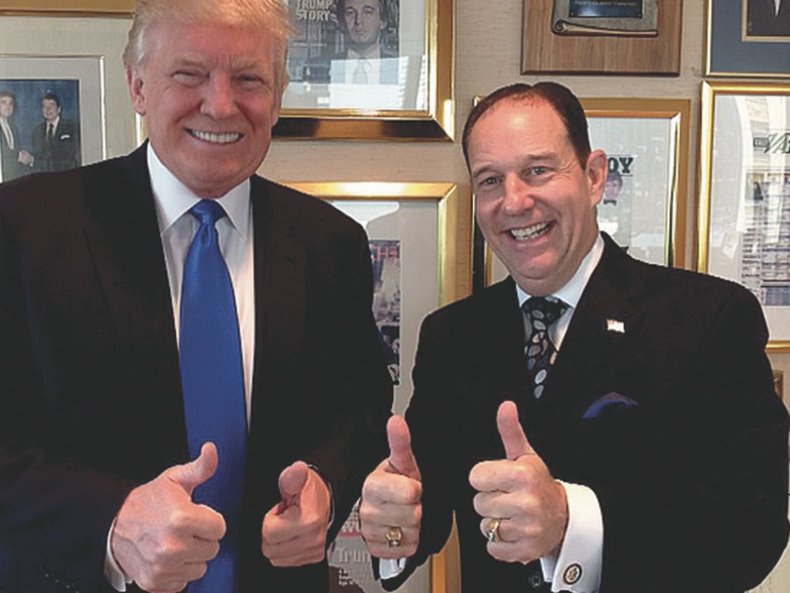 In a statement denying the sexual assault allegations against him, Herbster said: "These libelous accusations are 100 percent false.
"For over thirty years, I've employed hundreds of people. I've respected and empowered women to run my company, my farm and now my campaign.
"Not once has my integrity EVER been challenged in this manner. It's only after I've threatened the stranglehold the establishment has on this state do they stoop to lies this large.
"The fake-news story is based upon shadowy, unnamed sources and one person who was appointed by Governor Ricketts and her family has benefited from Governor Ricketts' patronage for years. This isn't bad journalism—it's libelous fake news."
In a statement to CNN, Ricketts denied the claims he had anything to do with the original Nebraska Examiner report detailing the allegations.
"It is ridiculous to suggest that I or anyone else conspired to talk [to] eight women and even more witnesses to make up stories about Charles Herbster. It's just not plausible," Ricketts said.
In a previous statement, Pillen said that sexually assaulting women should be "disqualifying for anyone seeking to serve as a leader" and that he and his wife are praying for the women "targeted" by Herbster.
Herbster has been contacted for comment.