Nebraska Governor Candidate Backed by Trump Accused of Groping 8 Women
Charles Herbster, a Republican candidate for Nebraska governor who has been endorsed by former President Donald Trump and recently appeared at a campaign event alongside Donald Trump Jr., has been accused of groping at least eight women, the Nebraska Examiner reported.
Herbster, the CEO of manufacturing company Conklin, is one of the GOP's leading candidates in the weeks leading up to next month's primary for a nominee in the governor's race.
At least eight women, including a Republican state senator, told the Examiner that since 2017 Herbster had touched them over their clothes without their consent several times, and one woman alleged that he forcibly kissed her. Herbster's campaign has denied the allegations and dismissed them as a "political hit piece."
"These libelous accusations are 100% false," Herbster said in a statement after the Examiner report was published. "...This story is a ridiculous, unfounded dirty political trick being carried out by Pete Ricketts and [another primary candidate] Jim Pillen."
Herbster accused Ricketts and Pillen of pitching the "made-up story" to different outlets, and accused the Examiner of posting a story that "isn't bad journalism - it's libelous fake news."
Pillen said in a statement to Newsweek that sexually assaulting women should be "disqualifying for anyone seeking to serve as a leader," and said he and his wife are praying for the women "targeted" by Herbster.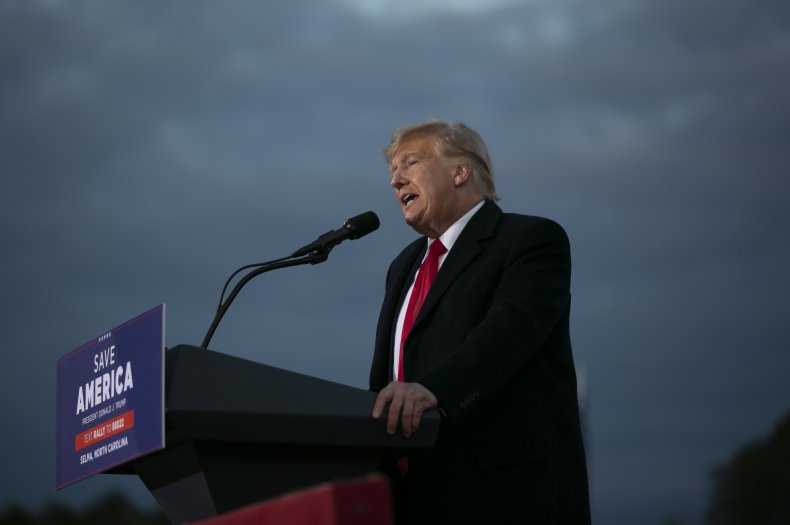 Herbster has been a public supporter of Trump. He is one of 13 people currently running for office who attended the former president's "Stop the Steal" rally before the January 6, 2021, riot erupted at the U.S. Capitol.
On Wednesday, Herbster appeared at a campaign event alongside Trump Jr. He received a written endorsement from Trump's father last October to replace Governor Pete Ricketts, who cannot run again because of a state term limit.
Republican state Senator Julie Slama, the only woman who agreed to be publicly named by the Examiner, alleged that at an event in 2019, Herbster reached up her skirt and touched her without her consent while she was walking by him.
Several other women made similar allegations to the Examiner, saying that Herbster touched them without their consent during interactions at Republican campaign events or fundraisers, or beauty pageants where Herbster served as a judge.
The women told the Examiner their reasons for not coming forward publicly included fearing Herbster's wealth and influence and the impact the allegations could have on their future careers in Republican politics. They also cited concerns about how their family or community would react. Two women said they were still considering filing police reports, and others said the incidents had affected their interest in politics or led them to seek therapy.
The Examiner reported that it had corroborated the accounts of the women with either a witness to the allegedly inappropriate touching or someone close to the woman who was told about the alleged incident on the day it happened.
"These are women who experienced trauma and were extremely reluctant to discuss what happened to them," Aaron Sanderford, the Examiner reporter who wrote the story, said in a statement. "They are conservative women politically—some backed Charles Herbster—and they had nothing to gain from coming forward."
Sanderford also reported that several current and former Nebraska politicians, including Ricketts and every female senator currently serving in Nebraska, have released statements condemning Herbster's alleged actions since the publication of the Examiner's story.
"It is shocking to read the allegations against Charles Herbster, of his misconduct and degradation of women," former Nebraska Governor Kay Orr told Newsweek. "I understand the reluctance of women to step forward for fear of retribution."
She added, "However, it is my hope that men who have witnessed such behavior should feel responsible to come forward also. Knowing Senator Slama personally, I know her to be an honest and truthful person."
Slama said in a statement that her allegations against Herbster are true and that she is "not seeking media attention or any other gain, I simply was not going to lie and say it did not occur."
About 80 percent of women said they experienced some form of sexual harassment or assault in their lifetime, compared with just 43 percent of men, according to a 2018 report from the National Sexual Violence Research Center.
Last month, it was reported the Trump campaign had been ordered to pay $350,000 to a woman who made sexual assault allegations against Trump in a 2016 incident. The campaign had required her to sign a nondisclosure agreement, which the woman's attorney called unenforceable.
Earlier this year, a New York judge dropped a groping case against former New York Governor Andrew Cuomo, who resigned last year after multiple sexual assault allegations.
Newsweek reached out to Herbster's campaign for comment on the allegations.
Update 4/14/22, 6:10 p.m. ET: This story was updated with statements from Charles Herbster and Jim Pillen
Update 4/14/22, 3:05 p.m. ET: This story has been updated with statements from Senator Julie Slama and former Nebraska Governor Kay Orr, as well as additional information and background.