Trump Campaign Loses Legal Dispute, Ordered to Pay Ex-Staffer $350,000
Former President Donald Trump's campaign organization lost a legal dispute and has been ordered to pay hundreds of thousands of dollars to a former staffer and her attorneys due to an "unenforceable" nondisclosure agreement (NDA) that it attempted to enforce.
Alva Johnson, the former staffer, worked on Trump's 2016 presidential campaign and has alleged that he grabbed her hand and leaned in to kiss her on the lips on August 24, 2016, in Tampa, Florida, The Washington Post reported in February 2019. The former Trump campaign staffer has said that she turned her head and that the then–GOP presidential candidate's attempted kiss landed on the side of her mouth.
On Friday, BuzzFeed News first reported that the Trump campaign organization was ordered to pay Johnson and her lawyers a sum of just over $350,000 after it attempted to enforce an NDA when she took legal action. The arbitrator, retired federal magistrate judge Victor Bianchini, in the case determined that the NDA was not legally sound.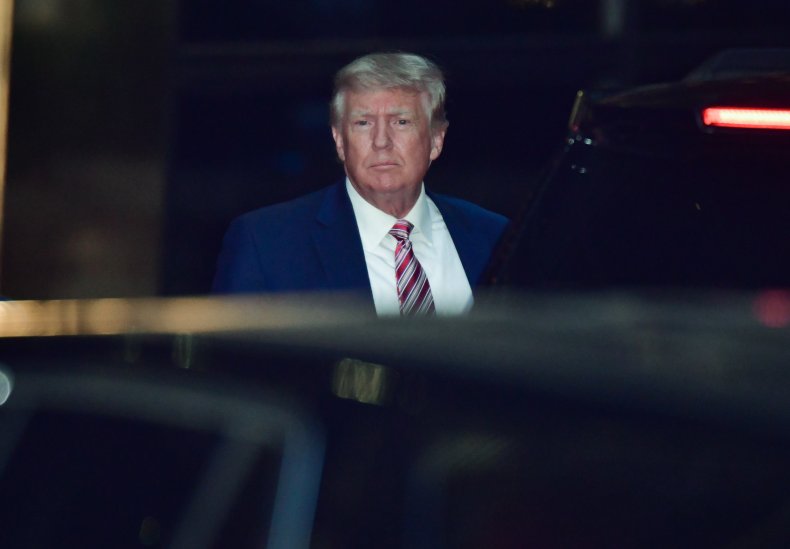 Although Johnson dropped her lawsuit against Trump in September 2019, Bianchini agreed that the Trump campaign must pay $303,285 to cover her legal bills. The retired judge additionally decided that the Trump campaign must cover the cost of arbitration, which came out to about $50,000. Although the decision came down on March 10, the news was not made public until this week.
"The Trump campaign has tried to use its unenforceable NDA to unlawfully silence its critics," Johnson's lawyer Hassan Zavareei said in a statement to BuzzFeed News. "We are pleased that the arbitrator has held that these efforts cannot stand and ordered the campaign to compensate our client for the hundreds of thousands of dollars in legal fees that the campaign forced her to incur."
Spokespeople for Trump have consistently denied Johnson's allegation. Trump's former White House press secretary Sarah Sanders dismissed the allegation as "absurd on its face" in a statement to The Washington Post in February 2019. "This never happened and is directly contradicted by multiple highly credible eyewitness accounts," Sanders said at the time.
In June 2019, Johnson's lawsuit was dismissed by a federal judge, but he said that she could file another complaint alleging simple battery. However, the former Trump campaign staffer ended up dropping her lawsuit in September of that year.
"I am facing a judge who openly questions whether the kiss is worthy of a federal lawsuit and has determined that Mr. Trump's history of such behavior is not relevant, and I've endured ongoing threats to my safety," Johnson told CNN at the time. "I've decided for the sake of my family that I will not continue with the case at this time."
Johnson previously told The Washington Post that she "immediately felt violated" by Trump "because I wasn't expecting it or wanting it." Continuing, she said: "I can still see his lips coming straight for my face." Alleged witnesses did not confirm Johnson's story when asked about the interaction by the newspaper.
When Johnson dropped her case, Trump campaign attorneys demanded she pay their legal fees. Zavareei told CNN at the time that their demand was "nonsense and it's never going to happen." He said that the NDA was "unenforceable."
At least 18 women had accused Trump of sexual misconduct as of September 2020, according to ABC News. These allegations have ranged from forcible kissing and groping to rape. Trump has consistently denied any wrongdoing.
An old hot-mic interaction between Trump and Billy Bush, who was an anchor for Access Hollywood at the time, drew substantial backlash in October 2016 just ahead of the presidential election that year. In that 2005 conversation, Trump appeared to admit that he forced himself upon women at times.
"I'm automatically attracted to beautiful women—I just start kissing them, it's like a magnet. Just kiss. I don't even wait. And when you're a star, they let you do it. You can do anything," the former reality television star and real estate mogul said. "Grab 'em by the p****y."
Trump apologized after the hot-mic conversation came to light, but downplayed its significance.
"This was locker-room talk. I'm not proud of it. I apologize to my family. I apologize to the American people. Certainly I'm not proud of it, but this is locker-room talk," he said in an October 2016 presidential debate.
Newsweek has reached out to Trump's press office for further comment.