Charlie Sheen's '9/11' Film Is a Disaster Movie in More Ways Than One (Review)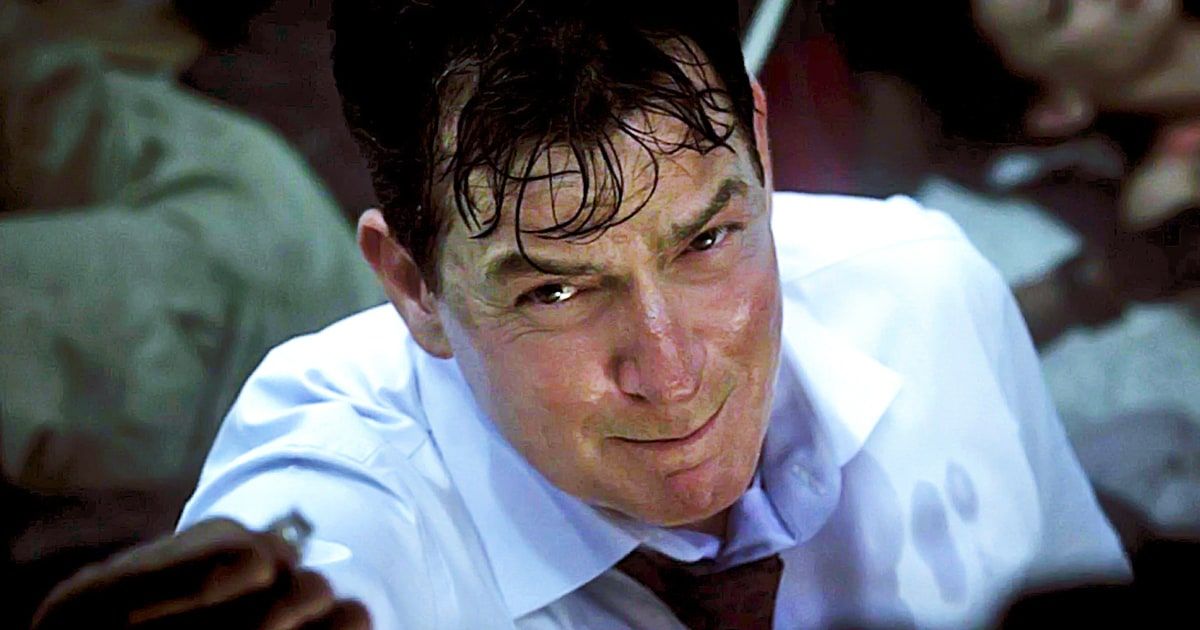 What is it about September 11 that inspires such mediocre art? For years, the collective trauma of that day has inspired mawkishness, patriotic platitudes or worse. Remember Bon Jovi's "Undivided," or Toby Keith's atrocious "Courtesy of the Red, White and Blue"? Or Adam Sandler moping around in the 2007 drama Reign Over Me? The best 9/11-inspired films, like United 93, zero in on real-life stories of heroism with skillful filmmaking and unflinching cinematic focus.
Now comes a new movie that uses the tragedy as heartracing backdrop, but has absolutely nothing to say about it, wielding the horrors of that day with all the subtlety and grace of a promoted brand tweet. The best thing you can say about Martin Guigui's 9/11 is that, despite its title, this is not a movie that has been made before. Unfortunately, it is probably not a movie that should have been made at all.
Loosely based on Patrick Carson's play Elevator, 9/11 is a claustrophobic, confused glimpse at five people whose lives intersect amid tragedy. Charlie Sheen stars as Jeffrey Cage, a billionaire financier who visits the World Trade Center on September 11 to sign divorce paperwork with his wife, Eve (Gina Gershon). The bickering couple is in an elevator with three strangers—a custodial engineer (Luis Guzman), a bike messenger (Wood Harris), and a young Russian woman (Olga Fonda)—when the first plane hits.
Confusion turns to panic when they become trapped and, after receiving some grim dispatches from a kindly elevator operator, realize their fate. The operator is played by Whoopi Goldberg, whose involvement in this movie is so baffling that you almost expect to see her trapped inside a small enclosure. (Goldberg tries to bring some life to the most likable character in this film, but she isn't given much to do besides frown and futilely urge the elevator inhabitants to get the hell out of there.)
Meanwhile, the filmmakers repeatedly and gratuitously cut to archival shots of the planes hitting the towers, with mournful music to evoke the emotional gravity of that day, in case you've forgotten. (It's hard to identify the most manipulative sequence, but don't miss the drawn-out scene in which Sheen's young son asks his grandma whether mommy and daddy will be OK.)
Related: What it's like to have a personal item from the World Trade Center returned 13 years later
The movie latches onto the brief window between initial impact and building collapse to gin up some action-movie suspense: Will the trapped five get out of there? Can Sheen's character save his depressing-as-hell marriage before they're both dead? Can you really survive an elevator drop by lying flat on your back? Is it just a coincidence that Sheen's character shares a surname with Nicolas Cage, who once played a trapped World Trade Center responder and whose manic, unhinged performances Sheen seems to be channeling during this film's bizarre, death-defying climax?
Also, is there any godly reason this film makes room for Gershon's character to lecture the black bike messenger about her billionaire husband's charitable donations and hard-earned wealth? (The weird thing is that the film depicts Sheen's character as some skeevy, factoid-spurting, bigwig sociopath, and then, as he hurtles toward near-certain death, evidently wants us to believe in this paternalizing speech.)
As the terrorist plot unfolds, the people in that elevator don't know what to do, and neither do the screenwriters. The movie flirts with Breakfast Club-style group therapy catharsis, but never really commits. (The dialogue takes a messy, confounding turn. In one scene, the reticent Russian woman declares that she hopes her sugar daddy died in the blast.) Then, as smoke rises, Guzman's character uses his tools to try to pry open the doors and hack through the wall to freedom. (This bears some resemblance to the story of window washer Jan Demczur, who used a squeegee handle to break free from certain death in an elevator on September 11.) Here's where 9/11 abruptly shifts tone and dials up the action-sequence fervor.
It's difficult to figure out who, or what purpose, this film actually serves. As a vehicle to resurrect Sheen's dramatic acting career, it fails miserably. Sheen's role too often feels like a midlife parody of his Wall Street sleaze; his performance has been roundly panned. And yet Guigui, the filmmaker, refused to make it with anyone else.
As a tribute to the September 11 victims and first responders, it doesn't make much sense either. The "Never Forget" dedication that flashes during the end credits feels hollow and trite. Aside from some obligatory shots of rescue workers, the movie doesn't represent anyone's real-life 9/11 experiences: It focuses on an elevator full of fictitious characters, most of whom seem pretty insufferable.
Worse, the film's actual content has been largely overshadowed by renewed focus on Sheen's offensive 9/11 truther remarks. (In fairness, I don't think Sheen's privately held views have any bearing on his performance here, though for some viewers they do make the casting choice seem disrespectful, or just clueless.) The Sheen comments dominated press coverage of the original trailer; ultimately, the movie wasn't even screened for critics. (Newsweek's requests for a screener of the film were roundly rejected. On Friday, when the film opened, Rotten Tomatoes didn't have any reviews to report.)
As a historical testament to what happened that day, it's also useless: This movie is too distracted, too ahistorical, to serve future generations. Which is not to say the film aspires to serve that weighty role, but it does carry a definitive-seeming title, and director Guigui makes a point of using real-life news footage to supplement the elevator drama. He winds up with a disaster movie in more ways than one.
Anyway, if you've read this far, chances are you share my fascination with this jumbled, ghastly mess of a movie. So just go see it. Please. This thing needs to be seen to be believed. Also, I really need someone to discuss it with.