Charlottesville White Supremacist Found Guilty of Brutal Attack on Black Man
A white supremacist who brutally attacked a black man inside a parking garage during the deadly "Unite the Right" rally in Charlottesville last August has been convicted of malicious wounding.
A Virginia jury on Tuesday found Jacob Scott Goodwin, 23, guilty of kicking and beating 20-year-old DeAndre Harris during the August 12 rally.
Video of the assault made headlines last summer, showing Goodwin, clad in paramilitary gear, including a helmet, goggles and a shield, joining a number of men in attacking Harris at the entrance of a parking garage just steps away from the Charlottesville Police Department's office.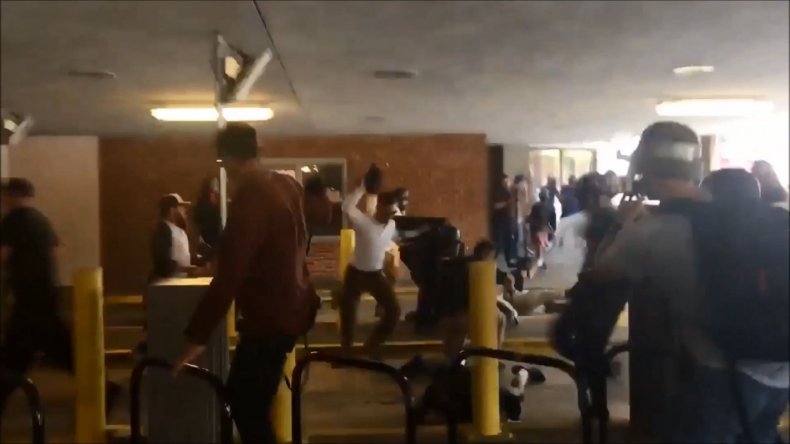 The jury recommended a sentence of ten years for the assault, but gave the option of suspending some of that time and enforcing a $20,000 fine, according to the Washington Post. Goodwin's mother reportedly let out a gasp as the court clerk read out the jury's recommendation.
Judge Richard E. Moore is expected to set Goodwin's sentence on August 23, just over a year after the rally took place.
The attack on Harris, who previously worked as a special education teaching assistant, left him with a spinal injury, a broken arm and head lacerations requiring staples.
At one point, Harris himself faced charges over his involvment in the violence, with one of the white supremacists involved accusing the 20-year-old of "instigating" the attack and assaulting him. However, Harris was acquitted of misdemeanor assault and battery in March.
Goodwin was one of several people involved in the rally who was tracked down by a group of web sleuths, including civil rights activist Shaun King.
Read more: Anonymous White Nationalists May Have Their Identities Exposed in Lawsuit Over Charlottesville Violence
The Southern Poverty Law Center also joined in the effort, crowdsourcing images and videos posted to social media to track down "Unite the Right" rallygoers and identify them to authorities.
The Charlottesville rally began as a demonstration organized by white supremacists to protest against the planned removal of a statue of Confederate Gen. Robert E. Lee from a local park.
The rally saw eruptions of violence, and turned deadly when a "Unite the Right" protester rammed a car into a crowd of counterprotesters, killing 32-year-old Heather Heyer.