Anonymous fans of a white nationalist podcast network could have their identities exposed as a result of a lawsuit against the men who promoted the so-called Unite the Right rally in Charlottesville, Virginia, last year.
Sines v. Kessler, which was filed in October of 2017, implicates a handful of "alt-right" personalities—like Richard Spencer and Andrew Anglin of the neo-Nazi website Daily Stormer—in "planning, promoting and carrying out the violent events" that took place in August 2017, which led to the death of anti-racist protester Heather Heyer and caused dozens of injuries.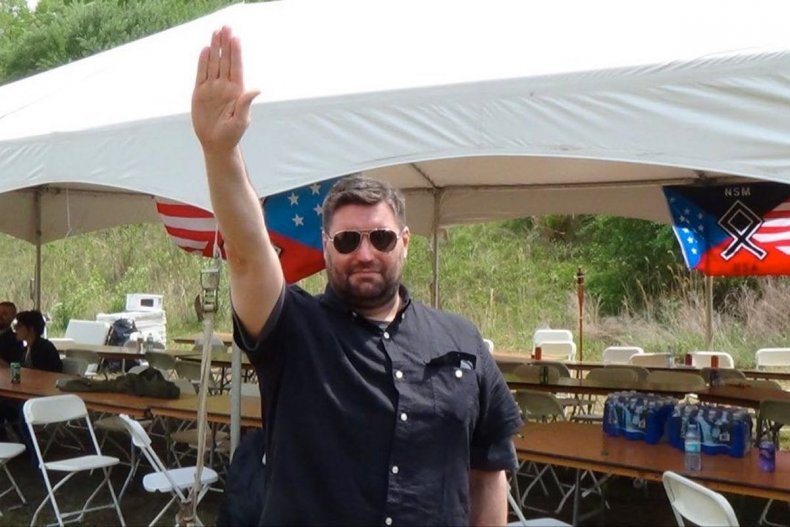 One figure named in the lawsuit is Mike "Enoch" Peinovich, a prolific white supremacist podcaster. Peinovich runs a racist but influential podcast network called The Right Stuff, which currently hosts scores of different shows focused around building a country for only white, non-Jews. Most of the fans who comment on the network and its related forum are anonymous, but that could change through the process of discovery in the civil suit against him and others.
A federal court judge denied two motions this April filed by Peinovich to stop court orders requesting information related to individual users that visit his website—strengthening the odds that anonymous fans of The Right Stuff could have their names and whereabouts made public as a result of conversations they had in the lead up to "Unite the Right."
The subject of violence was discussed in great detail on alt-right related websites and on social media in the lead up and aftermath of the now-infamous Virginia rally. That potentially makes anonymous people co-conspirators in the clashes that took place. Peinovich himself appeared to endorse the idea of his fans bringing weapons to the "Unite the Right" rally on a podcast appearance.
"Bring whatever you need [to Charlottesville], that you feel you need for your self-defense," Peinovich told his audience in the lead-up to Unite the Right last August. "Do what you need to do for security of your own person, at this point…. We don't want [counterprotesters] to have the impression—that we are going to be showing up there, unarmed…that is not the case."
The plaintiffs named in the case are students, clergy and local Charlottesville residents who seek damages related to the violence that they believe was instigated by men like Peinovich. On August 12, 2017, James Fields, a man who appeared at the rally alongside the white supremacist group Vanguard America, drove his car into a crowd of anti-racist protesters. Fields, who is also named in Sines v. Kessler, has been charged with the murder of Heyer, and awaits trial, but the lawsuit could inflict substantial financial damages on top of those charges to all the defendants named.
Roberta Kaplan, the attorney leading the lawsuit against the Charlottesville rally organizers, told Newsweek that Peinovich should be expected to produce info about his website, but only what is relevant to the case at hand. "If anonymous users are unnamed co-conspirators in this case, the identities of such people would be considered a relevant detail for discovery in our case," Kaplan said.
Related: Ann Coulter retweets white nationalist Charlottesville leader who attacked Trump with Syria conspiracy theory
Peinovich has argued unsuccessfully that he has a right to protect the privacy of unnamed individuals that contribute to his site and that "his 'reputation and ability to earn a living' will be 'irreparably damage[d]' if those visitors 'no longer feel they can browse' the website's 'politically controversial' content without fear that their 'personally identifiable information' will be disclosed in litigation," according to court documents.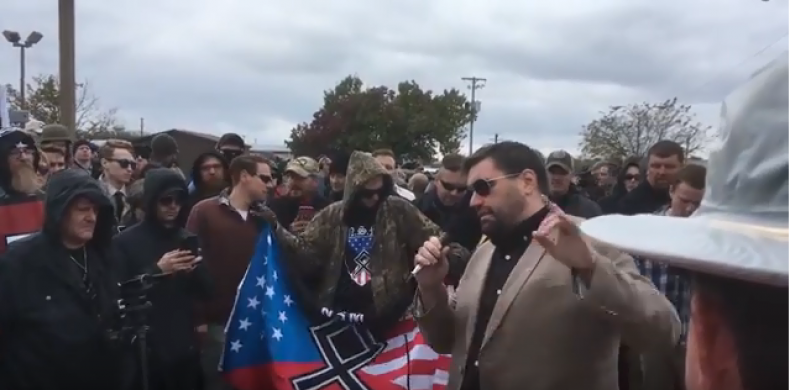 Peinovich actively encourages his fans to participate in political discussions every day. The current iteration of his forum has just shy of 10,000 users, according to Newsweek's analysis. There, white men gather to discuss everything from anti-Semitic conspiracies to whether or not "men hurt more after a breakup than women do," which is the headline of a recent discussion thread on that site. Newsweek reached out to Peinovich multiple times for comment on this story but did not receive a response.
The 41-year-old Peinovich knows something about losing anonymity. He produced massive amounts of white supremacist propaganda under a stage name for years before having his personal details leaked online by anti-fascist activists in January 2017. The Jersey native, who is currently living in New York, was revealed to be married to a Jewish woman, which proved to be a controversial detail due to the often naked anti-Semitism of alt-right politics. Critics within the alt-right movement have more recently unearthed the detail that Peinovich's mother is a vocal supporter of Hillary Clinton, something he has acknowledged, and has been forced to defend on his podcasts to skeptical fans.
Related: Neo-Nazi who calls for "slaughter" of Jewish children is of Jewish descent, his mom says
Peinovich may want to protect his fans from experiencing a similar fate, but simply suggesting the degree to which their lives may be inconvenienced by having their information laid bare is not an effective argument, according to David Hyman, a law professor at Georgetown University in Washington, D.C.
"Private and privileged are not the same thing," he told Newsweek, referring to the types of information that cannot be requested in a court case. Nothing prevents you from having your identity revealed "if the judge concludes that it is relevant," he said.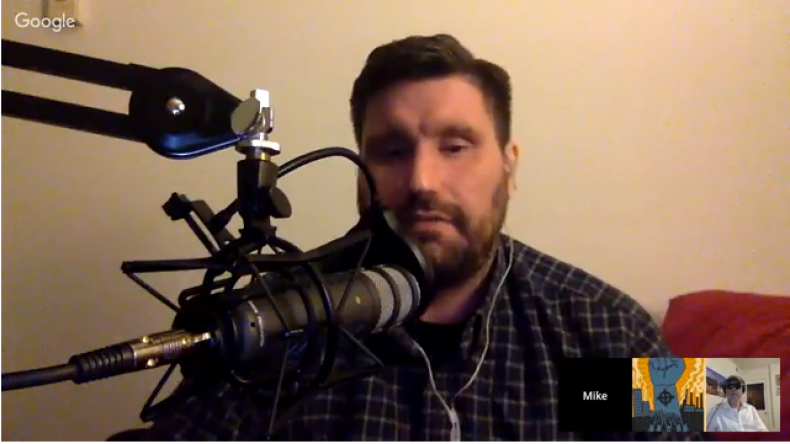 Hyman told Newsweek that Peinovich is potentially putting his fans at greater risk of having their personal details exposed by choosing to represent himself "pro se," or on his own behalf. Spencer, in contrast, launched a fundraising drive last week to mount a defense against the lawsuit, but there is a limited amount of handout money to go around in the white supremacist movement, according to researchers, and it is unclear at this time exactly how much money these men have at their disposal to spend. Lawyers have also been reluctant to take on controversial clients like Peinovich, Spencer or Anglin, who are notorious for promoting hate speech.
Hyman said that there are legal measures Peinovich could adopt to protect his anonymous supporters, but as an amateur, he may not fully understand what they are. "There's a reason why people go to law school," Hyman said of Peinovich's approach to the case.
Related: "Kill them all": White nationalists threaten fresh violence against leftists, Charlottesville lawsuit alleges
Peinovich has expressed palpable frustration and rage with the Sines v. Kessler lawsuit on his podcasts in recent months. On a February 28 episode of his most popular show The Daily Shoah—the name is a pun mocking the genocide of the Jews during World War II—he erupted about Kaplan. "Alright, Roberta Kaplan, you poor, swine, sweaty dyke-y, little f****** Jewish lesbian!" he said. "F*** you! You don't even know how the internet works."
Kaplan told Newsweek that Peinovich has struck a much more deferential tone in front of the judge. During a telephonic court hearing on March 16, for example, he admitted to being at a disadvantage while representing himself, according to a transcript of that conversation that was provided to Newsweek by Kaplan.
"I'm a pro se defendant," Peinovich told the judge. "I'm kind of up against a lot of stuff here."