Why Are Richard Spencer and David Duke Still on Twitter? The Answer Is Confusing, Rights Groups Say
Five months after Twitter launched a so-called "purge" of users in response to criticism that it was giving hate groups a platform, arguably the two most famous white supremacists in the world are still using it every day to promote their ideology.
Richard Spencer, widely considered to be the face of the now-fractured "alt-right" movement, continues to reach an audience of over 80,000 users on Twitter. David Duke, who was once regarded to be the most famous white supremacist in the country, continues to tweet to just under 50,000 users.
Facebook pages for two Spencer-related groups, "Alt-right.com" and "National Policy Institute" were removed last week, leading some Twitter users to ask aloud why another major social media platform would still be amplifying his voice.
Twitter's updated December rules included consideration of users behavior "on and off the platform," a detail that would theoretically draw attention to two infamous proponents of creating a country for only white, non-Jewish people. Even other white supremacists have gotten into the act, positing conspiracy theories that suggest Spencer's ongoing mainstream visibility is proof that he's "controlled opposition," meaning a plant of the United States government installed to make them look bad.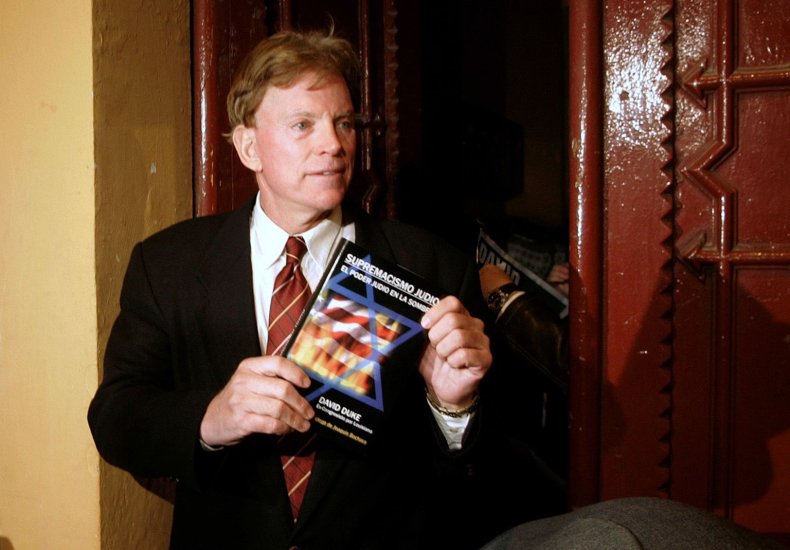 To answer that question, a Twitter spokesperson directed Newsweek to its statement about what determines whether or not an account speaks on behalf of a "violent extremist group."
The spokesperson summarized the criteria this way:
"Behavior we look for when determining whether an account is affiliated with a violent extremist group includes: stating or suggesting that an account represents or is part of a violent extremist group providing or distributing services (e.g. financial, media/propaganda) in furtherance of progressing a violent extremist group's stated goals engaging in or promoting acts for the violent extremist group recruiting for the violent extremist group," the spokesperson said.
Related: Facebook Has Failed to Stop Anti-Muslim Hate Groups, Despite Mark Zuckerberg Pledge
This answer is likely to prove unsatisfactory to some users of the platform. Spencer and members of his group, National Policy Institute, have been linked to violence at rallies, although he himself has rhetorically denounced violence and has not engaged in it. Most notably, Spencer helped organize the Charlottesville, Virginia "Unite the Right" rally which descended into chaos in August of 2017, leading to the death of 32-year-old counter-protester Heather Heyer.
Spencer also has clear, demonstrable connections to American Renaissance, a white supremacist magazine, Mike "Enoch" Peinovich, a white supremacist podcaster who appeared as a sidekick figure at a number of his rallies, and Traditionalist Worker's Party. Accounts belonging to Peinovich and these groups have been removed from Twitter since the start of December's purge, but Spencer remains active.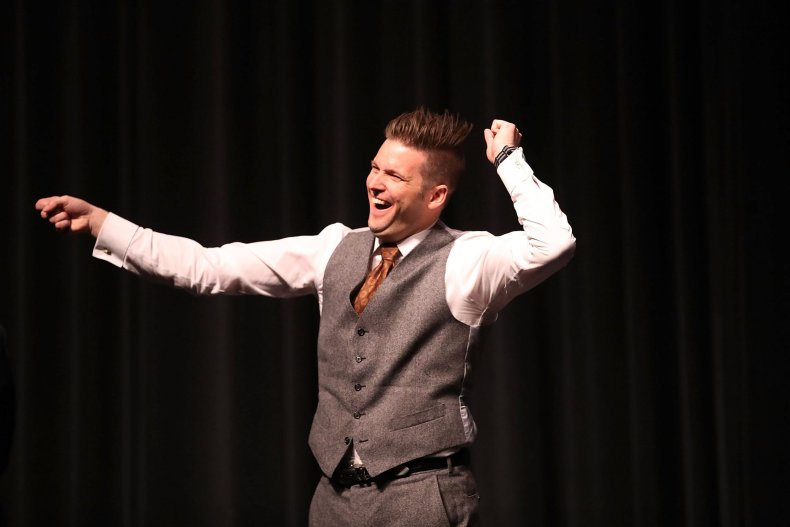 David Duke started his career in politics as an overt neo-Nazi and once served as a Klu Klux Klan Grand Wizard. The KKK has engaged in terrorist activities throughout parts of its history, and Duke himself has an extensive criminal history.
Duke also actively uses the platform to disparage Jews and give voice to conspiracy theories about them. He frequently writes about "ZOG," for example. ZOG stands for "Zionist Occupied Government" and refers to a neo-Nazi supported conspiracy theory suggesting that Jewish people are secretly manipulating American power to suit their own interests. He's also a vocal supporter of white supremacist congressional candidate Paul Nehlen of Wisconsin, and hosted him on his radio show. Nehlen was removed from Twitter in February.
Heidi Beirich, who leads the Southern Poverty Law Center's Intelligence Project, and monitors extremism, told Newsweek that giving a platform to Spencer and Duke "doesn't make any sense" given the bans that have already been handed out.
Oren Segal, Director of the Center on Extremism for the Anti-Defamation League (ADL), applauded Twitter for attempting to remove hate from its platform. But, regarding the issue of transparency about why certain people stay on and others are banned, he said that he thinks they could do better.
The ADL was among the groups tasked with advising Twitter on issues regarding hate speech but has no authority in deciding which users stay or go. He said that the question of determining if a white supremacist is inherently violent is complicated, but that the ideology is certainly linked to violence.
"We know that white supremacist beliefs are a foundation for a lot of hate-related violence," Segal said. "We've seen violence be a part of these movements."
He noted that Duke, in particular, was repeatedly using the platform to blame Jews for things that emerged in the news cycle, ranging from the crisis in Syria to the fluctuations of the economy.
"David Duke is the most recognizable face of white supremacy even though he's had plastic surgery," Segal said.
Spencer and Duke did not respond to a request for comment.
Laura DeNardis, an internet governance scholar who is a professor in the School of Communication at American University in Washington, told Newsweek in December, before the much-hyped "purge" of hate speech was about to take place, that Twitter was dealing with a breathtaking volume of complaints each day about hate speech. Twitter, however, does not provide figures to account for how many complaints it receives, either in general or concerning specific users.