Chart: How the CNN Republican Debate in Las Vegas Compared to the Last Democratic Debate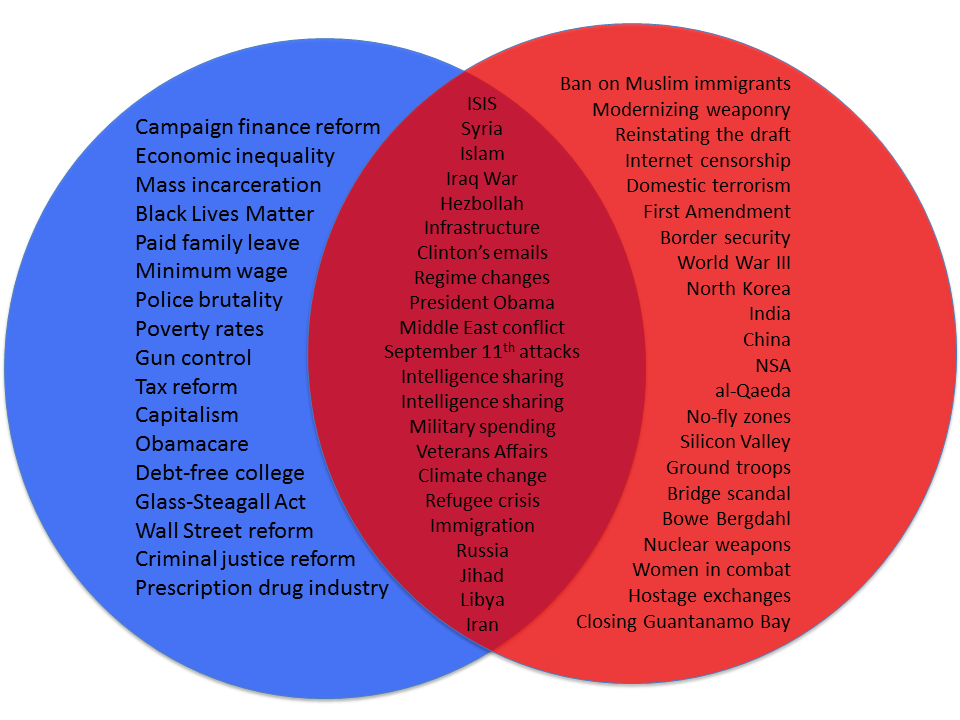 On Tuesday evening, the 13 qualifying Republican presidential candidates took the stage for one of two final debates of 2015. The undercard debate featured the four lowest-polling candidates; George Pataki, Lindsey Graham, Mike Huckabee and Rick Santorum. Following that, Jeb Bush, Chris Christie, Rand Paul, John Kasich, Carly Fiorina, Marco Rubio, Ben Carson, Donald Trump and Ted Cruz debated on the main stage.
The undercard candidates covered several issues not largely discussed in the last Democratic debate on November 13, ranging from the limits of the NSA to reinstating the draft, but in both of Tuesday's debates, ISIS and the question of how to deal with Muslim refugees coming into the U.S. dominated the night's conversations. They're topics that came up in the last Democratic debate, which took place the day after the deadly attacks in Paris. Unique to Republicans, though, is that much of the conversation stemmed from divisive comments recently made by Donald Trump, who said that if elected, he would ban Muslims from entering the country. The other candidates grappled with new poll data that suggested a majority of potential Republican voters agreed with Trump's proposed policy.
Notably, Republicans spoke a great deal about foreign policy but less about domestic issues like the minimum wage, tax reform and income inequality than the Democrats. Republicans, however, were the only party to discuss women in combat positions, North Korea and upgrading the United States' outdated military equipment. Both parties talked at length about the country's treatment of veterans.
Here's how the Las Vegas Republican debates compared to November's Democratic one: