Chatty Newborn Lamb Steals Hearts With Adorable Clip Viewed Over 6M Times
The internet is head over heels for a lamb who was born with quite a lot to say.
A video of the chatty lamb was posted on TikTok by Brittney Schroder, who works at Misty Meadow Sheep Dairy Farm in Petersburg, New Jersey. The clip has reached 6.3 million views in six days.
Schroder filmed the newborn's rapid-fire bleats as she introduced the lamb to her audience.
"Say hi, TikTok!" she told the lamb, which bleated after every sentence. "I was born today! I'm happy to be alive! And spring is here! Woo hoo!"
"I love you," she added at the end, as her little friend bleated over her.
The comments section was filled with delighted viewers, including some bigger-name accounts.
"That one person who always needs to get the last word," joked the Walmart TikTok account.
The NFL account commented, "Considering a new NFL team with lambs as the mascot after this video."
In response, Schroder posted a follow-up video today, with the lamb wrapped in a Philadelphia Eagles jersey and napping while its head rested on a football.
"Our girl is READY!" she captioned the clip. "Time for Lamb Bowl!"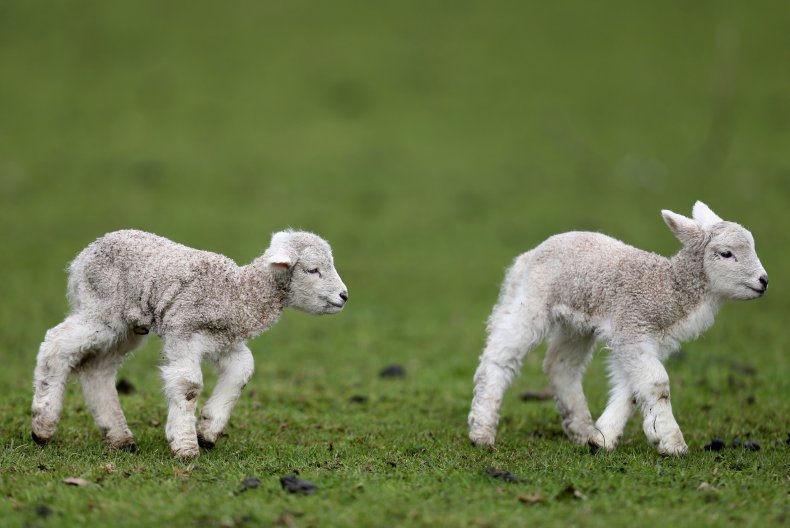 Other viewers gushed over the lamb's adorably high-pitched bleat as it stuck out its small tongue.
"That's the cutest baby kazoo I've ever seen!" said one user.
"I love the little pink tongue," another person said.
In another TikTok video, Schroder giggled as she filmed the lamb interrupting her. "You gotta let people finish their sentences," she reprimanded the animal.
She narrated the lamb's reply in text overlay—instead of "baa," the bleat sounded more like her interpretation: "Nahhhhhhhhh."
"Can't get a word in edgewise," she wrote in her caption.
Rapid bleating after birth indicates improved chances of survival for a lamb, according to Australian scientist Dr. Forbes Brien, who tested the speed of newborn bleating and explained the results to Australian Geographic in 2010.
"I think a quickness to bleat indicates that a lamb is more active at establishing a bond with its mother—it contributes to strengthening the bond, which isn't solely due to the mother's activities," Brien told the publication.
According to a scientific overview published last month in Frontiers in Animal Science, a lamb and its mother rely on "vocal and visual recognition" to locate and call each other, and bleating is crucial to maintaining appropriate care and lactation for the newborn. Lambs can identify their mothers' bleats by 48 hours after birth, while ewes can identify the vocalizations of lambs they give birth to as soon as 24 hours postpartum, according to the journal.