Putin Ally Posts Ominous Video Featuring Chechnya's Armed Forces
Ramzan Kadyrov, Chechnya's leader and a top ally of Russian President Vladimir Putin, has shared an ominous video showing a mass gathering of his armed forces and a speech he delivered about ensuring "peace" in the world.
The video, which included English dubbing that at times was hard to decipher, showed long lines of vehicles and troops, some carrying what looked to be the Chechen flag with Kadyrov's face on it, gathering in and around a large square. Kadyrov is then shown standing in front of the gathering and delivering an address in which he asserts that "our president always makes the right decisions."
Because the Chechen Republic is part of Russia, Kadyrov is apparently referring to Putin, though the English dubbing of his speech does not refer to the longtime Russian leader by name. He asks his audience to "stand next to our state," proclaiming that "only then will there be peace in our world." He also says that "Western European states have made all possible attempts to destroy our state."
The foreboding video was posted mere days after Kadyrov threatened a "real special operation" against Ukraine, an offshoot of Russia's repeated references to the war as a "special military operation." Kadyrov announced days after Russia invaded Ukraine that his forces had been deployed to Ukraine, and he has since posted videos and updates on social media that allegedly show Chechen participation in the war, according to Al Jazeera. It was not immediately clear if the new video and speech were meant to hint at a large-scale Chechen mobilization to back up Russia in its action against Ukraine.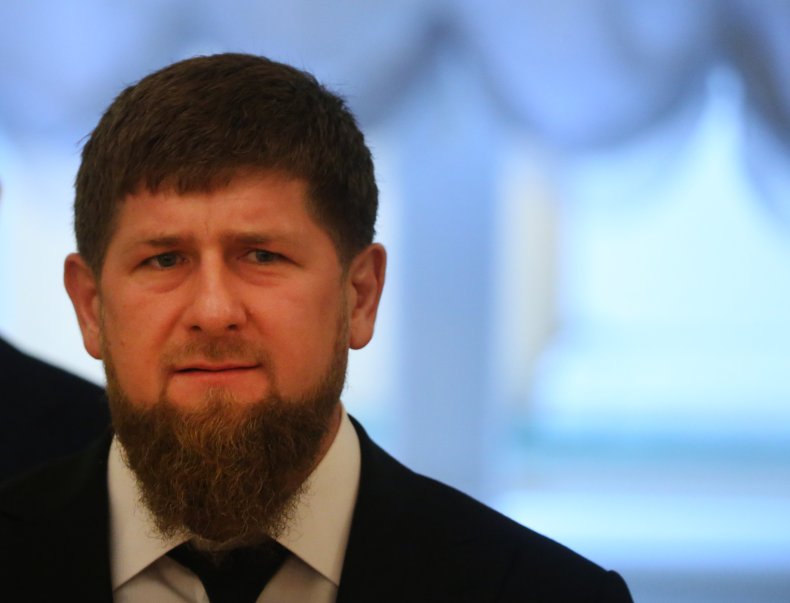 Neither Russia nor Ukraine currently seems poised to score a decisive victory, though a Ukrainian military intelligence official told The Guardian in an interview published Friday that the conflict has become an "artillery war" that Ukraine is at risk of losing. Maps of territorial control in Ukraine, which are shared daily by the Institute for the Study of War, indicate that both sides have recently only been seeing incremental land gains and losses.
But despite neither side appearing to hold the upper hand in the war, Kadyrov has expressed a desire for Russia's offensive to go past Ukraine's borders. He said in a video that was shared on Twitter by BBC journalist Francis Scarr that "waging wars is a pleasure" and he would "take all those European states" if it were up to him.
He said in another video shared by Scarr that he is ready to attack Poland.
Newsweek reached out to Russia's Defense Ministry for comment.