Chef's Hack To Untangle Knotted Tin Foil Stuns Internet: 'Genius'
The internet is full of handy hacks that can make our everyday lives easier, whether they're for gardening, reviving stale bread, or a cutting mandarins. Recently, a TikTok video went viral after one user shared a "genius" kitchen hack that solves the problem of when a foil roll spirals and leaves uneven layers.
Since it was shared, the post has amassed a total of 178,700 likes, 3,325 comments and 20,600 shares. Under the username robbiebell8, Robbie Bell, owner and head charcutier at the City Larder Charcuterie, captioned the video "Best kitchen hack ever by my boy Shaun Hurrell @barriocomida one of the UK's best chefs."
The 18-second-long video starts as Bell demonstrates a tinfoil roll with uneven layers. As he narrates the video, Bell says that it's "one of the best kitchen hacks [he's] ever been shown."
Bell then suggests to "take a little bit off" and "rub it on the part where [the foil] is overlapped or it's not working properly." He then shows how little by little, the layered and uneven parts of the tinfoil "will come away," leaving you with a roll that looks "brand-new."
As happens with viral TikTok videos, many users rushed to the comment section to share their reactions. The vast majority of comments applauded the hack: "Genius!," one user wrote.
"Wish I'd known this before! Just threw a roll away that got stuck like this," one person shared.
"Mate you may have actually just changed my life," another comment read.
"Great tip, will save loads of time," another TikToker agreed.
Meanwhile, others were more curious if there's an alternative hack that could work on a clingfilm roll:
"Magic, ask him what do you do for cling film in this situation?," one user wondered.
"Mate, cling film is the worst one.. so if you fix that, you'll be loved forever," another commenter wrote.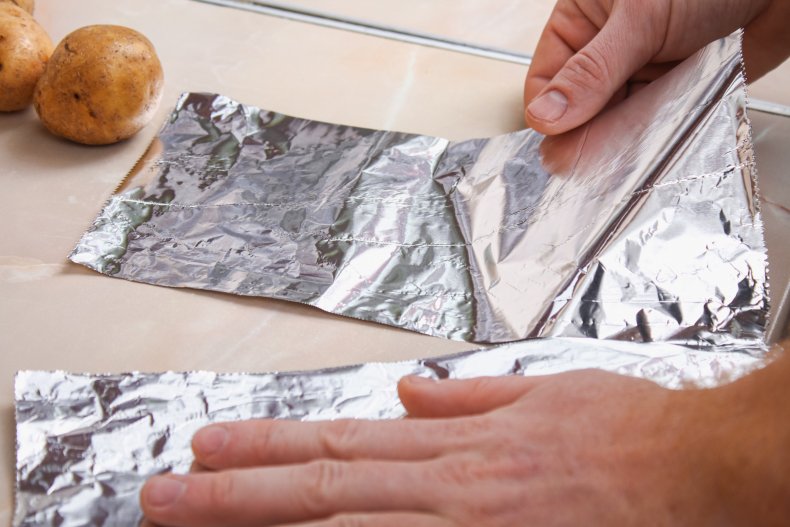 According to the information posted on BusinessWaste, roughly 860,000 tonnes of kitchen foil is made in Europe annually. In addition, statistics revealed that 14.72 million Americans used 15 or more aluminum foil sheets in 2020 within a week. According to Statista, the projected figure of Americans using aluminum foil in 2024 is estimated to be 327.03 million in 2024. Should this figure prove accurate, this would be an 8.06 million increase compared to the number recorded in 2020.
TikTok has a seemingly inexhaustible supply of food-based hacks to make cooking easier. One tip that provoked a lot of debate was shared recently by TikToker Stephanie, known online as @steph2302, who showed how she cooks her broccoli, completely skipping the part that leaves tiny bits of green strewn across the kitchen counter.
Newsweek has reached out to robbiebell8 for comment.