Chelsea Handler Hits Back at Tucker Carlson Over 'Childless Woman' Sketch
Chelsea Handler has again clapped back at Fox News host Tucker Carlson and conservative broadcaster Ben Shapiro for criticizing a sketch she made on The Daily Show.
The stand-in host for the Comedy Central show had made a video poking fun at the freedoms she enjoyed as a single woman without children.
In the video called "A Day in the Life of a Childless Woman," the 47-year-old comic narrates what she can achieve in a day. This includes inventing a time machine to "go back and kill Hitler," and exercising by climbing Mount Everest.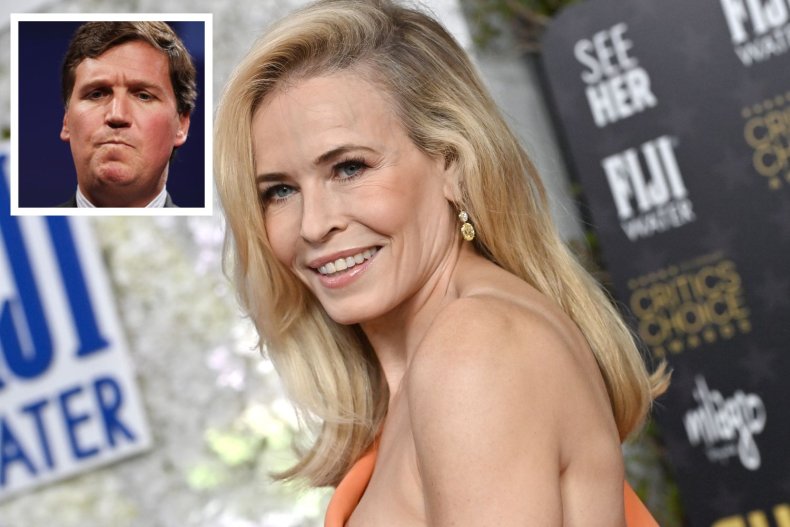 However, Carlson was not a fan of the sketch and invited right-wing radio host Jesse Kelly onto his show to criticize it.
Carlson labeled Handler an "aging, deeply unlikeable woman who never had kids," while Kelly took the commentary much further.
He started by saying "feminists like Chelsea Handler" have been "lied to by their society forever that you can be a girlboss, and you can do anything a man can do, which everyone who's ever seen a woman back up a vehicle knows that's not true."
Kelly continued: "And [their] womb resembles a dried-up tumbleweed blowing down an old Western town. And your Valentine's date for the 10th year in a row is a 10-year-old copy of [male-strippers film] Magic Mike and a half-full bottle of Xanax. And you're trying to pretend like you're happy, but you're not happy."
Meanwhile, Shapiro took to his YouTube channel to share his thoughts on Handler's sketch during his talk show, The Ben Shapiro Show.
During the video, he asked, "who actually decided Chelsea Handler was funny?" He said that it was "written all over her face how miserable she is."
Handler was having none of their criticism and posted a video to her social media to address their comments.
"Wow," she started. "Why would I even need my own children when I get to hear these cry babies all the time?
"You guys seem so triggered by me. I mean, my goodness, Tucker, I think it is time for you to ask yourself a serious question: Are you really upset about how much freedom I have? Or are you upset that you haven't been able to take it away from me yet?"
Handler then gave Shapiro a "quick shout-out." She told him, "thank you for helping my cause of not having children. Who needs the birth-control pill when your voice is 100 percent effective?"
Finally, Handler turned her attention back to Carlson, saying she did not plan to stop making videos that annoyed him.
During the skit in question, Handler said she wakes up at 6 a.m. but "I remember that I have no kids to take to school...
So, "I wake up at 12:30 p.m. and get ready for a busy day of doing whatever the f*** I feel like," she added.
"I put on my most impractical and stylish shoes since I won't be chasing a child around the grocery store."
Then she joked about going to Paris. She explained, "I do a meditation sesh on the plane, since I have no screaming kids, allowing me all the time in the world to become enlightened. The weightlessness of my existence has granted me super-human powers."
Handler then said she "teleports back home" to get ready for a night out "with whatever hot guy" she met on dating app Raya that day.
"It's amazing what you can do when you have this much free time," Handler said, before adding, "And that's a day in the life of a childless woman."