Ben Shapiro Says NFL, Rihanna 'Knew She Was Not Going to Be Good' Pregnant
Ben Shapiro has slammed Rihanna's Super Bowl halftime performance, suggesting her pregnancy was not announced ahead of time because they knew it wouldn't be a "good" show.
Rihanna used the Super Bowl halftime show to announce her pregnancy, showing off her new baby bump for the first time at Sunday's big event. Her performance was praised by fans, but criticized by others, with Donald Trump calling it the "worst in history."
Speaking on his program, The Ben Shapiro Show, political commentator Shapiro shared his own thoughts on Rihanna's performance, including her "lack of range" as a singer, and safety concerns for the expectant mother.
Shapiro told his audience that his wife is currently six months pregnant, and they watched Rihanna's performance together.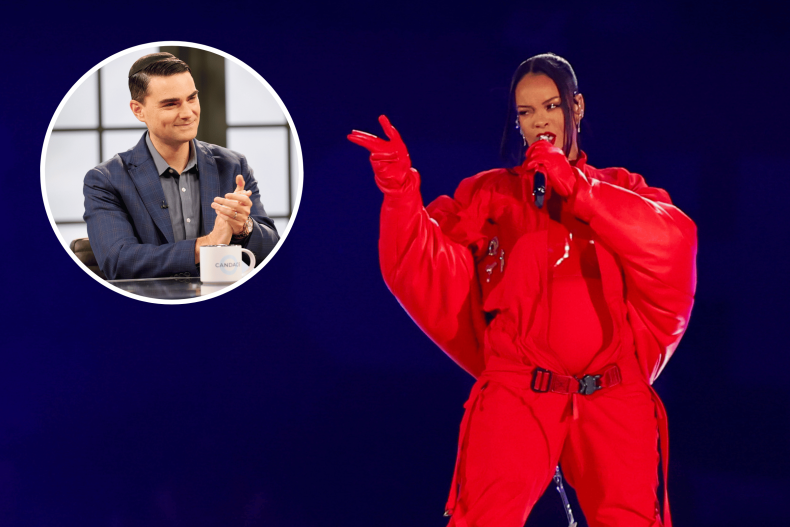 "She couldn't do much […] and I get it. I mean, she's pregnant," Shapiro said. "I have to say the NFL, and [Rihanna] and her agent, they all knew she was pregnant before she did the show. I'm going to suggest that the reason they did not announce that until after the show is specifically because they knew that she was not going to be good.
"So if they had said before the show 'by the way, Rihanna is pregnant' people would have been like, 'um, is it safe to put a pregnant lady on risers that are going like up to 100 feet in the air with no guardrails?'" Shapiro said, commenting on the moving platforms that moved Rihanna and her dancers up and down in the State Farm Stadium in Glendale Arizona. "Is that the best idea? And if they [announce it] after the show, then that makes a good excuse for her not being very good."
Shapiro also commented on the imagery of Rihanna and her dancers during the set. The Barbados-born singer was dressed all in red while her backup dancers wore puffy white jackets.
"They also appeared to be wearing, I guess, the COVID outfits from China," he said. "The COVID, cleanup outfits from China, I saw some people online comparing this to sperm in search of an egg because there were like thousands and thousands of people clad in white and one Rihanna in red at the very center is very, very strange optics for sure."
Shapiro's comparison echoes a joke which went viral online as someone suggested the dancers represented A$AP Rocky's sperm. Rihanna's latest pregnancy is her second in as many years, after she and partner Rocky welcomed their first son together in May 2022.
Shapiro wasn't done with the Rihanna criticism, comparing her singing abilities with previous pop singers who've performed at the Super Bowl.
"I will admit that Rihanna is not in fact, my favorite singer," he admitted. "You can always acknowledge that many of the former top pop singers could sing. Christina Aguilera used to have some pipes on her. Rihanna, her range is about the range of a cat being run over by a steamroller. Namely like seven notes, and she really does not have more than about an octave range she does not have the ability to belt. I'm not a Rihanna fan."
The day after Rihanna had performed, Shapiro made his feelings clear with a tweet that riled up her fans.
"It's nice that Rihanna is pregnant, and also her halftime show was bad," he wrote on Monday.
A number of comments online took issue with Shapiro.
"Okay, Shapiro saying that Rihanna can't sing and that she has no range is […] wild," @HarbiFaiza wrote.
Twitter user @frequentbuyer1 was also surprised to hear Shapiro's criticism of Rihanna's range, simply replying, "Can he hear his voice?"
Self-confessed Shapiro fan @bennyclams added: "He's losing credit by saying things like 'Rihanna can't sing.'"