A$AP Rocky Joke Goes Viral After Rihanna Announces Pregnancy
The internet is loving Rihanna's latest pregnancy announcement, with her partner A$AP Rocky getting pulled into some viral jokes.
Rihanna headlined the Super Bowl LVII halftime show in Glendale, Arizona on Sunday. Almost immediately, the singer's baby bump helped her become a trending topic, and it was later confirmed to Newsweek that the Barbadian was pregnant again.
It is Rihanna's second pregnancy in as many years after she gave birth to her first child, a boy, in May 2022. She and rapper A$AP Rocky, both 34, have been together since 2020, and are now expecting a second child later in 2023.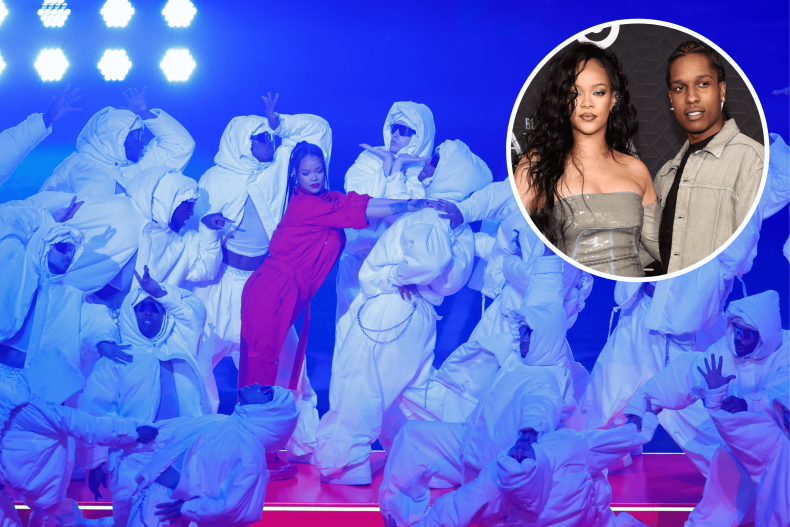 Various aspects of Rihanna's Super Bowl performance were dissected. Some commented on the links to the recent UFO sightings; others slammed her "satanic" themes; while others noted she decided to "honor" Kanye West by playing one of his songs.
One Twitter user, @homebodymike, went viral for referencing Rihanna and A$AP Rocky's happy news and linking it to the halftime show. Sharing a video of Rihanna's backup dancers marching onto the field in their full white coats, he called them "A$AP Rocky's sperm cells."
The post struck a chord online, getting over 328,000 likes and tens of thousands more retweets and comments. The joke, made by the account with the screen name Doc Rivers' Main Opp, also used it as a platform to push his Not That Serious Podcast.
Rihanna's halftime show divided opinions, with the likes of Donald Trump criticizing her, but across the internet, it was widely praised. Musician Reason called A$AP Rocky the "real winner of the Super Bowl" in 2023. The rapper was spotted filming his partner's performance in a video that has also gone viral online.
Millions of people on Twitter and TikTok have seen A$AP reacting to Rihanna's show. Wearing an NFL jacket with an American flag pattern, he's seen recording the show on the field, before smiling, whooping and applauding the mother of his children.
Walking away from the action, the NFL account also shared a video of A$AP making his way off the field, saying he was clearly "pumped after seeing Rihanna's performance."
Actress and director Olivia Wilde approved of A$AP's support, sharing the video on her Instagram Stories. "If I thought he was hot before, this really put me over the edge," she wrote, tagging both him and Rihanna.
Rihanna and A$AP Rocky received congratulatory messages from celebrities online, too. YouTuber Jake Paul, rapper Juicy J and British comedian Judi Love were just some of the people who sent the couple their best wishes.