Rihanna's Super Bowl Outfit Called 'Powerful' by Some, 'Satanic' by Others
Rihanna's all-red outfit during the Super Bowl halftime show was praised by fans but criticized as "satanic" and "demonic" by others.
The singer and designer returned to the stage to headline the Super Bowl LVII halftime show, and set the internet alight with pregnancy rumors in the process. The performance featured Rihanna singing from atop moving platforms, dressed in red while her backup dancers wore all white.
Conservative author Brigitte Gabriel suggested it was a recurring trend amongst musicians recently after Sam Smith's performance at the Grammys. Gabriel was quickly mocked by Twitter users for her take.
"Why do all the major live performances by woke artists have a demonic feeling?" The founder of ACT! for America wrote. "Sam Smith, now Rihanna, Hollyweird has gone insane."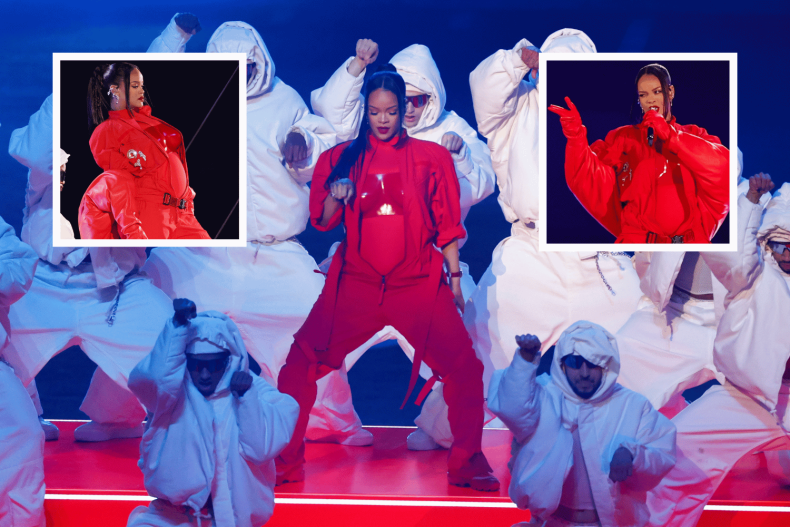 Replying to Gabriel's view, Twitter Blue subscriber Sue Felago agreed. "It's just absolute perfect opportunity to showcase their creepy heathen Woke religion."
Conservative author Nick Adams also expressed concern with the halftime show. "Something about Rihanna's performance feels Satanic." Instead, he suggested a recently Grammy Award-winning Christian band should have taken her place. "MercyMe would have given an incredible halftime show that glorifies God. Rihanna gave a scandalous show that had all the earmarkings of a Satanic ritual. [NFL Commissioner] Roger Goodell should be fired."
Fury surrounding Rihanna's performance was not felt by many others who called out the likes of Adams and Gabriel for their indictment.
"Does the color red trigger MAGA? There was nothing Satanic about that performance," Democratic politician Mike Harvey wrote. He called it "one of the more mild performances" at a Super Bowl and said, "If this was woke, you need to go back to sleep."
While the performance involved impressive staging, there was an absence of costume changes and collaborations from other artists. That didn't matter to Rihanna's fans though.
"I don't really care if Rihanna's performance had any surprise guests or outfit changes, she was POWERFUL," @to_channie wrote, adding that it was an "emotional beautiful performance."
While viewers debated Rihanna's outfit, and the tone of the show, former President Donald Trump who had criticized Rihanna earlier in the week, slammed her performance.
On his Truth Social account, he called it an "Epic fail," continuing, "Rihanna gave, without question, the single worst Halftime Show in Super Bowl history."
Commenting on what he thought of her looks, he added, "Also, so much for her "Stylist!"