Trump Rips on Rihanna's Super Bowl Performance: 'Worst in History'
Former President Donald Trump blasted Rihanna's Super Bowl halftime performance as an "epic fail" in a Truth Social post Sunday night.
Rihanna took to the stage to perform a medley of some of her biggest hits including "Umbrella" and "We Found Love" during the heavily anticipated halftime show, her first live performance in several years. Her work drew reaction from many social media users, including the ex-president, who described the performance as the worst halftime show in "history."
"EPIC FAIL: Rihanna gave, without question, the single worst Halftime Show in Super Bowl history — This after insulting far more than half of our Nation, which is already in serious DECLINE, with her foul and insulting language. Also, so much for her "Stylist!" Trump wrote.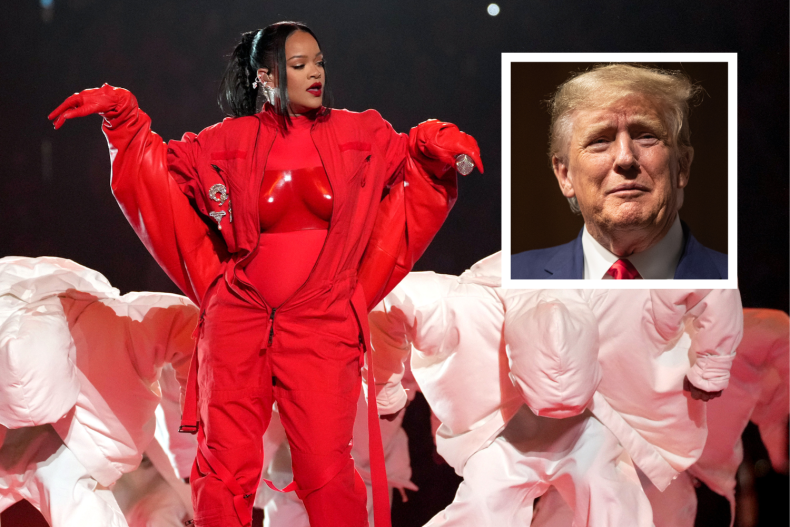 Former federal prosecutor Rob Filipkowski mocked Trump's remarks, tweeting: "Mr. Sunshine and Happiness weighs in."
Years before her Super Bowl performance, Rihanna, among the top-selling musical artists of all time, sparked outrage among conservatives for criticizing Trump.
During a 2019 Vogue interview, Rihanna called Trump the "most mentally ill man in America." In 2020, she posted photographs showing graffiti that read "F*** Trump" on a Cadillac.
Representative Ronny Jackson, a Texas Republican, referenced that social media post when calling on the NFL to replace Rihanna as the halftime show performer. He accused the pop star of making "a career of spewing degenerate filth while badmouthing America every chance she gets."
"Why is the NFL showcasing this crap? Rihanna SHOULD NOT be the halftime performer!!" he wrote.
Trump on Thursday shared Jackson's post, adding his own criticism against Rihanna leading up to her Super Bowl performance.
"Without her 'Stylist' she'd be NOTHING. Bad everything, and NO TALENT!" Trump wrote.
Conservatives continued complaining about Rihanna's performance leading up to the big game, with some arguing the NFL should have replaced her with Chris Stapleton, the country singer who performed the national anthem before kickoff.
Beyond Trump, Rihanna's performance drew a wide array of reactions on social media. Her fans rejoiced about the comeback show from the star, who has maintained a lower profile in recent years. She has only released a handful of songs since her 2016 album Anti, instead focusing on other business ventures.
Rihanna was previously invited to perform at the 2019 Super Bowl but declined to show solidarity with Colin Kaepernick, a former NFL quarterback who was shunned by the league for kneeling during the national anthem before games to show support for the Black Lives Matter movement.
"I couldn't dare do that. For what? Who gains from that? Not my people. I just couldn't be a sellout. I couldn't be an enabler. There's things within that organization that I do not agree with at all, and I was not about to go and be of service to them in any way," she told Vogue in 2019.
Newsweek has reached out to Rihanna's record label, Roc Nation, for comment.