Republican Wants Rihanna Super Bowl Show Cancelled for Attacking Trump
Representative Ronny Jackson, a Texas Republican, doesn't want prominent singer Rihanna to perform during the Super Bowl halftime show on Sunday because of her past criticism of former President Donald Trump.
"Rihanna spray painted 'F*** Donald Trump' on a car at the Cadillac Ranch in Amarillo. She's made a career of spewing degenerate filth while badmouthing America every chance she gets. Why is the NFL showcasing this crap? Rihanna SHOULD NOT be the halftime performer!!" Jackson wrote on Thursday.
The Republican congressman was referring to a few pictures that Rihanna posted on Twitter in August 2020 ahead of the presidential election, showing a colorful graffiti art on a Cadillac and a "F*** Trump" spray painted on it.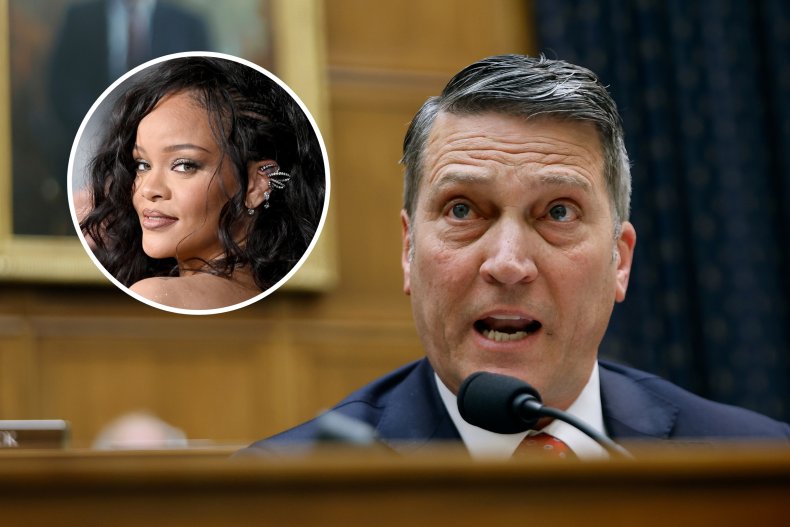 The picture shows the back of a person who seems to be spray painting the anti-Trump phrase, but it has not been confirmed whether or not this person was Rihanna. However, the singer shared those pictures and wrote "art. #81 days" [till presidential election day.]
Jackson at the time retweeted Rihanna post and wrote: "Painting 'F*** Trump' at Cadillac Ranch isn't 'art,' @rihanna, it's total disrespect to our country. Here's a "Wild Thought': if you want to save your career by badmouthing @realDonaldTrump, maybe 'work work work' on a new strategy. Not going to fly here. Texas is TRUMP country!"
The Republican congressman was criticized by a number of Twitter users for calling for canceling Rihanna's upcoming Super Bowl performance.
"But she WILL be and ain't a damn thing you can do about it except cry on Twitter!" wrote Leslie Wimes, founder of Women On the Move.
Rihanna is set to perform at the Super Bowl during the halftime show on Sunday when the Philadelphia Eagles play against the Kansas City Chiefs, according to BBC News. The singer has not released any album since "Anti" in 2016.
Meanwhile, social media personality Brian Krassenstein wrote: "Wait. I thought you guys were against cancelling people..." Similarly, musician P.D. White commented "#CancelCulture."
"She should perform the halftime show with the car," commented Twitter user @Mercury4405.
"On today's episode of 'Ronny De Drunk.' Time to log off, Ronny. Rihanna is far above your pay grade," said Twitter user Chidi. Another Twitter user Helis Bor commented: "When you mix Mountain Dew and Vodka and drink it all day, you get Ronny Candyman Jackson."
Some Republicans previously blamed the so-called cancel culture for the criticism they received shortly after the Capitol riot on January 6, 2021, when Trump supporters stormed the U.S. Capitol building in an effort to stop the certification of Joe Biden's victory.
Republican Senator Josh Hawley of Missouri denounced at the time the cancellation of his book deal following the Capitol riot, suggesting the publisher did not like his "exercise of free speech."
In a statement, he vowed to sue and added: "I will fight this cancel culture with everything I have."
Meanwhile, Representative Elise Stefanik, a New York Republican, also claimed that she was "canceled" after Harvard's Institute of Politics cut ties with her.
"As a conservative Republican, it is a rite of passage and badge of honor to join the long line of leaders who have been boycotted, protested and canceled by colleges and universities across America," she said in a statement at the time.
Newsweek reached out to Rihanna's media representative for comment.