Trump Torches Rihanna as a Talentless 'Nothing' Ahead of Super Bowl Show
Former President Donald Trump slammed pop star Rihanna as having "NO TALENT" after one of his staunchest supporters demanded that she be removed from the coming Super Bowl halftime show for insulting the former president.
Republican Congressman Ronny Jackson of Texas lashed out at the NFL for "showcasing" the Barbados-born singer in posts to Twitter and Truth Social on Thursday, arguing that she should be removed from the show because she previously tweeted images of a Cadillac with the words "F*** Trump" spray-painted on it.
Trump replied to Jackson's post Thursday on Truth Social by offering his own damning review of the popular entertainer, insisting that she was "bad" at "everything."
"Without her 'Stylist' she'd be NOTHING," wrote Trump. "Bad everything, and NO TALENT!"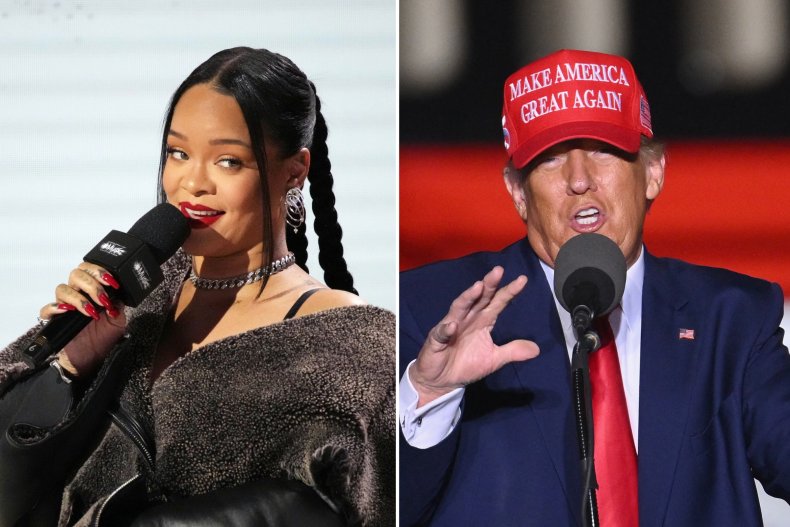 Rihanna tweeted the offending images on August 14, 2020, while captioning the tweet "art" and noting that it was then 81 days away from that year's presidential election.
When responding to a follower who asked what the tweet meant, she wrote: "ELECTION!!! Wake up! Stay woke!"
"Painting 'F*** Trump' at Cadillac Ranch isn't 'art,' @rihanna, it's total disrespect to our country," Jackson wrote in response to the tweet in 2020. "Here's a 'Wild Thought': if you want to save your career by badmouthing @realDonaldTrump, maybe 'work work work' on a new strategy."
"Not going to fly here," he continued. "Texas is TRUMP country!"
When bringing up the images again on Thursday, the Texas Republican said that Rihanna had "made a career of spewing degenerate filth while badmouthing America every chance she gets" and berated the NFL for "showcasing this crap."
Rihanna has made it clear that she is not a fan of Trump in the past. During a 2019 interview in Vogue, she referred to Trump as "the most mentally ill human being in America right now."
Regardless, some conservatives like pro-Trump election fraud conspiracy theorist Dinesh D'Souza praised the singer and assumed she was expressing conservative values where she was spotted wearing a T-shirt with the slogan "Think While It's Still Legal" in 2021.
Rihanna, who remains the second-best-selling female music artist of all time despite a recent drought in releasing new music and performing live, is set to perform at the Super Bowl on Sunday, when the Philadelphia Eagles face the Kansas City Chiefs.
The performance will mark the end of her years-long boycott of the event, having turned down an opportunity to perform in 2019 to express solidarity with former San Francisco 49ers quarterback Colin Kaepernick's protests against racism and police brutality.
In a presentation to the media on Thursday, the singer officially dubbed a "national hero" in Barbados said her coming performance would be important for "representation," according to Agence France-Presse.
"It's important for me to do this, this year," Rihanna reportedly said. "It's important for representation. It's important for my son to see this ... Representing for immigrants. Representing for Black women everywhere."
"That's key for people to see the possibilities," she added. "It's a beautiful journey that I'm on ... so it's a celebration of that. I'm really excited to have Barbados on the Super Bowl stage."
Newsweek has reached out to Rihanna's publicist for comment.