Rihanna Cheered by Conservatives For 'Think While It's Still Legal' T-shirt
Rihanna raised a few eyebrows with a new t-shirt this week that is being celebrated by some conservatives.
The singer and beauty mogul was photographed in New York City on Friday, September 24, with a vaguely political slogan.
The shirt features the slogan "Think While It's Still Legal" in a font and style that is synonymous with American political culture.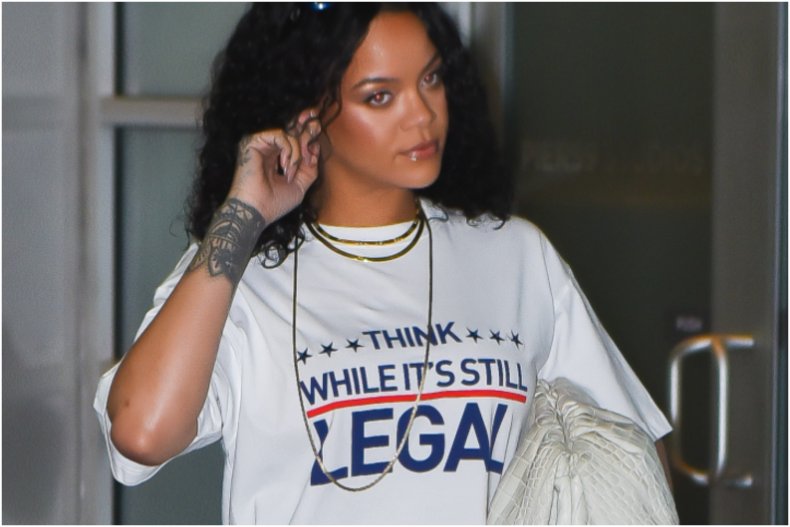 The garment itself is from the luxury menswear brand Vetements Fall 2021 collection.
Donald Trump Jr. shared a photo of Rihanna wearing the t-shit to his Instagram stories on Monday and said he didn't expect to see that on his 2021 bingo card
Meanwhile, conservative commentator Dinesh D'Souza tweeted an article by conservative outlet the Post Millennial that says Rihanna's shirt "displayed a similar sentiment expressed by Nicki Minaj in recent weeks."
Nicki Minaj made headlines all over the world and got the attention of the U.S. and U.K. governments after she tweeted about her hesitancy to get the COVID-19 vaccine.
Vetements has undergone a recent rebrand with new head designer Guram Gvasalia at the helm, but it still maintains its subversive ethos which can be seen through the brand's use of provocative slogans and political imagery.
Speaking about this collection to Vogue, Gvasalia explained that it is a general reflection of "the hell we're all living through" but did not reference any political leaning.
A description on Matches Fashion simply describes the slogan as "a reflection of the label's non-conformist approach."
The collection also features a t-shirt with the slogan "Gvasalia for Vetements" done in the style of a Bernie Sanders campaign poster—so just whose side is he on anyway?
The intent was to be provocative and Gvasalia's slogans have certainly struck a chord with conservatives in the culture wars and debates surrounding the vaccine.
Rihanna has not commented on the t-shirt, its meaning or intention (or lack thereof) in wearing it—however, Newsweek has contacted Rihanna's representatives for comment.
The 33-year-old singer recently opened up about becoming a billionaire, saying that her new title is "tricky."
"It's tricky because it's hard to even accept that's where you're at because I know where I've come from," she said in an interview with The New York Times.
"At the same time, it feels good to be able to inspire young women and boys, who like me, come from humble beginnings, who come from parents who are immigrants or who are immigrants themselves, to be able to do this."
She said that she wants to use her fortune to help the Clara Lionel Foundation, named after her grandparents Clara and Lionel Braithwaite.
"Every dollar I make, I want to give it back," she said.