Twitter Says Nicki Minaj's Vaccine Tweets Don't Break Rules
Twitter has said Nicki Minaj's tweets about the COVID-19 vaccine do not violate its rules on misinformation.
The rapper surprised fans yesterday when she revealed that the reason she would not be attending the Met Gala is because she is still unvaccinated against coronavirus.
"They want you to get vaccinated for the Met. if I get vaccinated it won't for the Met. It'll be once I feel I've done enough research," the "Superbass" hitmaker tweeted to her 22.6 million followers, adding: "I'm working on that now. In the meantime my loves, be safe. Wear the mask with 2 string that grips your head & face. Not that loose one."
Despite initial backlash, things took a turn for the weird when the 38-year-old tried to justify her reasoning with an unintentionally bizarre and humorous anecdote.
Minaj claimed that a friend of her family had a negative reaction to the vaccine that rendered him impotent.
"My cousin in Trinidad won't get the vaccine cuz his friend got it & became impotent. His testicles became swollen," she wrote
"His friend was weeks away from getting married, now the girl called off the wedding. So just pray on it & make sure you're comfortable with ur decision, not bullied."
The tweet baffled Twitter users and saw the rapper face intense backlash with a number of other high-profile people and celebrities accusing her of spreading misinformation.
A public health expert even debunked the impotence claims made by Minaj.
Dr. Leana Wen, an emergency physician and public health professor at George Washington University, told People that impotency is not a known side-effect of the approved coronavirus vaccines.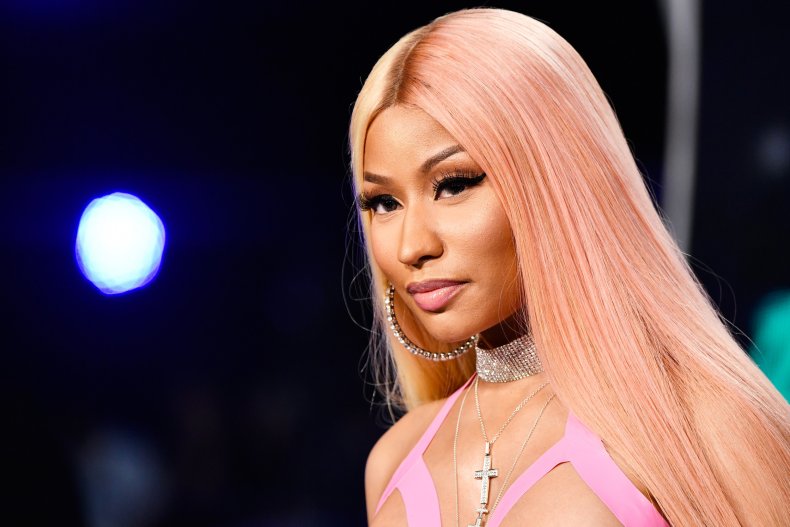 "It is just not true that getting the COVID-19 vaccine is associated with infertility in either males or females," Dr. Wen told the publication.
"In fact, we know that there are actually consequences, if somebody gets COVID-19, in terms of the impact on the male reproductive system," she said, adding: "There have been studies that have linked scrotal discomfort and low sperm count to having COVID-19.
"In addition, there has been an association between scrotal swelling and congestion to having COVID-19. So, to emphasize, these are not associated with the vaccine but with the disease."
Despite the impotence claims being debunked, Twitter has not removed the tweets, with a spokesperson confirming to Newsweek that Minaj did not break the platform's rules.
"The Tweets referenced are not in violation of the Twitter Rules," a Twitter spokesperson told Newsweek.
Despite this response, Twitter's COVID-19 misleading information policy states that: "You may not use Twitter's services to share false or misleading information about COVID-19 which may lead to harm."
Minaj also explained that she would not be leaving her toddler son "to be seen" at the Met Gala.
She also tweeted: "I have an infant with no nannies during COVID. who mad? Not risking his health to be seen. One yaself."