YouTuber Jake Paul Mocked for Claiming He Created the First Content House
Jake Paul is getting roasted on Twitter for claiming he was the first YouTuber to start a content house. The controversial 20 million subscriber internet personality also claimed that since he took up amateur boxing, many other social media influencers have been following suit.
"I create the first content house—then there's 500 content houses," Paul, 23, tweeted Sunday, adding: "I start boxing—now every influencer is a boxer. What's next? Y'all gon get raided by the FBI on purpose?"
The tweet prompted legions of Twitter user to respond to say that Paul was wrong in claiming to be behind the first content house, and that he is not the first internet personality to try their hand in the boxing ring.
Fellow YouTuber JC Caylen responded to say: "w all due respect my guy O2L had the first content house. we were kickin it & shootin everyday in Encino before some of these cats were even in LA."
Content houses are spaces, usually fancy houses, where social media stars collaborate to produce content for their channels. Paul's Calabasas mansion serves as the base for his social media collective Team 10.
It was pointed out that Sidemen, Our2ndLife and others, had actually been formed before Paul's Team 10.
As for the boxing claim, many pointed out that Joe Weller and his YouTube co-star Theo "Malfoy" Baker had the first amateur boxing match between social media stars back in 2017—Weller progressed to fight English YouTuber KSI, who challenged Paul in 2019.
Several others piled on to mock Paul for his claims.
"Jake Paul thinks he started YouTube boxing... despite his first fight being an undercard slot for the KSI v Logan..." YouTuber Jaack tweeted.
Theo Baker invoked Donald Trump's false election victory claims to mock Paul, tweeting: "JAKE PAUL STARTED YOUTUBE BOXING!"
Paul referenced getting his home raided by the FBI in his tweet—in August, a small army of federal agents stormed his Calabasas mansion and seized a number of firearms in relation to his arrest in Arizona earlier in the summer.
Paul was spotted at Scottsdale Fashion Square in Phoenix in May. Paul was arrested and charged with criminal trespassing and unlawful assembly after he was caught on video looting and vandalizing the mall during the Arizona protests over George Floyd's death.
Those charges, which were considered misdemeanors, have since been dropped as part of the federal investigation.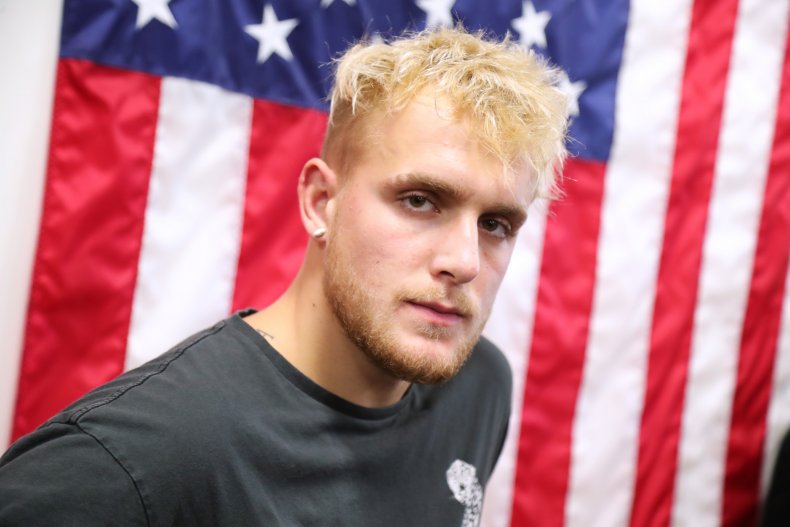 Paul denied taking part in any looting during the protests in a Twitter post in June. "To be absolutely clear, neither I nor anyone in our group was engaged in any looting or vandalism," he tweeted.
In August, it was also reported that Paul owes the IRS $2,055,714 in unpaid taxes for the 2019 filing year.