Jake Paul Owes Uncle Sam More Than $2 Million in Unpaid Federal Taxes
Jake Paul's legal trouble doesn't just stem with the FBI. A year before federal agents searched Paul's Calabasas, California home, the YouTube star was hit with a massive tax lien.
The 23-year-old owes the IRS $2,055,714 in unpaid taxes for the 2019 filing year, a clerk for the Los Angeles County Recorder confirmed to Newsweek on Friday. The office would not divulge any further details on the matter. The Sun was first to report this story.
Newsweek has reached out to Paul's reps for comment.
The FBI showed up at Paul's L.A. compound on Wednesday with a sealed warrant and raided the social media influencer's home in an investigation regarding his arrest in Arizona earlier in the summer. Local news footage of the scene captured officers exiting Paul's home with multiple rifles, however, no arrests were made.
In a statement, an FBI spokeswoman said agents were "investigating allegations of criminal acts surrounding the incident at Scottsdale Fashion Square in May."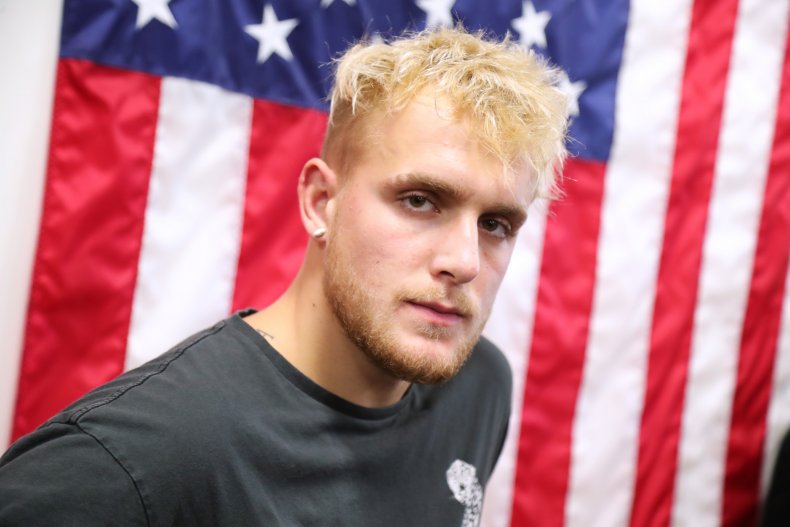 Paul's lawyer Richard Schonfeld confirmed to TMZ that he was not at the property at the time of the raid, but noted that they are fully cooperating in the investigation.
While the FBI was searching Paul's mansion, nearly 300 miles away, agents were conducting a raid on the home of Paul's friend and former Team 10 member Arman 'Armani' Izadi in Las Vegas. In a post on Instagram Stories later that day, Izadi claimed that "the only thing [the FBI] wanted to know about was Arizona."
Both Paul and Izadi were spotted at Scottsdale Fashion Square in May. Paul was arrested and charged with criminal trespassing and unlawful assembly after he was caught on video looting and vandalizing the mall during the Arizona protests over George Floyd's death. Those charges, which were considered misdemeanors, have since been dropped as part of the federal investigation, according to The Sun.
Paul denied taking part in any looting during the protests in a Twitter post in June. "To be absolutely clear, neither I nor anyone in our group was engaged in any looting or vandalism," he wrote, adding that he and his crew were tear gassed for filming the horrific displays of policing during the protests.
Izadi, who was with Paul at the time of his arrest, was not charged, but claimed in an Instagram post that he should have been arrested as well. "If running from the cops shooting tear gas at us with no orders is a crime then #ChargeMeToo," Izadi captioned an Instagram photo, which has since been deleted.