Rihanna Facing Backlash for 'Honoring' Kanye West at Super Bowl
Rihanna has faced criticism from some online for performing a Kanye West song during her Super Bowl halftime show, with one group labeling it a "blunder."
The Barbadian singer performed a medley of her biggest hits at Super Bowl LVII, one of which was "All of the Lights," a track from West's 2010 album My Beautiful Dark Twisted Fantasy that featured her.
Rihanna briefly sang the chorus of the song during the halftime show, before moving on to another track.
While West did not make an appearance, some fans watching the show were angry he was included at all given his recent spate of controversial comments, including a series of antisemitic rants, and the performance has sparked a debate.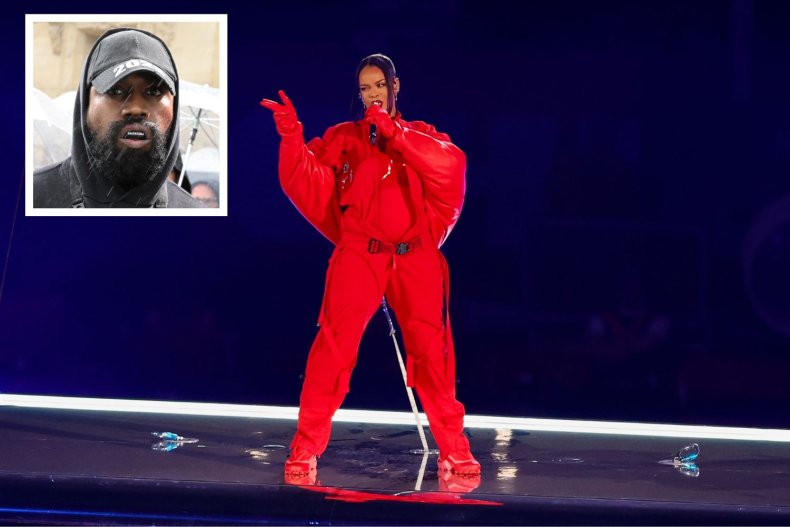 A spokesperson for the Campaign Against Antisemitism told Newsweek that, "Rihanna's inclusion of a Kanye West song on one of the biggest stages in the world is grossly insensitive."
The spokesperson added: "It was only a couple of months ago that West said that he wanted to go 'defcon 3' on the Jews and denied the Holocaust. This is not a man who deserves such a glamorous platform.
"This is a blunder for Rhianna and her handlers, and they must make clear that they do not wish audiences worldwide to associate her with West and his vile views."
Noa Tishby, an author and Israel's special envoy for combating antisemitism and the delegitimization of Israel, posted a video to Twitter, which has since gained more than 400,000 views, asking: "Did @rihanna have to play a #Kanye song during the #SuperBowl #HalftimeShow?"
Some disagreed with the implied criticism. One person tweeted: "This is how Rihanna said, 'I don't support Kanye, but I'm honoring him' without saying."
Another added: "We all know that the Super Bowl Performance by Rihanna was her endorsement for Kanye West and giving support to Kanye West in everything he is going through. I hope Kanye is doing well thanks Rihanna."
Another replied: "By even mentioning him here you have just brought him back into the arena thus making him sustain/gain more support so... epic fail on your part. I'm not a fan of him anymore myself but Rihanna should be free to perform and wear whatever she likes regardless of Ye's past."
However, others were more critical. One person reposted a Rolling Stone article that said West's comments had led to an increase in antisemitic attacks.
Another replied to Tishby: "You're very brave. The anti-semites will be out in droves to take you down."
Another said: "Whilst she could have chosen other songs if she wanted to, these are songs she worked on too, so I'm not particularly mad about it. It's her work too. At the same time, you are right, as a society we don't give the same gravity and importance to crime and hatred against Jews."
Newsweek reached out to Rihanna's representatives for comment.
West—who has changed his name to Ye—has been making headlines over the past months, including by wearing a "White Lives Matter" T-shirt at his Yeezy fashion show in Paris in September. The models in the show and conservative pundit Candace Owens also wore the top during the event.
West later made a series of antisemitic comments on social media and in media interviews over the subsequent two months. He lost lucrative partnerships with Balenciaga and Adidas, which made his billion-dollar Yeezy line.
Most recently, during an appearance on Alex Jones' show InfoWars alongside documented white nationalist and antisemite Nick Fuentes, he said he "liked" Hitler and that the Nazis invented microphones and highways.
"They did good things, too," West said while wearing a full face mask on December 1. "We've got to stop dissing the Nazis all the time."
The singer followed up "All of the Lights" with "Run This Town", her collaboration with Jay-Z, who did not perform with her but was in attendance with his daughter, Blue Ivy.
Rihanna also made headlines ahead of and during her show, including because it was her first live concert in five years.
She also used the Super Bowl to show off her baby bump, leaving millions of people around the world wondering if she was pregnant.
Rihanna's representative, Amanda Silverman, later confirmed to Newsweek that her client is indeed pregnant.
It will be her second child with her partner, the rapper A$AP Rocky, after they welcomed a son in May 2022.
Updated 2/13/23, 10:01 a.m. ET: This article was updated with comment from the Campaign Against Antisemitism.
Updated 2/13/23, 8:45 a.m. ET: This article was updated with additional reaction.
Updated 2/13/23, 7:30 a.m. ET: This article was updated with additional information.