Syria Chemical Attack: What We Know So Far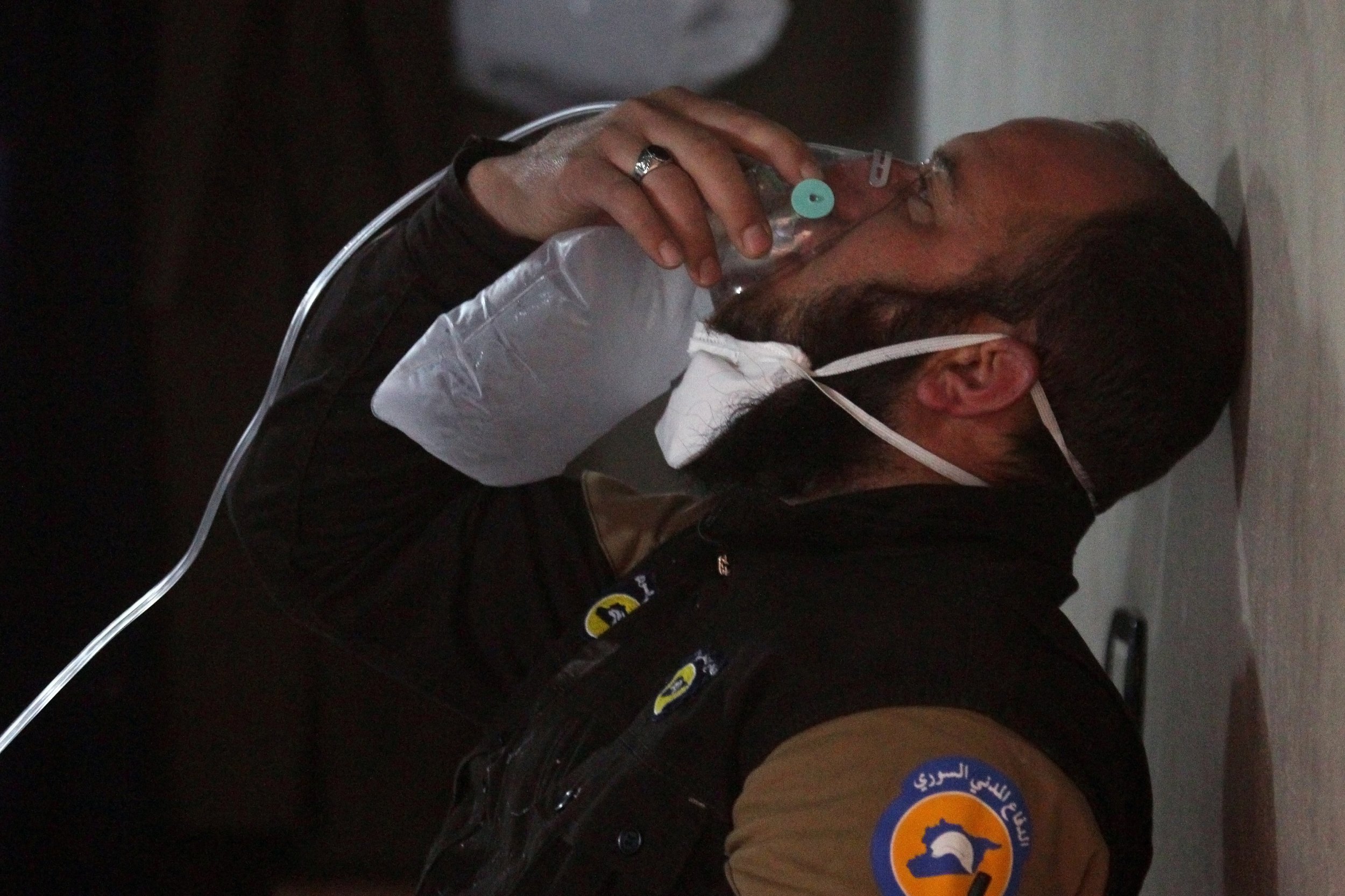 The initial reports of a chemical attack in Syria's northern Idlib province on April 4 were followed by eyewitness testimony, relayed through human rights monitors. Images and videos emerged of the dead and dying, foaming at the mouth and paralyzed.
Rebel groups said the manner of their deaths was consistent with the use of sarin gas, the same nerve agent the Assad regime stands accused of dropping over the Ghouta suburb of Damascus in 2013.
As the death toll rose—87 people, including children are now believed to have been killed—President Trump ordered retaliatory strikes. "No child of God should ever suffer such horror," he said on April 6 as 59 cruise missiles hit Sharyat air base in Western Syria.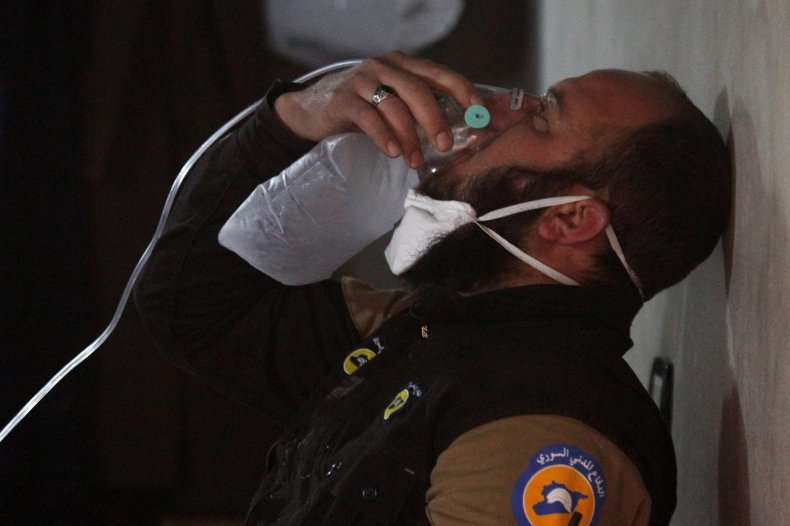 Read more: Bashar al-Assad: Chemical Attack Claims Are '100 Percent Fabrication'
"There can be no dispute that Syria used banned chemical weapons, violated its obligations under the Chemical Weapons Convention and ignored the urging of the UN Security Council," he added.
On Wednesday, Russia vetoed a U.N. resolution condemning the reported use of chemical weapons, which would have prompted an investigation into the deaths in Khan Sheikhoun. Russia's U.N. Ambassador Vladimir Safronkov told the council Western powers had pre-judged that the Syrian government was responsible for the April 4 attack.
Tests by U.S. allies confirm use of Sarin
Britain and Turkey, both of which have spoken in support of U.S. strikes on the Syrian air base, have confirmed the use of sarin gas in Idlib. Samples taken from Khan Sheikhoun were analyzed by British scientists and have tested positive for the gas, Britain's U.N. Ambassador Matthew Rycroft told the Security Council Wednesday.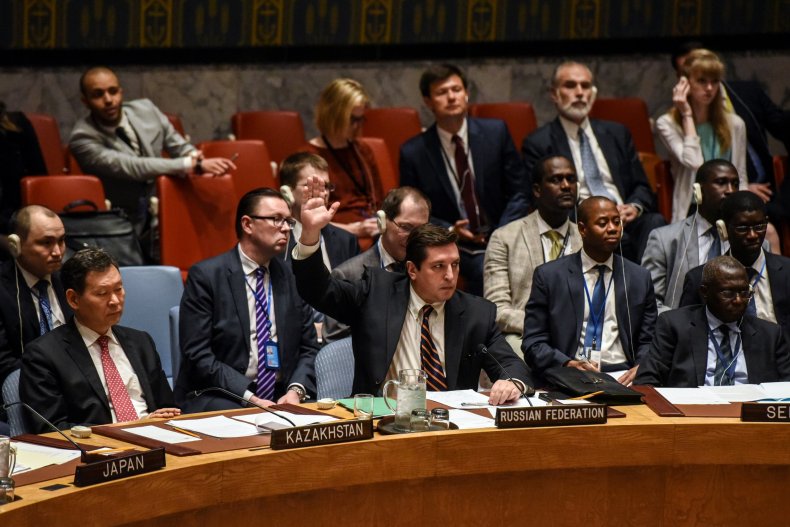 Turkey's Ministry of Health said blood and urine samples had also tested positive for sarin. Turkey's health minister Recep Akdag told Turkey's Anadolu news agency that isopropyl methylphosphonic acid, an indicator of sarin, had been identified in tests of patients from Idlib brought to Turkish hospitals.
Reuters reports that experts from the Organisation for the Prohibition of Chemical Weapons (OPCW) in The Hague have gone to Turkey to gather bio-metric samples and interview survivors.
Hamish de Bretton-Gordon, a former British Army officer and chemical weapons expert advising Syrian NGOs, tells Newsweek that sarin only persists in the air for an hour or so, so the longest lasting samples are those taken from patients. "The best evidence is hair and blood because particularly nerve agent stays in that for for a much longer time. We also collect soil samples and other pieces but part of the Chemical Weapons Convention is that you are not allowed to move samples across borders," he says.
However, time still remains a key element because for evidence to be admissible under the Chemical Weapons Convention as it has to be tested by the OPCW. "The only organization sanctioned to collect the evidence and analyze it is the OPCW." Bretton-Gordon explains. "They [the OPCW] are not in Syria now and they are not going to get into Syria until the resolution is agreed at the U.N. Security Council," Bretton-Gordon said.
U.S. accuses Syria and Russia of a cover-up
In his first public statement on the allegations over the use of chemical weapons, Assad called the reports a "100 percent fabrication."
"There was no order to make any attack, we don't have any chemical weapons, we gave up our arsenal a few years ago," he told AFP.
Russia claimed on April 5 that a Syrian military strike hit a "terrorist warehouse" that contained "toxic substances."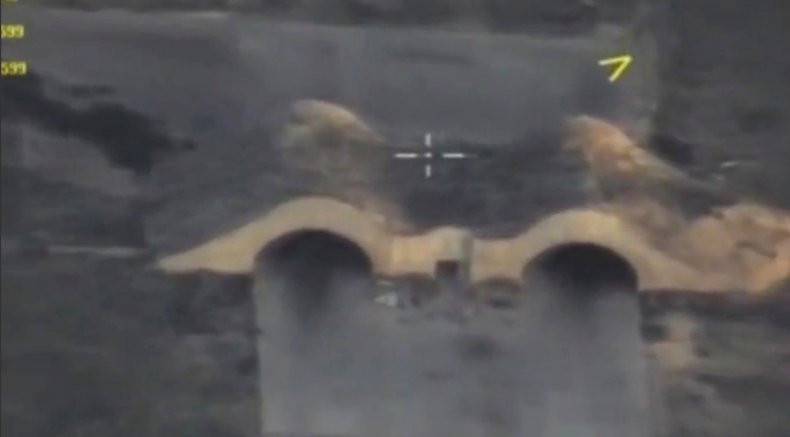 "According to the objective data of the Russian airspace control, Syrian aviation struck a large terrorist warehouse near Khan Sheikhoun" in Idlib province, the Russian defense ministry said in a statement.
The U.S. has disputed these claims in a report, stating that "senior military leaders were probably involved in the attack."
"Our information indicates that the chemical agent was delivered by regime Su-22 fixed-wing aircraft that took off from the regime-controlled Shayrat Airfield," the report adds. "These aircraft were in the vicinity of Khan Shaykhun approximately 20 minutes before reports of the chemical attack began and vacated the area shortly after the attack."
According to the report, U.S. intelligence information also indicates that individuals historically associated with Syria's chemical weapons program were at Shayrat Airfield making preparations for an upcoming attack in Northern Syria, and they were present at the air base on the day of the attack.
Refuting the Russian version of events, Bretton-Gordon stated that conventional bomb attacks on sarin destroy the chemical agent rather than dispersing it. It was highly unlikely, he added, that rebels or jihadis would have been able to obtain enough sarin to kill nearly 90 people. "To inflict the amount of casualties that it did, there would need to be thousands of tons of sarin. And if the jihadis have sarin, they would have one or two kilograms, not hundreds of kilograms," he said.
In the wake of the alleged chemical weapon attack in Khan Sheikhoun, Assad's warplanes conducted a series of airstrikes on the town, according to monitors on the ground. Bretton-Gordon said this is a common tactic following chemical weapons attacks: "After you use chemical weapons you then have a massive conventional bombardment to destroy the evidence, which is what happened ... in Idlib."