'RuPaul's Drag Race UK' Star Cherry Valentine Dead at 28 Years Old
RuPaul's Drag Race UK star Cherry Valentine has passed away aged just 28, her family has revealed.
Valentine, who was born as George Ward, died on Sunday and has been remembered as an ambassador of the Gypsy, Roma and Traveller (GRT) community.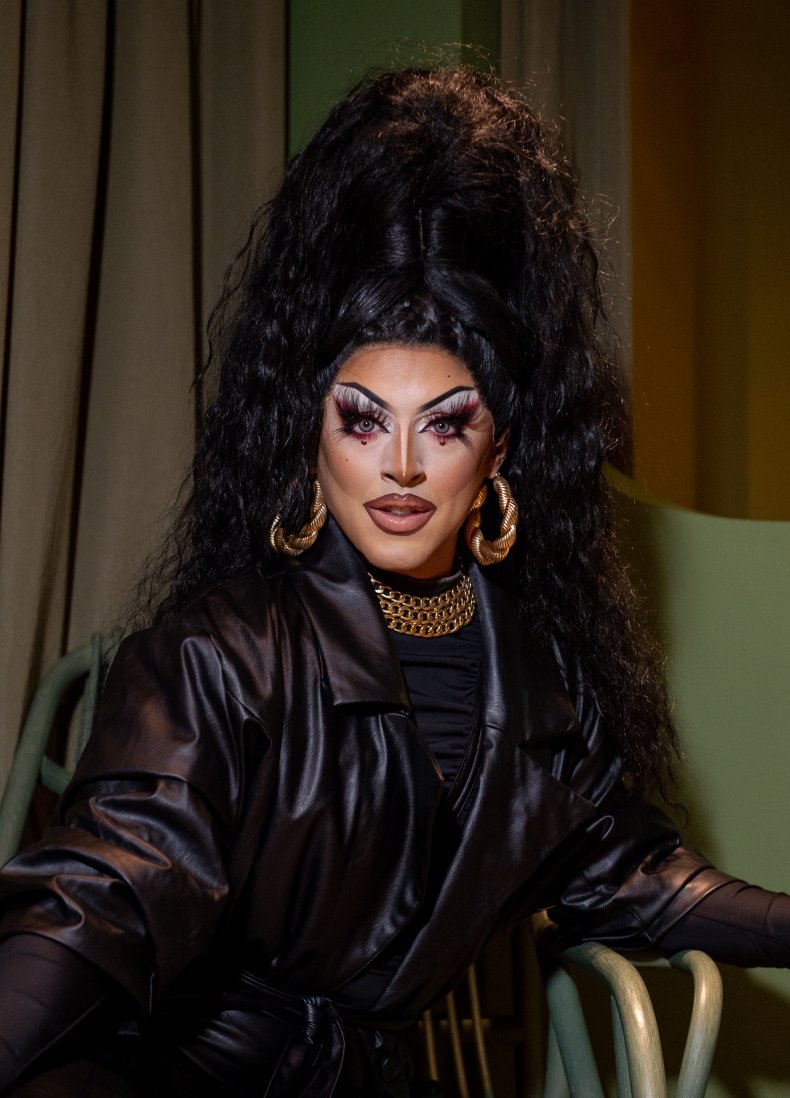 The drag queen's family announced the death in a statement. "It is with the most heart-wrenching and deepest sadness to inform you that our George – Cherry Valentine – has tragically passed away.
"This will come as a profound shock to most people and we understand there is no easy way for this to be announced."
The statement continued: "As his family, we are still processing his death and our lives will never be the same.
"We understand how much he is loved and how many lives he has inspired and touched. All we ask is for your patience and your prayers in this time. We love you Georgie."
BBC Three, which airs the drag reality show in the UK, also released a statement that read, "we are devastated at the passing of George, who we also knew as Cherry Valentine."
Fiona Campbell, BBC Three Controller, added: "We are all shocked and heartbroken to hear the news of the passing of George, known to many as Cherry Valentine.
"A fan favorite and an inspiration to so many, we were privileged to have worked with him at BBC Three.
"He will be hugely missed by his many fans and friends. Our deepest sympathies are with his family and friends at this difficult time."
Drag Race producer World of Wonder also released a statement after the death.
"We are heartbroken to learn of the passing of George Ward AKA Cherry Valentine," it began.
"As an artist, nurse and activist, Cherry will always remain a beloved member of our Drag Race family.
"Cherry's love and irresistibly infectious laugh touched the lives of so many. Our deepest condolences go out to her family and friends."
Throne Events, which Valentine co-founded and worked as a company director, has set up a fundraiser page for the vigil and an online book of condolences where people can leave a message for the drag queen.
Valentine appeared on the second season of RuPaul's Drag Race UK and was the second queen eliminated.
In that short space of time, Valentine was credited with raising awareness about the GRT community and mental-health (MH) issues.
The drag queen had trained as an MH nurse in 2015 and, when RuPaul's Drag Race UK was forced to stop production due to the emerging coronavirus pandemic, Valentine decided to return to work as a nurse.
"I can't just sit at home. I need to be doing something," Valentine told Metro in 2021.
"I ended up going back into [nursing], working in neuro for a bit for a couple of months. It was high-intensity neuro for adults, so it was [treating patients with] brain damage and brain injuries.
"It was a weird crossover because I'm obviously mental health-trained. During the pandemic, it was very physical health-focused, so it was dealing with Covid, which was a bit of a shock. I did that until we went back filming again."
After starring on RuPaul's Drag Race UK, Valentine fronted a documentary on BBC Three called Cherry Valentine: Gypsy Queen and Proud.
In the 2022 documentary, Valentine went back to the Traveler community she had left at age 18 and met with other GRT people who are LGBTQ.
Valentine revealed why she wanted to make the documentary and why she was so open about her Gypsy identity on RuPaul's Drag Race UK.
"My own experiences of watching the GRT community on TV have generally been quite negative or stereotypical," she told Dazed in 2022.
"When I spoke about it on Drag Race, the producers didn't prompt me... I just thought, 'Why wouldn't I talk about it? I've got this platform and people from the community I'm from don't usually have that.'
"I say in every single interview that visibility is the most important thing, and all I want to do is just be visible for other people, so hopefully they feel more positive about it."
Following the announcement of Valentine's death, people rushed to share their tributes on Twitter.
"God, how truly awful about Cherry Valentine. Someone who worked in the NHS through the pandemic, was proud of their gypsy roots, and looked phenomenal while doing it all. Just 28 years old- how horribly tragic," tweeted one fan.
Another wrote: "We are saddened to hear the news this morning about the untimely death of #dragraceuk star Cherry Valentine. Their work for the NHS during the pandemic & openess about growing up as gay in the traveller community, was inspiring."
And a third commented: "Sad about Cherry Valentine's death. As a fellow queer gypsy from the UK, felt amazing to see her on the TV."
Valentine has become the third star from the Drag Race franchise to die unexpectedly.
The first was Sahara Davenport, who competed on season two of the US version of the show and died at age 27 from heart failure in 2012 in Baltimore, Maryland.
Davenport was in a long-term relationship with season three contestant Manila Luzon at the time of her death.
Chi Chi DeVayne died of complications from scleroderma and pneumonia in 2020 at age 34. The Louisiana queen competed in season eight of All Stars 3 before her death.