'RuPaul's Drag Race All Stars 6' Episode 8 Recap: Who Bombed the 'Snatch Game of Love'?
Snatch Game (or, as it is on All Stars, Snatch Game of Love), is probably the most anticipated challenge on RuPaul's Drag Race, but at this point we have had as many underwhelming ones as we have had standouts.
There are two steps to a great Snatch Game character—really embodying the person, and being really funny. No one on this All Stars 6 version manages to do both at the same time.
Instead, Ginger and Kylie are funny but don't fully embody the character. They are in good company there—two of my favorite Snatch Game performances are Jessica Wild as RuPaul and Monét X Change as Maya Angelou, neither of which was anything like the person they were playing—but they lack the full package of an Alaska as Mae West or Adore Delano as Anna Nicole Smith. Eureka on the other hand really embodied Divine (certainly better than anyone managed in the wasted opportunity that was the Season 7 John Waters challenge), but was not consistently funny.
But we'll get to all that. Episode 8 of RuPaul's Drag Race All Stars 6 begins with the reveal that it was Ginger and Eureka who caused the shock tie in the last episode. Those who did not watch Untucked missed a great moment where we saw the pair of them decide to vote for Pandora in real time. Kind of like 12 Angry Men, but with more hip padding.
Trinity, meanwhile, is celebrating being the frontrunner after winning her second challenge. Episode 8 may not be a great Snatch Game, but it is a beautifully produced piece of reality TV. Making Trinity the frontrunner just before a challenge she has a high chance of doing badly in gives the episode a natural dramatic arc rather than the one the show often tries to awkwardly shoehorn in.
No sooner have the queens wiped Jan's message (surprisingly kind after her sour exit confessional last week) and it is time for RuPaul to introduce the Snatch Game of Love.
Everyone makes pretty strong choices here—not a one-joke meme celebrity to be seen:
Ginger - Phyllis Diller. The perfect Snatch Game choice—a very funny character who most viewers probably do not know, so you can get away with liberties with your characterization.
Eureka - Divine. On the one hand a great choice—Divine is a drag legend with a unique character. She is a tricky one though—early Divine roles are so frenzied and unhinged that it can seem too much for the more sanitized version of drag that Drag Race embodies.
Pandora - Kim Cattrall. There's so much to play with here—the Sex and the City stuff sure, but also her passive-aggressive feud with Sarah Jessica Parker and her love of jazz scatting.
Ra'Jah - LaToya Jackson. Ru's friend of 25 years, and another bizarre and singular character. Ru tends to love seeing his friends mocked (Alaska as Lady Bunny, Sharon Needles as Michelle Visage), so a canny choice.
Kylie - Dolly Parton. As Kylie holds the ignominy of being the first girl sent home from Snatch Game, she has the most to do to redeem herself, and Dolly seems a very safe choice to do that as a one-woman one-liner machine.
Trinity - Whitney Houston. A solid choice, and one that left Sahara Davenport (RIP) safe in the first ever Snatch Game. However, Sahara leaned on some of the mannerisms from Whitney's darker days, in a way that Trinity probably would not get away with now—and probably would not want to in an episode where she walks the runway in a look championing Black lives.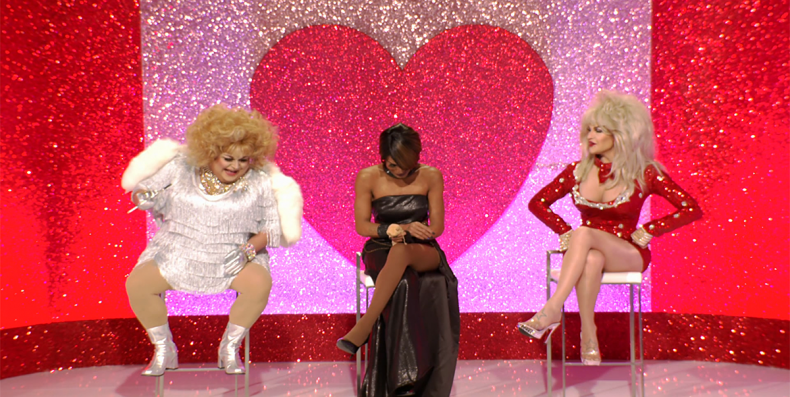 In the workroom chats, RuPaul tells the girls she wants them to succeed, which might be true here—unlike in other seasons, she does not egg on any contestants to make a risky change of character literally minutes before the game starts.
In the Snatch Game of Love itself, Kylie, Ginger and Trinity go first, in the stronger of the two rounds. Kylie and Ginger are both funny, and land all their jokes.
What both are missing, however, is the ability to truly embody the character. Neither really is doing the accent of the person they are playing, and both are playing people with very famous laughs that neither of them do.
If you watch footage of Diller performing, she does very specific eye movements that Ginger misses, though she does nail her joke style. Kylie also has the Dolly one-liners down, and has a moment where she sings a song while playing her nails as percussion. As any Dolly fan knows, this was what she did when she first pitched the song to 9 to 5 co-stars Jane Fonda and Lily Tomlin, so it was a nice detail for Kylie to include.
Trinity, meanwhile, flatlines as Whitney. Ru does laugh, but it is mostly at her. As soon as Ginger starts lobbing more Whitney references than Trinity does, it is clear she is in trouble. Come on Trinity: You're sitting next to Dolly Parton, the person who wrote your most famous song. Was there nothing you could have done with that?! We were rooting for you!
Snatch Game is also given an extra surreal element thanks to social distancing guidelines, which means that after each "Snatchelor" (Cheyenne Jackson and Fortune Feimster) chooses their date, they just awkwardly date 6 feet apart from each other.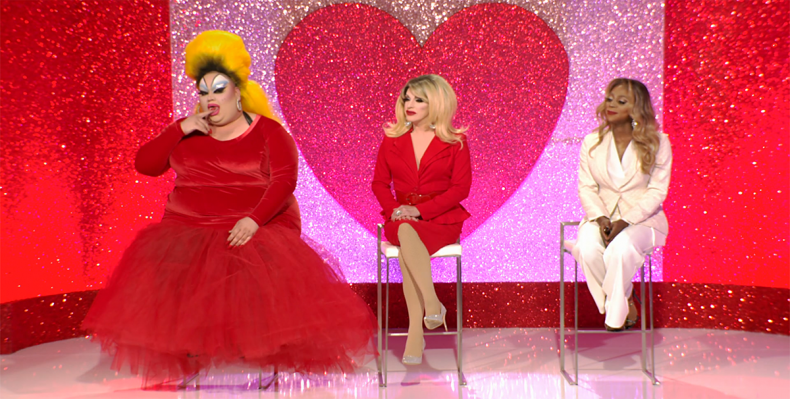 In the next round we have Pandora, Eureka and Ra'Jah. The latter is probably the strongest—she makes liberal use of LaToya's famous laugh, and she uses the little nuggets about LaToya that Ru shared with her earlier to great effect in building the character.
Eureka does a very good, fully committed Divine (and really looks like her), but the character is so extreme that it is kind of on its own tier, meaning she cannot really have the sort of fun back-and-forth that Kylie and Ginger managed.
Pandora, meanwhile, is the latest victim of the Rue McClanahan curse, where queens who play famously promiscuous sitcom characters struggle in the Snatch Game. Her Kim Cattrall is just a thin frame to hang sexual innuendos on—which to be fair is what Samantha Jones was too in the later seasons of Sex and the City.
The trick with this sort of character is to create responses that are in the voice of character, but are reactive to the moment (like Ginger does). What Pandora does is just parrot actual Samantha Jones lines, and gives us no non-SatC Cattrall stuff. A missed opportunity.
Speaking of missed opportunities, this week's runway category is Pop Art. Everyone gives us variations of either Andy Warhol screenprints or Roy Lichtenstein comic book paintings. Ginger and Trinity are the best looks of the week (and Trinity gets kudos for turning the very white history of Pop Art into a Black Lives Matter message), but it is a shame no queens think outside the box in the way they have in previous categories. Ginger also gets inadvertent comedy points for saying she "hand-ironed" each image of herself onto the dress, which is adorably arts and crafts in a "making a t-shirt for grandma's birthday" sort of way.
Unsurprisingly, Ginger wins, while Trinity and Pandora are in the bottom. This is where production really kicks in, really making us believe that Ginger is going to take out Trinity right until she takes out her Pandora lip-stick.
Then again, Ginger's argument for sending Trinity home is questionable. She asks whether it was right to send Trinity through if she does not put as much effort into the challenges she is less confident in. Whereas I put it to you, Ms. Minj, that it was right to send Pandora home as she bombed a challenge she should have been comfortable in.
Ginger eventually makes the choice to send Pandora home, as does every other girl save Pandora herself (as revealed in Untucked). This means Pandora goes home with the probably unwanted legacy as being the queen who has appeared on the most seasons without ever winning a challenge.
Not before, however, she takes on this week's lip-sync assassin, who is...Heidi N Closet?! Sure, she is the rare queen who survived three lip-syncs, but would she make anyone's list of assassins? Either way, if they are using the lip-sync assassin spot to audition queens for All Stars roles, then that's not a bad idea. They could do a lot worse than Heidi, Laganja and Jessica Wild.
Ginger wins after another camp fun lip-sync (why are campy queens not considered lip-sync assassins by the way? Ginger is just as entertaining to watch as any of her high-kicking-and-splitting sisters) and Pandora is sent home.
Well, not home. She is drawn into the game within a game by Ru. Still no sign of what that game within a game could be—it seems too late to bring back an eliminated queen. I'm starting to get a worrying premonition that we are getting a repeat of the All Stars 3 jury, aka the worst idea in All Stars history since playing in teams.
RuPaul's Drag Race All Stars 6 airs Thursdays on Paramount+.