Chicago has dropped its lawsuit against the city's largest police union over its COVID-19 vaccine mandate.
The city sued the Fraternal Order of Police (FOP) Lodge 7 in October, accusing its president, John Catanzara, of encouraging an "illegal work stoppage or strike."
Catanzara had encouraged officers to not comply with a mandate that required city employees to report their vaccination status by October 15 or be put on "no-pay status". The union countered with its own lawsuit against the city in a bid to suspend the policy.
In a statement on Wednesday, Mayor Lori Lightfoot said she had directed officials to dismiss the lawsuit against the union without prejudice, saying it was unnecessary as more officers have complied.
"The past few weeks have shown what I have said from the beginning to be true: that our brave police officers are smarter than their FOP leadership, and care more about their city, their fellow Chicagoans, and upholding their sworn oath to protect and serve, than they do Catanzara's frivolous demands to stop working," she said.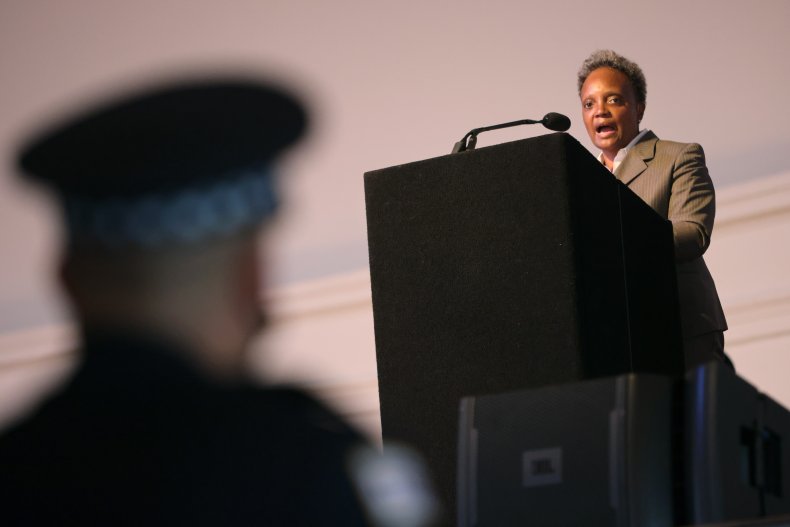 However, Lightfoot pledged to take the matter back to court if the union or Catanzara "take any further action toward encouraging an illegal work stoppage or strike."
It came after a judge in November suspended a December 31 deadline for Chicago police officers to be vaccinated against COVID-19, but didn't interfere with reporting and testing requirements.
In her statement, Lightfoot said the mandate had been put in place to protect lives.
"From day one when this requirement was announced in August, this entire process has been and will continue to be about protecting the lives and safety of all Chicagoans," she said. "The data shows that we are succeeding in that mission, and that police officers recognize that protecting and serving in the times of global pandemic means ensuring that they are vaccinated against COVID-19."
The mayor said the number of officers complying with the requirement to report their vaccination status, as well as the city's mandatory vaccination policy, has "continued to grow" since October 15.
"I have completely confidence that the entire Department will be in compliance with City policy in the near future," she added.
Police have lagged behind other departments in complying with the city's vaccine requirements. But as of Monday, about 87 percent of the police's department roughly 12,000 employees had reported their vaccination status and almost 76 percent are fully vaccinated, according to the Chicago Sun-Times.
A post on the union's Facebook page said about 30 percent of the department "did not comply BY CHOICE and are only complying under duress and force."
Catanzara recently retired from the police department ahead of disciplinary hearings he faced over past comments he has made. He has been contacted for comment.