Have NBC's 'Chicago' Shows Been Renewed for 2022?
Chicago Fire, Chicago Med and Chicago PD are airing their respective season finales on Wednesday.
The three NBC shows are sure to end on some dramatic cliffhangers for the One Chicago teams, leaving fans wondering whether they will be renewed for the fall 2022 TV season.
Is Chicago Fire coming back for Season 11, Chicago Med for Season 8, and Chicago PD for Season 10? Here's what we know about the future of those three series.
Have Chicago Fire, Med and PD been renewed?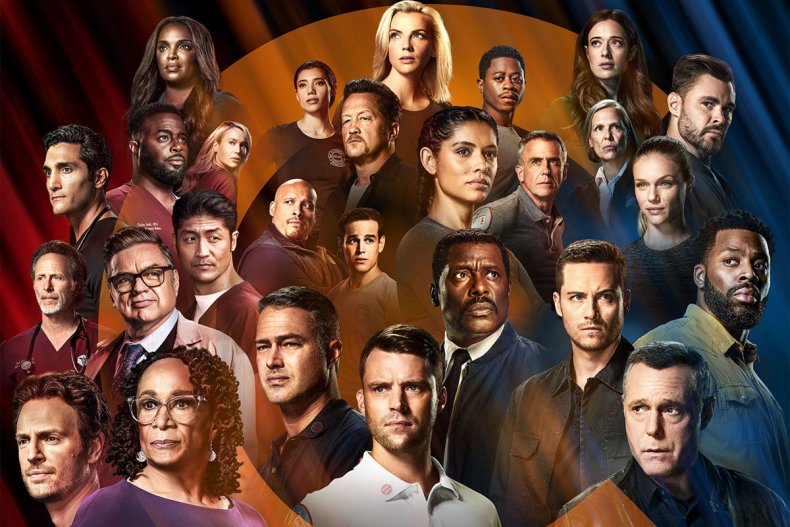 Have no fear, One Chicago fans: all three series in the franchise are safe.
In fact, they got renewals for the 2022-2023 TV season way back in February 2020. At that point, NBC committed to nine new seasons from the franchise, three for each Chicago series.
This meant that Chicago Fire was renewed for Seasons 9 to 11; Chicago Med for 6 to 8; and Chicago PD for 8 to 10. This also means that all these renewals run out in spring 2023.
Fans were likely relieved the Chicago franchise was already renewed, with recent weeks seeing the networks canceling a large number of TV shows, in what one writer-producer called a "bloodbath of broadcast TV cancellations." NBC canceled three shows during this time: The Endgame, Kenan, and Mr. Mayor.
Will the Chicago shows get canceled in 2023?
Currently, the future of the franchise after that has not been announced, meaning that 2023 could be the year we say goodbye to one of the series.
It should be noted that both of the other NBC shows that got three-season renewals (New Amsterdam and This Is Us) got canceled once those seasons were over.
Does this mean Chicago Fire, Med and PD will follow suit? Not necessarily. This Is Us was always intended to end at the end of that three-season order, and the Chicago shows do bigger viewing figures than New Amsterdam.
In fact, the three Chicago series are the most-viewed scripted shows on NBC. Fire gets an average of 7.1 million viewers (per Nielsen), Med gets 6.8 million, and PD 5.8 million. Plus, with the end of This Is Us, they are also the top three shows among the 18-to-49 demographic that is key to advertisers. This should mean that they are fairly safe chances to be renewed next year.
When will the Chicago shows return next season?
For fall 2022, the Chicago shows are keeping their time slots. All three of them will air on Wednesdays, with Med at 8 p.m. ET, Fire at 9 p.m., and PD at 10 p.m.
When exactly they are coming back has not been revealed by NBC yet. Based on last year's schedule, however, the most likely premiere date for Chicago Fire Season 11, Chicago Med Season 8, and Chicago PD Season 10 is Wednesday, September 21.