Chicago PD worried a lot of fans with its promo, that saw Hailey Upton (played by Tracy Spiridakos) sharing the news with Jay Halstead (Jesse Lee Soffer) that she had been offered a prestigious job at the FBI. This of course led those fans to wonder whether Chicago PD Season 8 would see her leaving the NBC show.
Of course, the character previously crossed over in the show FBI for its Season 2 finale, "Emotional Rescue," and she seemed to be a good fit there, leaving fans even more concerned that she could be leaving Chicago PD for its sister show.
Speaking to CinemaBlend, Spiridakos had promised: "Upton will be coming back. I will be back! I'll be coming back when the show starts up again in the new season and Upton will be there, absolutely."
Fans were particularly concerned that she was leaving as this would bring an end to the possible romance between Upton and Halstead. The job she was offered would see her co-lead a task force, which came with a big bump in salary, but would see her leave Chicago.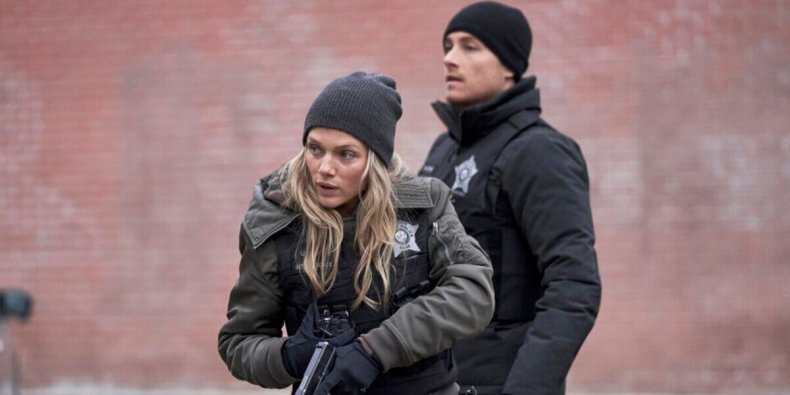 However, it seems that the whole job offer plot was there not to set up Upton moving to FBI but to make her realise exactly what Halstead meant to her.
In Chicago PD, Season 8, Episode 3, the episode that was postponed from last week amid the storming of the Capitol, Upton revealed that she was not leaving at all. She told Halstead: "I'm better with you as my partner. You, 21, Voight... I know I'm better here so I'm not gonna take it."
She then confessed that she saw Halstead as much more than a partner, and the pair shared their first kiss as the show cut to its credits.
Speaking to TVLine, Chicago PD boss Rick Eid revealed that Upton's job offer was always meant as a way of bringing the Upton/Halstead storyline to its next beat. He said: "Their feelings for each other have been growing for the past two seasons. Quite frankly, there was nowhere else to go. They had to take things to the next level or at least give it a try. They just needed a catalyst, like Upton's FBI job offer."
Spiridakos, meanwhile, said: "I think the moment came from the fear of being separated with this new job offer on the table. For Hailey, the idea of leaving Jay is what propelled her to not take the job and made her face her feelings for him straight on. In the past, she had opportunities to tell him how she felt about him, but the moment never seemed right. This time, she took the opportunity and ran with it."
As such, fans should have no concerns that Upton is leaving the show—in fact, it looks like we are just at the beginning of an exciting new chapter for the character.
Chicago PD airs Wednesdays at 10 p.m. on NBC. All episodes so far are streaming on Peacock.