Chicken Wings Shortage Sees Prices Rise in Restaurants Across U.S.
A chicken wing shortage has forced restaurants across the U.S. to increase their prices as suppliers are running low on the popular appetizer.
The shortage has been brewing for months, for various reasons, including an increase in demand for wings during the pandemic and a lack of production workers.
Restaurant owner Jason Esterkamp said a labor shortage means that chicken processing plants do not have the workforce to open all their lines. He told WXYZ Detroit: "All I can tell you is that wings are hard to come by, and they are extremely expensive."
For example, chicken wings are normally priced at $1.50 to $1.70 per pound in the northeast, according to Mental Floss, which reports that wings can now cost $3 or even $4 a pound.
As a result, chicken wings are costing restaurant operators more, and some are passing the cost on to consumers, while others suffer the loss. Independent restaurant owners are particularly affected by the price increase, as large companies such as KFC, for example, are more able to absorb the increased cost.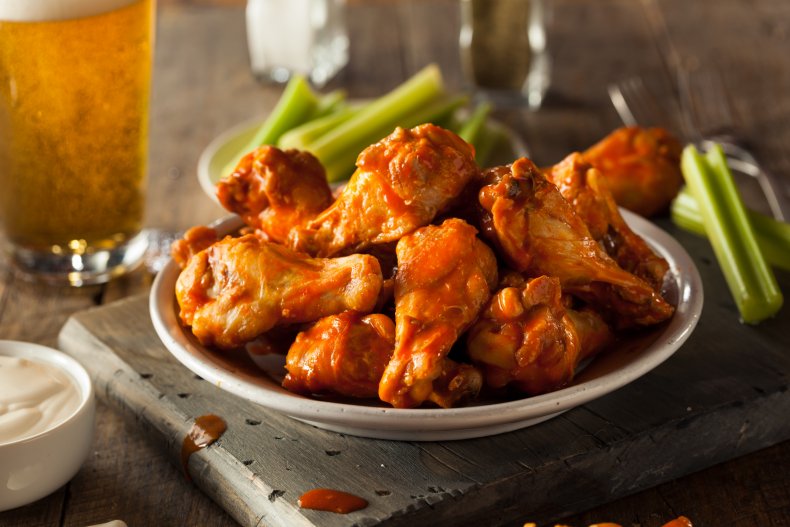 James Parker, owner of Big Daddy's Homeplate Barbeque, in the Lower Hudson Valley area of New York, told local media outlet Lohud that the rising chicken prices have forced him to raise prices of wings. He said: "We're so small every dime counts.
"Thank God the community is doing well but we need the support in order to make it. So far it's been looking up, but trying to get out of the hole COVID put us in and now we're dealing with this, it's unbelievable."
Kent Von Fecht, co-owner of Lendy's Cafe and Raw Bar in Virginia Beach told AP that he had raised his prices by $2 for a dozen wings for the Super Bowl (when he needed to bring a refrigerated truck to store such a high quantity), but said that he hasn't been able to lower his prices since.
In response to the price fluctuations, other restaurants are opting for a method usually reserved for menu items such as fresh fish and lobster by selling their chicken wings at market price.
Chicho's Backstage, a pizza restaurant in downtown Norfolk, Virginia, is one restaurant selling its chicken wings at market price— the restaurant's menu price for 10 wings increased to $15.50 from $12.50 the week before, as reported by AP.
For some restaurants, however, the cost of chicken wings is so high that they cannot increase their menu prices, as the cost would be too high for customers.
Bull & Bear owner Mark Bullis told Syracuse.com that he's simply not selling chicken wings, for the time being, saying: "The prices are obscene. I cannot in good conscience pass that on to my customers, and even if I tried, I'd lose money."
Bull & Bear is not alone in asking its customers to go without wings for the time being. Wing Barn CEO Bobby Saenz said in a statement on the chicken wing shortage that Wing Barn has asked its customers to try different menu items, such as boneless wings or burgers, in case the restaurant is out of wings.