Child, 5, Killed in Drive-By Shooting That Injured 8-Year-Old: Police
Police in Houston say that a 5-year-old was killed and an 8-year-old was injured when they were shot in a car on Sunday morning.
Local law enforcement responded around 1 a.m. to reports of a shooting near Rushcreek Drive. However, when officers arrived at the scene they didn't find any victims, local news station KPRC reported. About 15 minutes later, officers then learned that two children had been taken to the hospital with gunshot wounds.
Witnesses said that a car with a woman and two children inside stopped at a stoplight when another car drove by. Two suspects from within that car then opened fire on them multiple times, said Houston Assistant Chief C. Hatcher, according to KPRC. The woman, who was also the children's mother, then reportedly drove them to the hospital. The 5-year-old died from their injuries while the 8-year-old is expected to survive.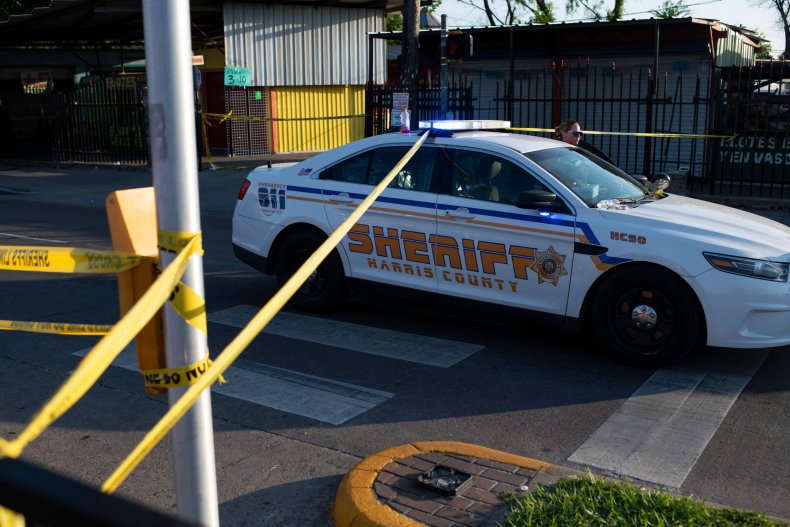 Police have yet to arrest anyone in connection with the incident, and said that it's not clear if the vehicle or the mother were the intended targets.
Newsweek has reached out to the Houston Police Department for comment and additional information.
So far this year, according to the Gun Violence Archive, 847 children and teenagers in the United States have been killed as a result of gun violence. In addition, 2,122 children and teens this year have been injured by firearms.
Other Victims of Gun Violence
In Detroit last month, an 11-year-old girl was killed during a sleepover when someone opened fire outside of a home. "Someone shot up the house from outside, striking the 11-year-old, who was in the home with five other children. It appears they were having a sleepover," Detroit Police Chief James White said at the time.
Five other children and two adults were in the home when the suspect opened fire, but the 11-year-old was the only one struck by bullets.
In Milwaukee this week, a 3-year-old was killed after accidentally shooting himself with a gun. A 28-year-old woman was arrested in connection with the incident.
"I am disturbed by all gun deaths in Milwaukee, but when the victim is a 3-yr-old, I am horrified. There are too many guns in the hands of people who should not have them. All weapons must be locked and secured in a home," Milwaukee Mayor Cavalier Johnson wrote of the shooting on Twitter.
Also last week, a 5-month-old girl in Chicago was shot in the head and killed while sitting in a car. The incident occurred when a vehicle pulled up to the car with the child in it when "an occupant from within fired shots," police said. At the time, police had not arrested anyone in connection with the incident.