A 5-month-old girl sitting in a car on Friday night died after someone opened fire into the vehicle and struck her in the head, police said.
The incident occurred just before 7 p.m. after a second vehicle pulled up to the car when "an occupant from within fired shots," the Chicago Police Department wrote in an incident report on Friday. The baby was then taken to a hospital and later pronounced dead.
Another victim, a 41-year-old man, who police said was traveling in a separate vehicle, was also hospitalized with a "gunshot wound to the eye area" and was "initially reported in good condition," according to police.
Police have not arrested anyone in connection with the incident, and are investigating.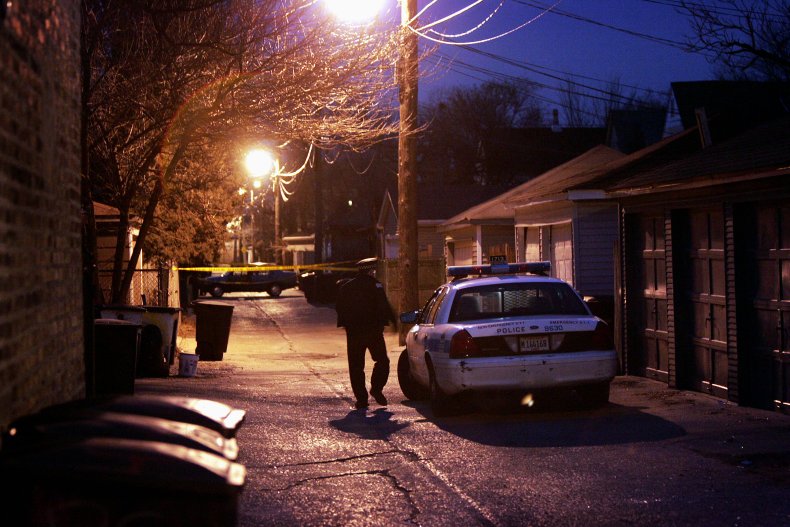 The Sun-Times Media Wire identified the baby as Cecilia Thomas, citing the Cook County medical examiner's office.
"I spoke with this mother. Yes, she's very distraught," said crisis responder Andrew Holmes, according to the Sun-Times. "That's a five month old baby. Nine months she carried that baby, nourished that baby. And it take a damn fool to discharge that weapon and take baby's life."
Holmes added that security cameras in the area could have caught the shooting on video.
"I hope you don't have no children yourself. Because if you do, you shouldn't sleep at night, you should just turn yourself here knowing you got to look at your child every night," he said.
When reached for comment, the Chicago Police Department directed Newsweek to its incident report.
Other Victims of Gun Violence
In a separate incident in April, a 12-year-old boy was shot dead while sitting in a car, while eating dinner with his family. The boy's 20-year-old cousin was also injured during the shooting. The New York Post reported at the time that authorities believed that the shooter had been driving around the parking lot in a stolen car before opening fire.
Earlier this month, an 11-year-old girl was killed during a sleepover when a shooter opened fire outside a home. Five other children were inside the home at the time of the shooting, but no one else was injured.
Also this month, a man died in Florida after his 2-year-old child shot him with what police described as an "easily accessible" gun.
"I can't emphasize strongly enough that our guns need to be secure and kept out of the hands and away from children at all times. Gun owners that do not properly secure their firearms are just one split second away from one of these tragedies happening in their homes," Orange County Sheriff John Mina said, according to the Orlando Sentinel.