A TikTok video of a gynecologist showing how a breech baby is born using a dummy body has been viewed over 28 million times.
The clip is among the reams of videos Dr. Jennifer Lincoln, a board-certified obstetrician-gynecologist in Portland, Oregon has shared on the platform since she started her account in 2019.
She now has over 2.2 million followers on TikTok.
In the video shared in June, Dr. Lincoln uses a model of the pelvis area with the feet of a plastic baby poking out from the inside of a vagina.
Lincoln says in the clip that after a previous birth simulation video she shared was viewed 75 million times, "I thought it was time to show you a breech delivery."
Asked why she thinks her birth simulation videos are so popular, Lincoln told Newsweek: "They show something that seems secretive and mysterious—and this is because the vast majority of people are not taught about or have ever seen childbirth. In the United States especially, abstinence-only sex education reigns supreme. This leaves the majority of young people uninformed about how their bodies work and when it comes to childbirth, completely in the dark."
During most pregnancies, the baby will move to have its head towards the birth canal. A breech birth is where the baby's buttocks and or feet are positioned in a way that they will be delivered first, rather than the head.
This happens in around 1 out of 25 full-term births, according to the American Pregnancy Association.
Lincoln explains in the video that most breech births in the U.S. are delivered via Caesarean section, except for rare circumstances, such as when the baby is the second baby of a twin delivery.
Using the model to demonstrate what happens during a live breech birth, she says: "We guide the feet while the patient pushes. We don't pull but instead aim to keep the back facing up to make the birth easier."
She goes on: "Once the baby is delivered up to the shoulder blades, we sweep one arm out at a time... And I'll go ahead and rotate the baby and do the same thing with the other arm. Then we guide the head out by flexing it down. And there you have it!"
Lincoln tells viewers that breech births aren't usually as easy as they appear in the short video.
In her birth simulation video that was viewed 75 million times, Lincoln talks viewers through the process step-by-step, including how a doctor will place their fingers on the baby's head so it is delivered in a controlled way.
In a comment beneath the video, Lincoln wrote: "if this scares you fear not: we have great options for pain control. Plus, parting gift: adorable baby."
One TikTok user joked: "Thank you for the birth control reminder."
Lincoln told Newsweek her videos have prompted some "interesting comments" from viewers, the most memorable being from people who thank her because they have never been taught how birth works.
"On the flip side, I've had a handful of pregnant people who've seen it and said they had no idea this was how it could be, which makes me sad that they aren't getting the information they need, even while pregnant, to prepare for birth.
"I've had people watch my TikToks, including these simulations, and say it has inspired them to go into OB/GYN and I love that! It's an amazing field and I love what I do."
She went on: "Quite a few people have commented that kids are on TikTok and this kind of content shouldn't be on the app. To them I say this is purely informational content and that this kind of reaction—that birth is sexual and not appropriate for teenagers—is exactly why it is needed.
"Our bodies are not shameful, and learning about them is empowering, not embarrassing."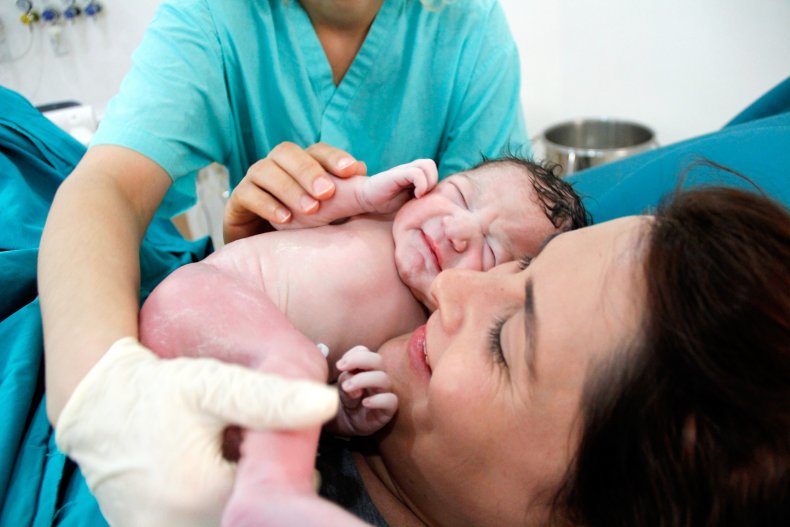 About the writer
Kashmira Gander is Deputy Science Editor at Newsweek. Her interests include health, gender, LGBTQIA+ issues, human rights, subcultures, music, and lifestyle. Her work has also been published in the The Independent, The Independent on Sunday, The i Newspaper, the London Evening Standard and International Business Times UK.