China Accuses U.S. of Stoking 'Cold War' Fears as Both Spar Over Military Actions
The temperature rose between China and the United States on Tuesday after Beijing defended its South China Sea military actions by publicly pointing out Washington's wartime hypocrisy and accusing it of stoking new Cold War fears.
Chinese Foreign Ministry spokesperson Wang Wenbin said that Washington had no standing to accuse Beijing of breaking international law, adding that it waged its own post-9/11 wars that killed more than 800,000 people in Asia and Africa. He also dismissed Secretary of State Mike Pompeo's accusations that Beijing was attempting to establish a "maritime empire" in the disputed South China Sea as an attempt "to smear and attack China" during a press conference Tuesday.
The Chinese diplomat argued his country upholds international law in the region and was willing to settle territorial disputes with neighboring nations through negotiations, but warned the U.S. acted unilaterally in the South China Sea and across the globe.
"Pompeo surely talked a lot about international law, but as is known to all, the U.S. always seeks selfish gains under the pretext of upholding international law," Wang told reporters. "Its all-time principle is to apply international law in a selective and utilitarian way."
"The U.S., having withdrawn from over 10 international treaties and organizations, is indeed the world's number one quitter," he added. "The wars and military operations it launched in countries including Iraq, Libya and Syria caused more than 800,000 deaths and left tens of millions displaced."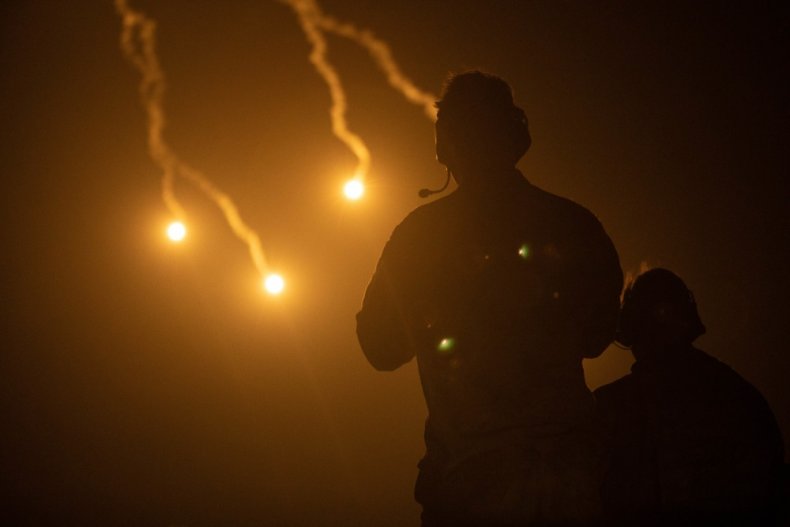 The remarks referred to the latest Costs of War report published last November, Brown University's Watson Institute for International and Public Affairs estimated that between 770,000 and 801,000 people have been killed directly due to U.S.-led campaigns in Afghanistan, Pakistan, Iraq, Syria and Yemen. "Several times as many have been killed indirectly as a result of the wars," the report said.
The Chinese Foreign Ministry brought up the figure earlier this month after Pompeo argued that the ruling Chinese Communist Party "is acting in a way that poses real threats to the world." In yet another escalation of Washington and Beijing's geopolitical and economic feud, the top U.S. diplomat delivered a high-profile speech last Thursday in which he attempted to rally the "freedom-loving nations" of the world against China's "tyranny."
President Donald Trump's administration has adopted a tough line against China, accusing it of unfair trade practices, aggressive military moves in the South China Sea and numerous human rights abuses. China has also accused the U.S. of abuses at home and abroad, as well as withdrawing from various international agreements and organizations and pursuing a global military hegemony.
"The fact is, the country that is militarizing and stoking tensions in the South China Sea is the U.S., not China," Wang said during Tuesday's press conference, noting the heightened tempo of U.S. movements and exercises in the region.
In Washington, Pompeo joined Defense Secretary Mark Esper—who recently designated China as the United States' top strategic competitor—as well as Australian officials at a press briefing Tuesday. Esper said recent joint South China Sea drills involving Washington and Canberra "send a clear signal to Beijing that we will fly, we will sail and we will operate wherever international law allows and defend the rights of our allies and our partners to do the same."
The U.S. has also recently shored up ties with other countries such as India and Japan that share Washington's "Free and Open Indo-Pacific" framework. These countries were all likely participants in this year's biannual Rim of the Pacific (RIMPAC) Exercise, the world's largest naval war games set to take place next month.
China was expelled from the drills in 2018 over U.S. accusations that the People's Liberation Army was militarizing the internationally-contested islands of the South China Sea. The version of the National Defense Authorization Act for Fiscal Year 2021 passed earlier this month contains language calling for Taiwan, a self-ruling island claimed by China, to instead be invited to RIMPAC in a move bound to further strain ties between Washington and Beijing.
In a conversation with his French counterpart Jean-Yves Le Drian, Chinese Foreign Minister Wang Yi warned that "the current China-US relationship has become a source of concern for many in the international community," according to a readout shared by his ministry.
"Wang called for vigilance to US Secretary of State Pompeo's recent remarks instigating renewed ideological confrontation and leading the world to a new Cold War. It is as if we can already see the ghost of McCarthyism coming back from the ashes," it added. "Should such conspiracy theories be allowed to have their way, not only will China-US relations fall into the abyss of confrontation, but the whole world will face a crisis of division and the entire mankind's future will be in peril."