China Snaps Back at U.S. Claims It Might Supply Russia With Weapons
China denied claims it was preparing to transfer lethal arms to Russia, after the United States renewed public warnings on the eve of the Russo-Ukrainian war's anniversary.
"It is the United States, not China, that is continually sending weapons to the battlefield," Wang Wenbin, a spokesperson for the Chinese foreign ministry, said on Monday, accusing the U.S. of "shifting blame and spreading disinformation."
In a series of statements over the weekend that recalled the early days of Russia's invasion, American diplomats including Secretary of State Antony Blinken said the U.S. had information China was "strongly considering providing lethal assistance to Russia." "To the best of our knowledge, they haven't crossed that line yet," he told Chuck Todd of NBC's Meet the Press on Sunday.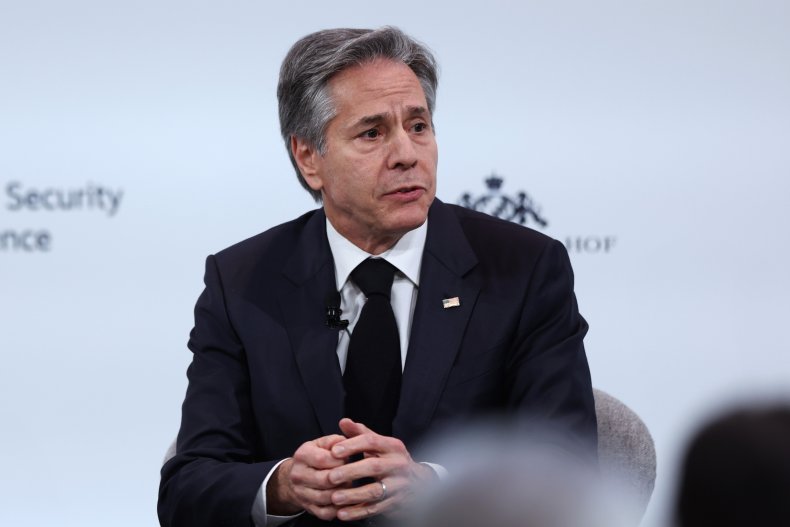 Washington's disclosures, which once again seek to very publicly pile diplomatic pressure on Beijing, also included the Biden administration's first direct confirmation that various forms of "non-lethal support" have been flowing into Russia from China's state-owned companies for use in Ukraine.
These are thought to include so-called "dual-use" items such as computer chips and other hardware for Russia's fighter aircraft as well as commercial drones and other equipment used by its ground forces in Ukraine.
"The concern that we have now is based on information we have that they're considering providing lethal support," Blinken told Margaret Brennan of CBS's Face the Nation on the same day, in reference to "everything from ammunition to the weapons themselves."
"The U.S. has no right to give orders to China, and we have never accepted the U.S.'s finger-pointing at China-Russia relations, let alone pressure or coercion," Wang said. "Who is calling for peace talks? And who is stoking the fire and encouraging confrontation? The international community can see for itself."
Beijing has from very beginning rejected suggestions it could one day directly arm Moscow in its now yearlong offensive, arguing instead that it has never been a party to the conflict. The U.S. appears to be using every opportunity to caution China against shifting away from its position.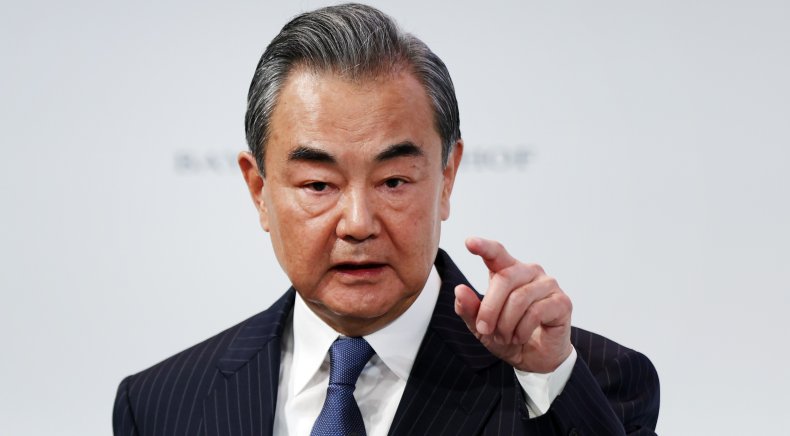 Blinken said he conveyed the "serious consequences" of such a move when he met with Wang Yi, China's top foreign policy official, on the margins of the Munich Security Conference. The pair also discussed the recent spy balloon saga, with the Chinese diplomat doubling down on Beijing's line that Washington is to blame.
Linda Thomas-Greenfield, the U.S. ambassador to the United Nations, told Pamela Brown of CNN's State of the Union that Washington welcomes Beijing's call for peace. Any provision of lethal support, however, would be "unacceptable," she said, and "a red line."
The phrase was repeated Monday by the European Union's top foreign affairs official, Josep Borrell, who also raised the issue when he met Wang in Germany.
"For us, it would be a red line in our relationship," said Borrell. "He told me that they are not going to do it, that they don't plan to do it. But we will remain vigilant."
Wang is expected in Moscow early this week to discuss China's vision for a political settlement to the ongoing conflict in Ukraine. Kremlin spokesperson Dmitry Peskov on Monday didn't rule out a meeting between Wang and President Vladimir Putin of Russia.
At the Munich conference over the weekend, China's top diplomat said Beijing would soon put out a new position paper on the war, a document that could accompany Chinese leader Xi Jinping's expected "peace speech" on February 24, on the one-year mark of the invasion.
In an indirect dig at the U.S., Wang told a panel discussion that "some forces seemingly don't want negotiations to succeed, or for the war to end soon."
Do you have a tip on a world news story that Newsweek should be covering? Do you have a question about China? Let us know via worldnews@newsweek.com.