China and U.S. Show Off Nuclear Bombers in South China Sea Standoff
The U.S. has made the latest move in the tense standoff over control of the South China Sea, flying two nuclear-capable B-52 Stratofortress bombers close to disputed Chinese islands in the area.
The Pentagon said the aircraft were on a training mission from their base in Guam and flew over the Chinese-claimed Spratly Islands on Tuesday, CNN reported.
The flight elicited a defiant response from the Chinese military, which said no foreign aircraft or ships would deter its mission to defend the country's "sovereignty and security," according to Reuters.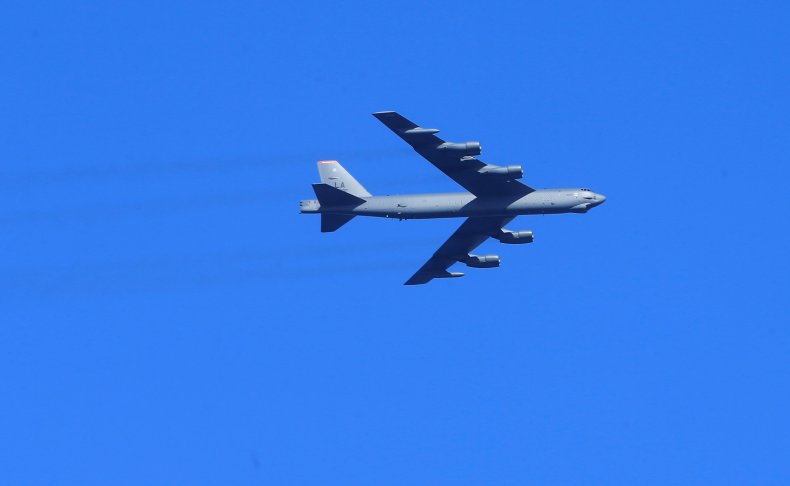 China has been constructing artificial islands to enforce its territorial claims in the South China Sea, drawing condemnation from five neighbors with overlapping claims and from the U.S. The islands have been fortified to create a network of military bases, giving Beijing effective control of the area.
Tuesday's B-52 flight is the latest "freedom of navigation" operation conducted by the U.S. to assert its right to use the waters, which contain rich fishing grounds, vital shipping routes and potential natural resources.
Chinese Foreign Ministry spokeswoman Hua Chunying warned that Beijing "won't be scared by any so-called military ship or aircraft, and we will only even more staunchly all necessary steps to defend the country's sovereignty and security, to protect the peace and stability of the South China Sea region."
Related: U.S. could "take down" man-made islands in South China Sea if it needed to, says Pentagon official
China's islands have been steadily militarized since construction began in 2013. Beijing maintains the bases are purely defensive in nature, but the deployment of troops, electronic warfare systems and missiles have made East Asian and American onlookers nervous. Some bases are equipped to host China's most potent weapons, with 10,000-foot runways, hangars to house fighter planes and deepwater piers for warships.
Last month, China landed H-6K nuclear bombers on several of the disputed islands for the first time, putting all of Southeast Asia in reach of the country's bomber fleet. The bombers landed as part of a training exercise to prepare for "the battle for the South China Sea," the Chinese air force said. During the drills, pilots also launched simulated strikes on naval targets.
Both China and the U.S. have accused each other of destabilizing the region through militarization. After the B-52 flight, Hua called on the U.S. to clarify whether sending "this type of offensive weapon" to the area could be considered militarization. Hua warned American leaders to avoid further provocations, noting, "Running amok is risky."
After two American warships sailed close to the Paracel Islands last month, Hua said Washington's accusations that China is destabilizing the region are "preposterous, just like a thief crying, 'Stop thief!'"
Related: South China Sea islands: Satellite images suggest China's sprawling military complex is now ready
Despite Beijing's protests, U.S. Secretary of Defense James Mattis has said America will continue to conduct such operations and "compete vigorously" if needed. He said China was guilty of "intimidation and coercion," but noted the U.S. "will continue to pursue a constructive, results-oriented relationship with China."