U.S. Could 'Take Down' Man-made Islands in South China Sea If It Needed To, Says Pentagon Official
A Pentagon official fired the latest salvo in a war of words between China and the U.S. regarding the South China Sea, which has become one of the most pressing strategic challenges facing the American military worldwide.
During a briefing on Thursday, Lieutenant General Kenneth McKenzie, director of the Joint Staff, told reporters that the U.S. had a long and successful history of capturing small islands in the Pacific.
China's construction of new islands and reefs in the South China Sea has drawn condemnation from its neighbors and the U.S. The islands were fortified to create a network of small military bases, enforcing Beijing's controversial territorial claims in the region and giving the Chinese military de facto control of the waters.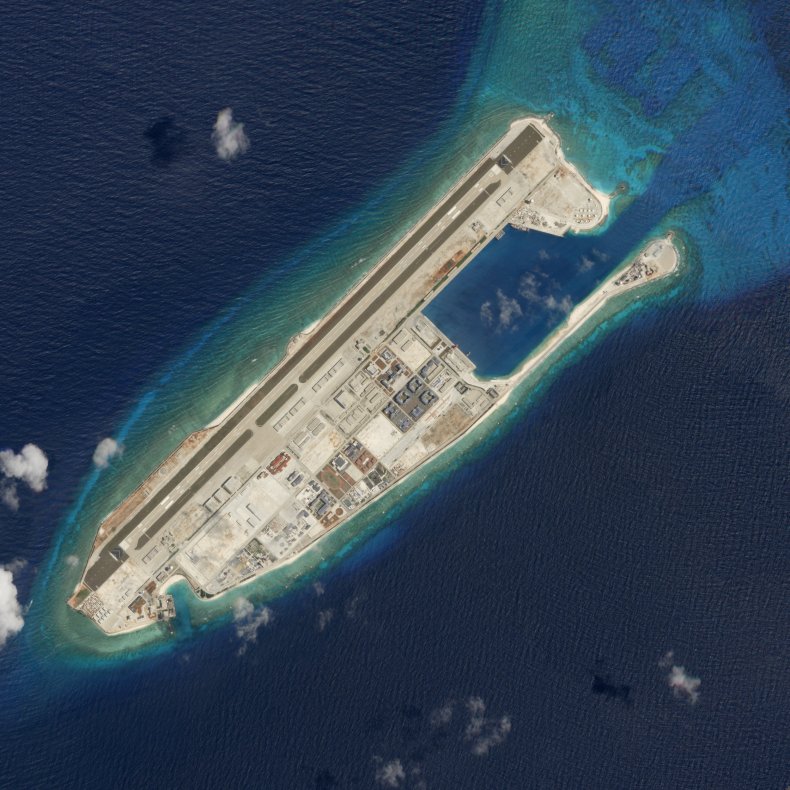 Responding to a question about whether the U.S. was able to "blow apart" the bases, McKenzie noted that the military had a great deal of experience in "taking down small islands" in the western Pacific, referring to America's bloody "island-hopping" campaign against the Empire of Japan in World War II.
When pressed on his comments later on in the briefing, McKenzie said such operations were "a core competency" of the U.S. military, telling reporters, "You shouldn't read anything more into that than a simple statement of historical fact."
China has steadily been militarizing its South China Sea islands since construction began in 2014, stationing troops, electronic warfare systems and missiles there. Some bases are equipped to host China's most powerful weapons, with 10,000-foot runways, hangars to house fighter planes and deepwater piers for warships.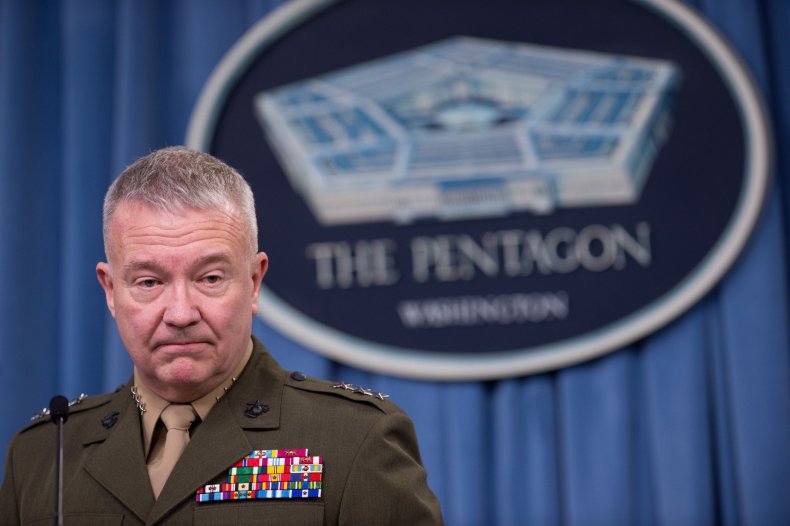 Last month, nuclear-capable H-6K strategic bombers landed on some of the islands for the first time as part of a training exercise, putting all of southeast Asia within reach of Beijing's nuclear fleet. The Chinese air force said the drills were in preparation for the "battle for the South China Sea."
In defiance of China's tightening grip on the region, the U.S. military conducted multiple naval and aerial "freedom of navigation" missions close to the islands, asserting its belief that the area—in which Beijing's territorial claims overlap with five of its neighbors—constitutes international waters. Most recently, two Navy warships sailed close to the Paracel Islands, off the coast of Vietnam.
Such operations were criticized by Chinese officials, who accused the U.S. of trying to "stir up trouble." On Thursday, Chinese Foreign Ministry spokesperson Hua Chunying said American officials were "hyping up militarization in the South China Sea," describing Washington's stance as "preposterous, just like a thief crying 'stop thief.'"
Read more: U.S. must stop China's 'dream' of Asian dominance, admiral warns
Regardless, McKenzie said, "we're going to continue to conduct freedom of navigation operations, as allowed by international law, and we're going to continue to do the things that we're doing.
"I couldn't speculate as to what China's actions in the future might or might not be," he added.
Earlier this week, the commander of the U.S. Pacific Command and nominee for America's next ambassador to South Korea warned that China wants to establish hegemony in Asia. Admiral Harry Harris said "freedom and justice hang in the balance" as a "geopolitical competition between free and repressive visions of world order" emerges in the Indo-Pacific.
Harris said that only "focused involvement and engagement by the United States and our allies" could stop Chinese domination of the entire region.