U.S. Must Stop China's 'Dream' of Asian Dominance, Admiral Warns
The commander of the U.S. Pacific Command and nominee to be America's next ambassador to South Korea has warned that the U.S. must stand up against the threat of Chinese hegemony in Asia.
Admiral Harry Harris said on Wednesday that the Western world is approaching an inflection point in history, when "freedom and justice hang in the balance," CNN reported.
Harris was speaking as he handed over control of Pacific Command—now re-named the Indo-Pacific Command—and ended his three-year tenure overseeing America's largest area of operations.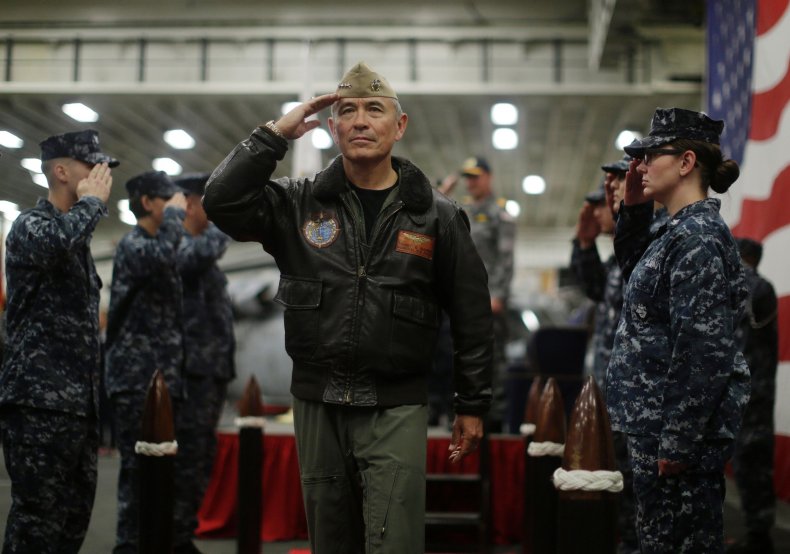 "China remains our biggest long-term challenge," Harris said, warning that only "focused involvement and engagement by the United States and our allies" can stop China from achieving "its dream of hegemony in Asia."
Chinese-American relations in Asia have been strained by Beijing's increasingly determined military policy, especially in the South China Sea. China has constructed a network of artificial islands and reefs in the region to enforce territorial claims that overlap with five of its neighbors.
The bases are being steadily militarized with a range of missiles, electronic warfare systems and aircraft, drawing condemnation from the U.S. and neighboring countries. China claims the islands are purely defensive, but their existence has given Beijing effective control of the South China Sea without a shot being fired.
Related: China lands nuclear bombers on disputed South China Sea islands in warning to American rivals
U.S. naval vessels have conducted "freedom of navigation" operations to stress America's belief that the area constitutes international waters, but there is little the U.S. can do to dislodge Chinese forces.
Following recent deployments of missile systems and nuclear bomber training on the islands, the Pacific Command withdrew an invitation for China to take part in the 2018 Rim of the Pacific military drill—the world's largest international naval military exercise. Chinese Foreign Minister Wang Yi called the decision "a very unconstructive move" and criticized the "negative mindset" of the U.S.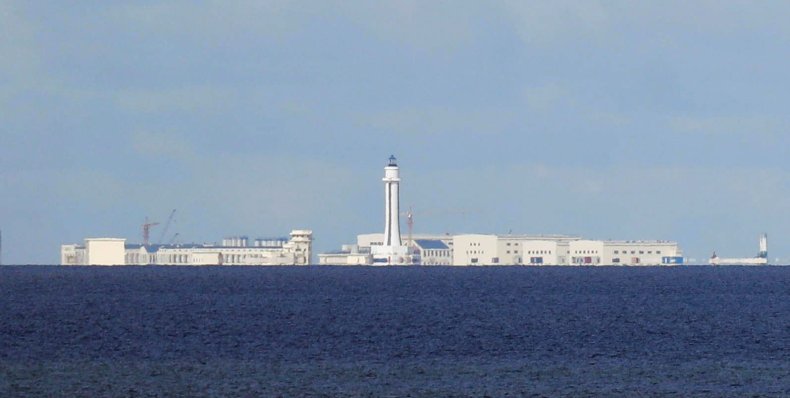 In the short term, Harris noted that North Korea remains America's "most imminent threat" and that a North Korean regime with nuclear-capable missiles able to reach the U.S. is an "unacceptable" proposition. The admiral also said Russia is acting as a "spoiler" in the Indo-Pacific region.
"A geopolitical competition between free and repressive visions of world order is taking place in the Indo-Pacific," Harris said. "Great power competition is back, and I believe we're approaching an inflection point in history.… Freedom and justice hang in the balance."
The admiral had originally been slated as America's next ambassador to Australia. However, the nomination was pulled just hours before his confirmation hearing, reportedly on the suggestion of Secretary of State Mike Pompeo.
Harris's official nomination as South Korea ambassador was sent to the Senate on May 18 and is expected to be confirmed soon. The position has been vacant for about 18 months, leaving Chargé d'Affaires Marc Knapper to run the Seoul embassy in the interim.
Harris has been cautious in responding to North Korea's newfound diplomacy and has warned against falling for a "charm offensive." He previously said his preferred approach to the secretive state is to use military, economic and diplomatic pressure to "bring Kim Jong Un to his senses, not his knees."
Born in Japan to a Japanese mother and an American naval officer father, Harris is the first Asian-American to reach a four-star rank in the Navy.