Beijing's South China Sea Military Bases Now Have Jammers That Can Block American Radar and Communications, U.S. Claims
United States officials claimed that China has installed military jamming equipment on fortified artificial islands in the South China Sea which will allow Beijing to block enemy radar and communications systems.
This latest step in China's militarization of its island bases signifies Beijing's determination to assert its regional territorial claims, regardless of U.S. opposition. According to The Wall Street Journal, the jamming systems were installed within the last 90 days.
The Journal quoted a U.S. Defense Department official who said that China "deployed military jamming equipment to its Spratly Island outposts" in the southern part of the sea. The claim was reportedly backed by satellite images provided by commercial satellite company DigitalGlobe. China's Defense Ministry did not respond to a request for comment.
The images showed what is believed to be a jamming system with its antenna extended on Mischief Reef, one of seven fortified artificial Spratly outposts. China has been constructing such bases since 2014. Existing reefs and rocks are covered with sand and eventually concrete, creating military bases in the middle of the ocean.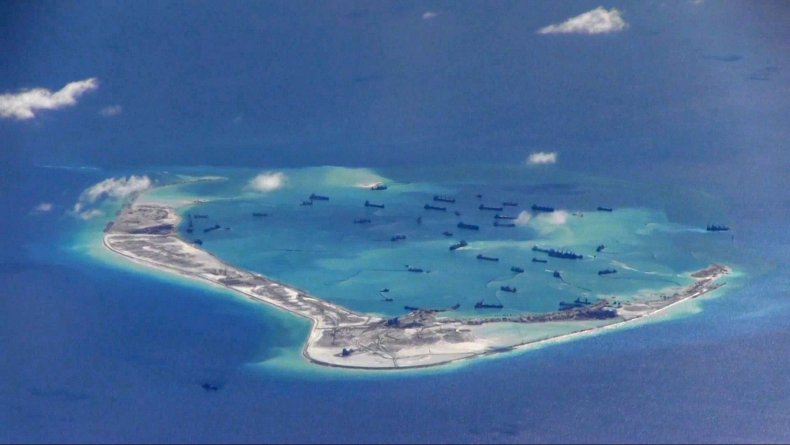 China is one of six nations with territorial claims in the South China Sea. Control of the waters offers access to rich fishing grounds, vital shipping routes and potential natural resources. China has been more proactive, and creative, than its neighbors in creating artificial military outposts to enforce its claim of all islands in the South China Sea.
The construction has drawn criticism from the U.S. and the other claimants to the area. American forces have conducted multiple "freedom of navigation" operations in the area to support the U.S. stance that the South China Sea constitutes international waters.
Although Beijing has maintained that the islands were for defensive purposes only, some Chinese military officials have argued that the outposts should be militarized to deter what is seen as aggressive U.S. posturing. Indeed, several islands have already been extensively prepared for military use.
Three Spratly bases—Fiery Cross Reef, Mischief Reef and Subi Reef—now have 10,000-foot runways, hangars to house fighter planes, bunkers to store ammunition, troop barracks and deep-water piers for warships, the Journal reported.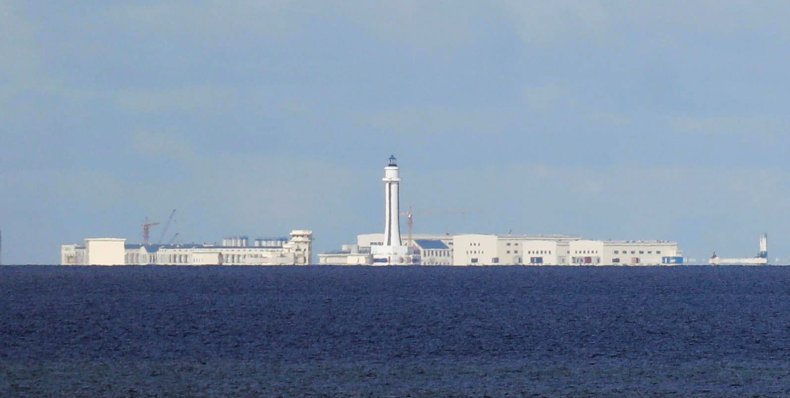 U.S. officials said that ground units and aircraft were yet to be stationed on the islands. But now that the facilities are built, it would take only hours to man them. Likewise, China's advanced surface-to-air and anti-ship missiles have not yet been placed on the islands, but positions for them have been prepared.
China has established similar bases 500 miles to the north in the Paracel Islands, in the northern part of the South China Sea. There, surface-to-air missiles and jet fighters have already been deployed. It could be that creeping militarization has the final goal of fully fortified and manned military bases throughout the contested region. And once Chinese troops are embedded there, it will be very difficult to get them to leave.
"This deployment is in keeping with China's ongoing buildup of power projection capabilities in the Spratly Islands," according to Gregory Poling, director of the Asia Maritime Transparency Initiative and fellow of the Southeast Asia Program at the Center for Strategic and International Studies think tank.
As for why China has decided to deploy the new weapons now, that is more difficult to judge, Poling told Newsweek. "It could be a reaction to continued U.S. exercises and presence in the South China Sea, but even if that is the proximate trigger, this was likely always part of the long-term plan," he explained.
China has been conducting massive military exercises in the South China Sea in recent weeks. U.S. officials said the drills, which include army, navy and air force units, were the largest conducted in the area to date. The drills demonstrate the fruits of China's heavy investment in its armed forces as Beijing creates a modern military that can stand up to American pressure. The exercises included China's first aircraft carrier, the Liaoning, which is a statement of China's regional ambition in itself.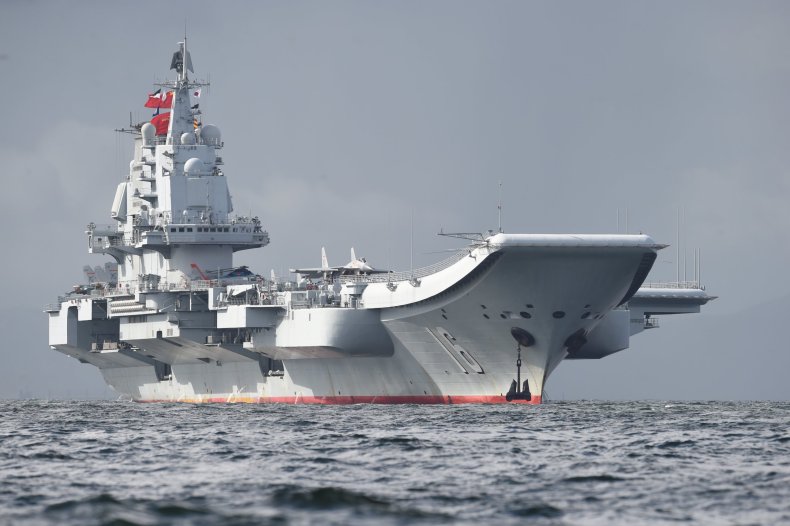 The ex-Soviet Liaoning is no match for American nuclear-powered warships. However, Beijing's future carrier program is in full swing, with the Liaoning purchased mostly as a training aide for sailors who will one day man a modern Chinese navy capable of regional—and eventually global—force projection. The country's first-ever home-built vessel is currently being prepared for sea trials, and its second is already under development.
The U.S. is meeting the perceived challenge, deploying three carriers to the region. The USS Theodore Roosevelt arrived in Singapore last week; the USS Carl Vinson visited Vietnam in March; and the USS Ronald Reagan is currently based in Japan.
Regardless of U.S. opposition, Beijing considers control of the South China Sea vital to its national security, and it intends to secure the region with or without international support. A new, dedicated Southern Theater Command has now been established to oversee current and future Chinese forces in the area. Short of all-out conflict, there seems to be little the U.S. can do to stop the increasing militarization of South China Sea bases and Beijing's subsequent domination of the region.
"There is no putting these artificial islands back in the ocean. They are a fact of life," Poling said. "Now the U.S. and its partners need to focus on dissuading Beijing from using the bases to coerce its neighbors."
While that effort has so far been stunted by a lack of interest under the Trump administration, "it isn't too late to wake up and forge an effective diplomatic and military strategy," said Poling.