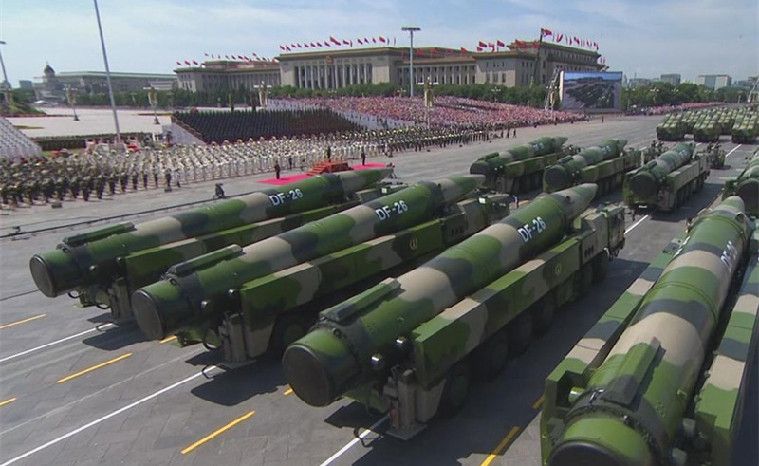 China dismissed the possibility of entering into negotiations for a trilateral arms control deal alongside the United States and Russia, highlighting that the U.S. had failed to uphold its international commitments.
At a news briefing Monday, Chinese Foreign Ministry spokesperson Lu Kang warned of "growing instabilities and uncertainties in the field of international strategic security," specifically pointing out how a "certain major country has withdrawn from one international treaty and mechanism after another while building up its own nuclear and missile power." The remarks came as President Donald Trump attempted to get Beijing to join new non-proliferation agreements as Washington had abandoned previous agreements with Moscow.
Lu argued that such moves "impacted global stability, eroded strategic mutual trust between major countries and weakened international arms control mechanism." He said that "China and Russia both believe that they need to strengthen the planning of strategic cooperation, adhere to multilateralism, firmly check the negative tendency and resist the harm of unilateralism."
"As to the trilateral negotiations on arms control, China's position is clear-cut," Lu added. "The premise and basis for trilateral arms control negotiations do not exist at all, and China will never participate in them."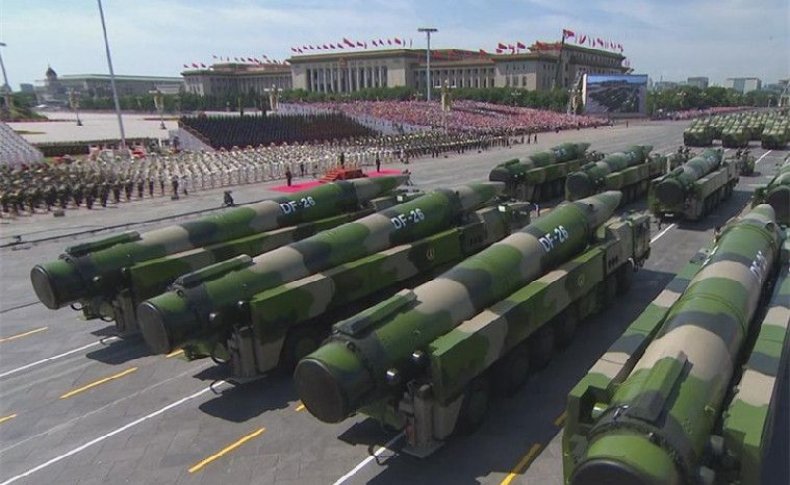 In February, the White House withdrew from the 1987 Intermediate-range Nuclear Forces (INF) Treaty, a measure that banned the U.S. and Russia from deploying land-based missiles with ranges between 310 and 3,420 miles. Washington argued that Moscow's Novator 9M729 missile violated the agreement's restrictions, while Russian officials rejected this and counterclaimed that the Pentagon's own Aegis Ashore defense system in Eastern Europe could be used offensively, thus violating the treaty.
Though China was not a party to the agreement, Foreign Ministry spokesperson Geng Shuang called the U.S. move "regrettable" at the time and warned it could "trigger a series of adverse consequences." Asked if China would join a new INF, Geng said such a move "involves a series of complex issues covering political, military and legal fields, which draws concerns from many countries" and "what is imperative at the moment is to uphold and implement the existing treaty instead of creating a new one."
Since then, the Trump administration suggested it might also consider letting the New Strategic Arms Reduction Treaty (START) expire and instead seek a three-way arrangement with Moscow and Beijing. The New START is itself a sequel to the original START treaty signed in 1991 by the U.S. and Soviet Union, and expanded on restrictions to both countries' nuclear arsenals.
The U.S. and China were already locked in a deepening trade war, costing the world's top economies billions of dollars each, and Beijing—which was believed to possess significantly fewer nuclear weapons than Moscow and Washington—showed little interest in entering into talks on a potential arms control deal. Though Trump said he had spoken with Chinese officials who "very much would like to be a part" of trilateral START, Geng told reporters earlier this month that China "will not participate in any negotiation for a trilateral nuclear disarmament agreement."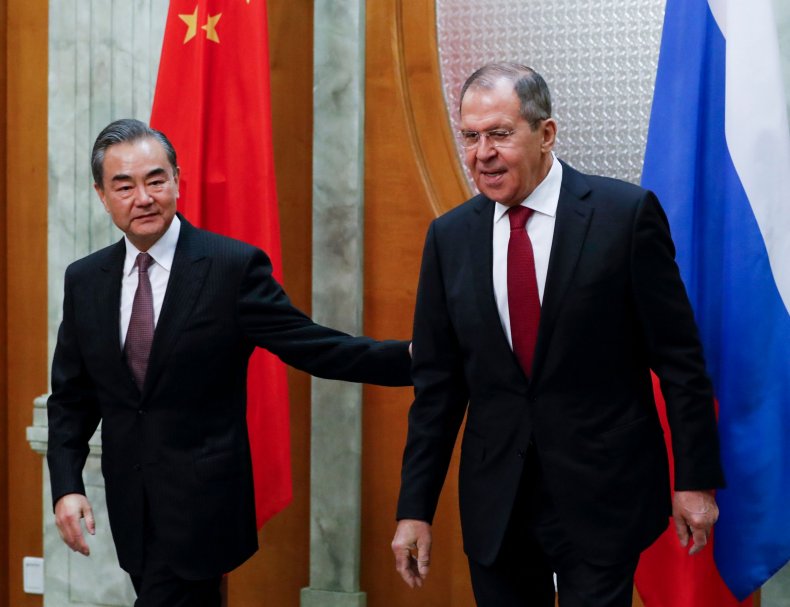 On Monday, Geng further said that "Russia also believes that the U.S. should continue to fulfill its due international obligations, and it fully understands China's position on trilateral arms control negotiations."
Moscow and Beijing grew closer in recent years, sharing a view of Washington as a hegemonic force that threatened their interests. Since Trump took office, he has had an uneasy relationship with Russian President Vladimir Putin and Chinese President Xi Jinping, with whom he has diverged significantly on a number of global issues.
In one example that has proved critical in recent weeks, Trump unilaterally pulled the U.S. out of the 2015 nuclear deal that was signed with Iran, alongside China, the EU, France, Germany, Russia and the United Kingdom. Other signatories have continued to support the agreement, but Europe has so far struggled to implement measures to bypass Washington's sanctions that were designed to undermine Tehran's economy and punish those trying to trade with it.
As the U.S. threatened to escalate already heightened tensions in the region based on intelligence that it believed suggested Iran was plotting to attack U.S. and allies interests, Geng asserted Monday that "normal economic and trade relations between China and Iran are legitimate and lawful and should not be interrupted by anyone."