Can U.S. and Iran Avoid Next 'Forever War'? New Threats and a Possible Path to Peace
Iran's top diplomat struck back at threats from President Donald Trump, accusing him of prolonging the protracted conflicts launched by his predecessors and pursuing lucrative weapons deals with countries accused of human rights abuses.
After a widely publicized incident on Sunday in which a rocket fell within Baghdad's Green Zone compound that houses the U.S. Embassy alongside other diplomatic and government buildings, Trump tweeted, "If Iran wants to fight, that will be the official end of Iran. Never threaten the United States again!" He also railed against the "the military-industrial complex," those who "never want to leave" and "always want to fight" in an interview with Fox News. Though "you do have situations like Iran," which he said could not be allowed to have nuclear weapons, something Iran always denied seeking.
The following day, Iranian Foreign Minister Mohammad Javad Zarif responded with a history lesson, accusing the president of attempting what Alexander the Great, Genghis Khan and "other aggressors failed to do"—defeat Iran.
In a follow-up tweet Monday, the latest rhetorical salvo at a time of heightened tensions between Washington and Tehran, Zarif reiterated recent accusations that the so-called B-Team—composed of White House National Security Adviser John Bolton, Israeli President Benjamin Netanyahu, Saudi Crown Prince Mohammed Bin Salman and United Arab Emirates President Khalifa bin Zayed Al Nahyan—was attempting to prove a U.S.-Iran conflict and, in doing so, force Trump to betray one of his campaign tenets.
"[Trump] rightly deplores 'military-industrial complex' pushing U.S. to #ForeverWars But allowing #B_Team to trash diplomacy & abet war crimes—by milking despotic butchers via massive arms sales—achieves nothing but empowering that same complex," Zarif tweeted. "Time to #DrainTheSwamp?"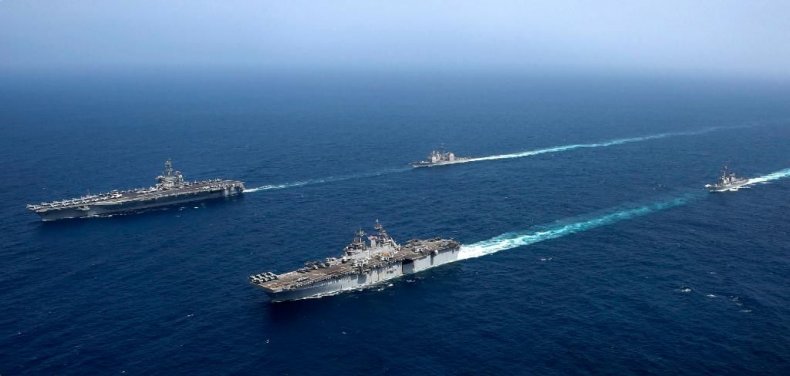 While the phrase "drain the swamp" has been used in the U.S. since the 1980s to refer to a purge of Washington bureaucrats, Trump recently repopularized it as part of his seemingly anti-establishment angle of attack toward taking the White House. Since coming to office, however, some critics have criticized his choice in personnel, including Bolton, an outspoken war hawk who pushed previous administrations toward the kinds of intervention that Trump argued against while running for president.
Bolton's appointment came just over a year into Trump's term and, less than a month later, the Republican leader pulled out of the 2015 nuclear deal with Iran, an agreement also signed by China, the EU, France, Germany, Russia and the United Kingdom. Though the International Atomic Energy Agency continually found that Tehran had complied with the deal's nuclear limits, Trump argued it did not go far enough in halting Iran's alleged support for militant groups and its ballistic missile activity.
With mounting U.S. sanctions harming Iran's economy, Tehran announced on the anniversary of the White House's exit from the deal that it would begin scaling down some of its own commitments unless Europe stepped in to uphold its end of the accord by bypassing Washington's restrictions. Zarif on Monday accused Trump of engaging in "economic terrorism" as part of his self-styled "maximum pressure" campaign.
Russia and China also called on Europe to keep its word in spite of U.S. threats, while two of the few international voices praising Trump's decision to leave were Israel and Saudi Arabia, two of Iran's top regional foes. The two countries—both close U.S. military allies—were already actively battling what they considered to be Iranian proxies in the region, with Israeli jets striking alleged Iran-backed forces in Syria and a Saudi-led campaign struggling to oust a Zaidi Shiite Muslim group known as Ansar Allah, or the Houthis, from neighboring Yemen.
The latter claimed a recent drone attack on a Saudi oil pipeline that served as yet another step in recent escalating tensions involving Iran, which the U.S. accused of plotting against the interests of Washington and its allies in the region. Tehran denied backing the Houthis, as well as having any role in recent "sabotage" attacks that damaged two Saudi, one U.A.E. and one Norwegian-flagged oil tankers less than 100 miles away from the Strait of Hormuz, the world's most important oil chokepoint and a frequent subject of frictions between Iran and the U.S.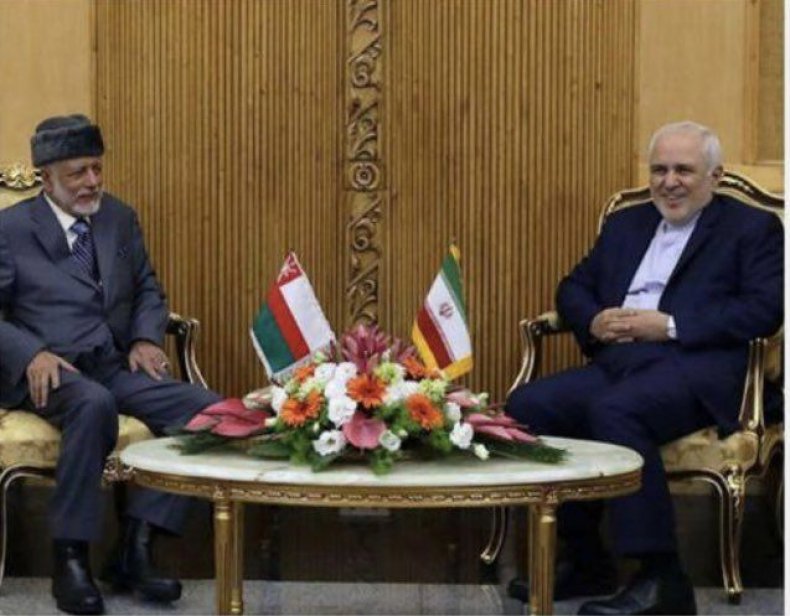 As the USS Abraham Lincoln carrier strike group arrived in the Persian Gulf amid the latest warnings, a number of powerful Shiite Muslim militias, such as Lebanon's Hezbollah, Iraq's Kataeb Hezbollah and Hezbollah al-Nujaba Movement, have warned they would respond to any U.S. hostilities in the region. In addition to raising the threat level in Iraq, which has called for calm between its two allies, the Trump administration claimed that Iran also planned to secretly arm small commercial sailing vessels known as dhows with cruise missiles, something Tehran denied.
With the two nations threatening to respond to the other's next steps, however, the U.S. and Iran have continued to argue that neither wanted to actually engage in a conflict. Though there was still little indication that the two sides were at least publicly heading toward talks, Zarif received a visitor Monday that could suggest diplomatic efforts were on the horizon.
Omani Foreign Minister Yusuf bin Alawi Abdullah flew to Tehran to meet his counterpart and discuss "bilateral relations between the two friendly countries and the latest developments in the regional and international arena," according to Abdullah's ministry. The Iranian Foreign Ministry said "the two sides discussed bilateral relations and the most important regional and international issues."
Muscat largely stayed neutral in the overlapping conflicts and crises enveloping the Middle East, even going as far as to receive Netanyahu last year despite Oman being of one of all but two Arab states without any formal ties with Israel. In its unique position, Oman has at times acted as a quiet conduit between the U.S. and Iran—which severed relations in the wake of the 1979 Islamic Revolution that ousted Tehran's West-backed monarchy and sparked a hostage crisis at Washington's embassy there—though there was no official word as to whether the current meeting was related to Trump's recent call for Iran's leadership to contact him.
In a tweet later on Monday, however, the president appeared to dismiss this connection. Trump argued that the "Fake News put out a typically false statement, without any knowledge that the United States was trying to set up a negotiation with Iran," calling it a "false report," though he did not indicate what news organizations or articles to which he was referring.
"....Iran will call us if and when they are ever ready," Trump tweeted. "In the meantime, their economy continues to collapse - very sad for the Iranian people!"
Update (05/20/19 2:10 p.m.): This story has been updated to include a tweet later posted by President Donald Trump, who dismissed the idea that the U.S. had begun negotiations with Iran.