Russia Has 'Best Relations' With China, 'Lowest' With U.S. and Now North Korea Is Getting Involved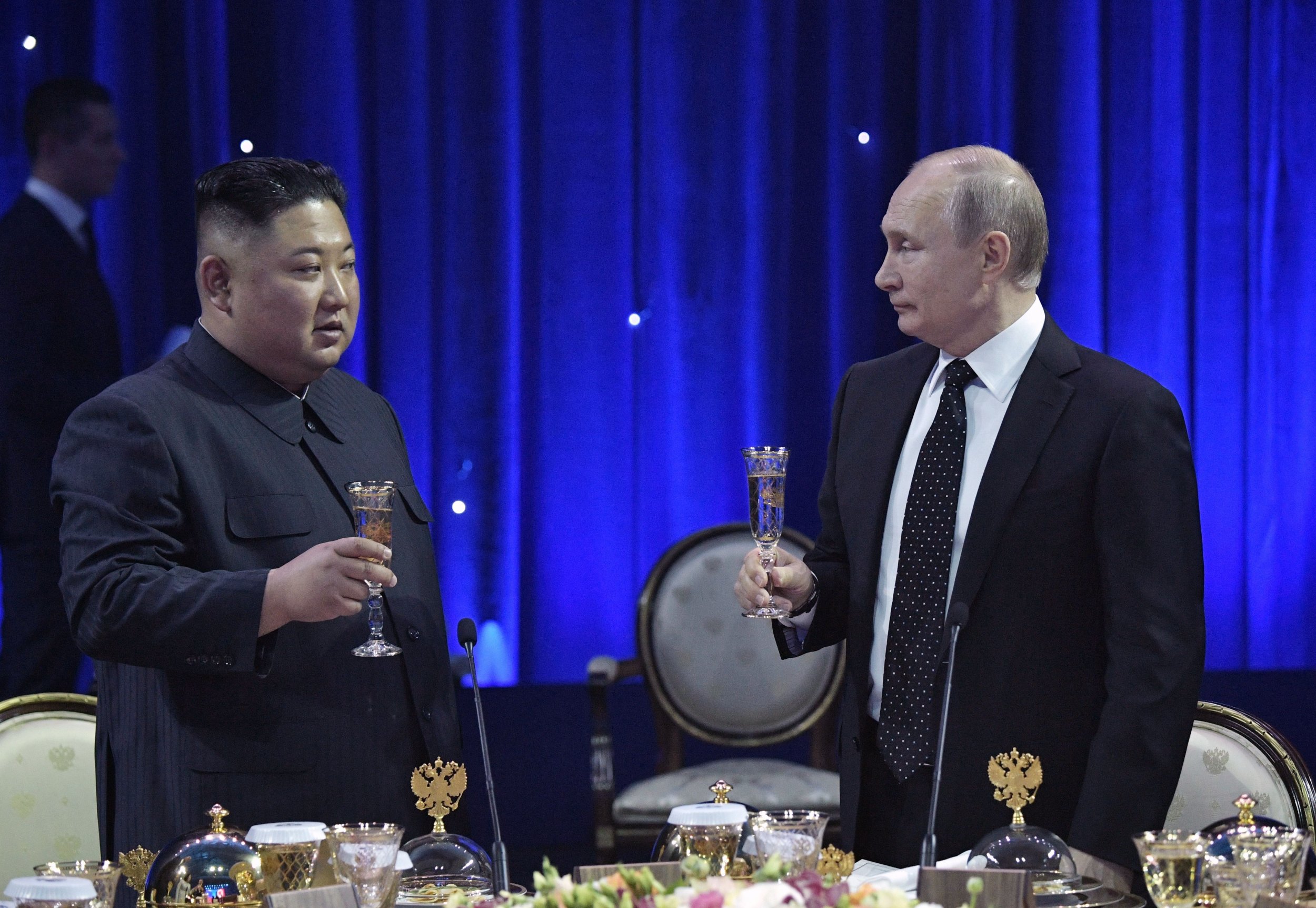 Russian President Vladimir Putin shared a toast with North Korean supreme leader Kim Jong Un and set out to bolster already-flourishing ties with his Chinese counterpart this weekas relations with the U.S. deteriorated to levels not seen since the Cold War.
Kim, who has been on a diplomatic traveling spree this past year, made his debut visit Wednesday to Russia, meeting Putin in the far eastern city of Vladivostok nearly eight years after the Russian president last received Kim's father and predecessor Kim Jong Il in August 2011. Putin told reporters he was "satisfied" with their talks and said the younger Kim was "quite an open person and speaks freely" as well as an "an interesting and substantive interlocutor."
The roughly two-hour conversation revolved around a range of subjects "including bilateral relations, sanctions, United Nations, relations with the United States, and, of course, the denuclearization of the Korean Peninsula, which is the main subject," Putin told the press briefing.
"The most important thing, as we have discussed today during the talks, is to restore the rule of international law and revert to the position where global developments were regulated by international law instead of the rule of force," he added. "If this happens, this would be the first and critical step toward resolving challenging situations such as the one on the Korean Peninsula."
Putin emphasized that "there are no secrets here" in regards to what was discussed and "we will also discuss this with the Americans and our Chinese friends." He and Kim then raised their white wine glasses for the two countries and their people before Putin headed to Beijing to reinforce a partnership that has redefined the global balance of power.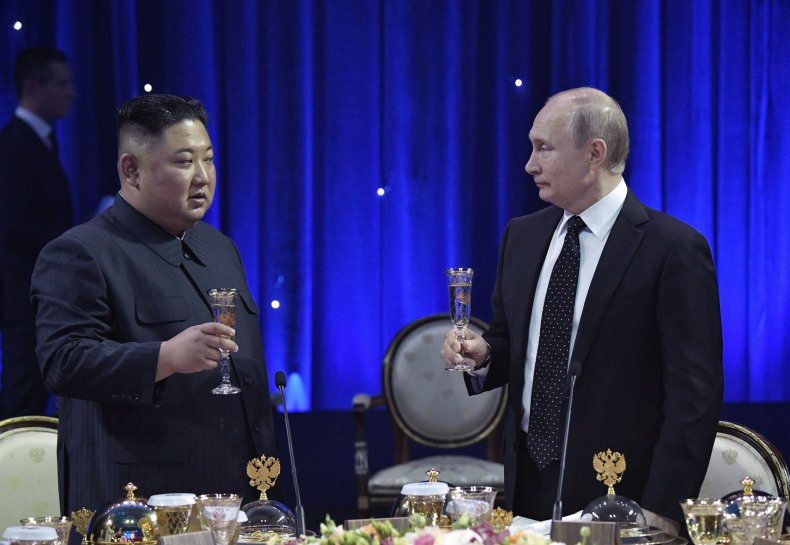 Prior to his arrival in the Chinese capital on Thursday, Putin conducted an interview with official ruling Chinese Communist Party newspaper The People's Daily in which he noted an unprecedented warmness between the two countries that established relations 70 years ago. The Russian leader said "it would be no exaggeration to say that our countries have approached with the best relations they have had in their entire history."
The remarks came in stark contrast to those used just one day earlier by the Russian military's chief of the general staff Valery Gerasimov to describe the country's ties with the U.S. Speaking Wednesday at the Moscow Conference on International Security, the top Russian general blasted U.S. interference around the world and warned that relations between the two powers "are already at the lowest level in history."
The gathering brought together defense delegations from around the world, including China and North Korea, but the U.S. and the NATO Western military alliance it leads reportedly declined their invitations. Whereas Washington has criticized Moscow's military rise as a destabilizing factor abroad, Beijing has generally welcomed it and fortified bilateral relations as it pursued a modernization of its own armed forces.
The pair's growing ties go beyond defense, however, and Chinese President Xi Jinping has sought to capitalize on his country's increased global influence by expanding its economic footprint abroad, a move that also unsettled the U.S. Putin made his Thursday trip to China to attend a conference involving up to 37 countries seeking up to $1 trillion of Chinese investment as part of Xi's Belt and Road Initiative.
Chinese Foreign Ministry spokesperson Geng Shuang told reporters Thursday that "we welcome President Putin's participation in the second Belt and Road Forum in Beijing, and President Xi will hold talks with him."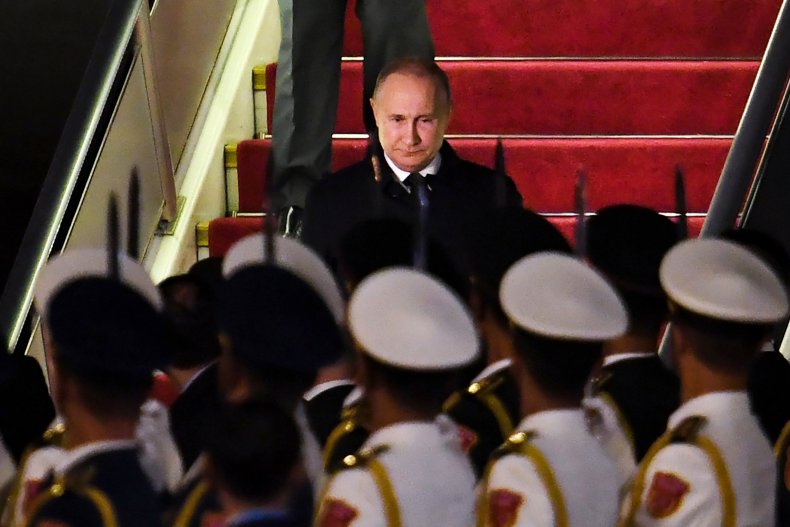 Geng also commented on Putin's meeting with Kim, saying China was "pleased to see stronger high-level exchange and deeper bilateral cooperation between them, which we believe is conducive to the further development of their bilateral relationship and regional peace and stability."
Kim broke a six-year streak without any international trips by visiting Xi in Beijing in March 2017. The two countries have traditionally been allies and the 1950s Korean War that set the stage for the peninsula's current crisis saw China and the Soviet Union back fellow communist North Korea against South Korea and its U.S. and United Nations allies, producing a bloody stalemate thatholds still today.
While multiple multilateral attempts have been made to defuse tensions between the rival Koreas, the ruling Kim dynasty has proved reluctant to forfeit the nuclear weapons it developed to ensure its survival without international guarantees toward its security. In the past year, however, Kim has visited China three more times, held a record three inter-Korean summits and met President Donald Trump to try advancing a historic peace effort.
Still, Kim's diplomatic initiatives have yet to produce any solid agreements from the U.S, though they have been welcomed enthusiastically by South Korea. As Putin sat down with Kim, South Korean President Moon Jae-in met with Russian Security Council head Nikolai Patrushev in Seoul, finding that "the Russia-DPRK summit held today would make constructive contribution to complete denuclearization and establishment of permanent peace on the Korean Peninsula," according to Moon's office.